How Anglers Are Saving Our Waterways
How Anglers Are Saving Our Waterways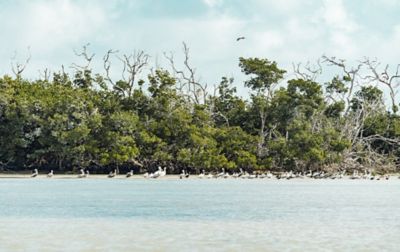 One hundred years ago, the Florida Everglades was home to a whopping 3 million acres of lush swamps and mangroves. The sprawling national park was filled with alligators, manatees, dolphins, and hundreds of species of waterfowl.
Yet over the past century, that number has been slashed in half. Widespread agriculture, combined with rising sea levels and the introduction of exotic species, has polluted the water and contributed to the destruction of more than 1.5 million acres of aquatic habitats.
There are currently nearly 70 species of wildlife on the endangered species list, including the West Indian manatee, wood stork, bald eagle, and Florida panther. And though the park still remains the
largest mangrove ecosystem in the Western Hemisphere,
it is shrinking every day.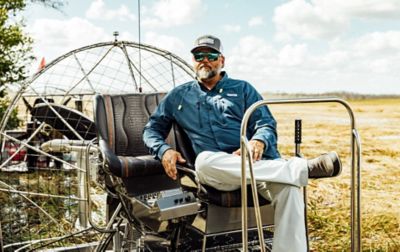 To local anglers, the issue hits especially close to home.
"For guides and anglers, there's nothing more important than clean, healthy waterways—they're the lifeblood of what we love to do," said Capt. Chris Wittman. "They are woven into every part of my life."
The fourth-generation Floridian is the cofounder of
Captains For Clean Water
, an organization he created in 2016 that lobbies Congress to better protect Florida's waterways. Made up of boat captains and fishermen, this group of anglers is currently pushing a cluster of 68 ecoprojects dubbed the Comprehensive Everglades Restoration Plan.
The disconnection of the park's natural water system is one of the biggest environmental challenges it faces, Wittman explained. Together, these projects would return diverted water to a flow that more closely resembles nature's intention.
"Water doesn't flow south from Lake Okeechobee to the Everglades and Florida Bay like it once did," he said. "It's redirected to the east and west coasts through manmade connections to the St. Lucie and Caloosahatchee rivers.
"The results are too much polluted freshwater to the coasts and not enough clean freshwater to Florida Bay, which puts way too much stress on all three estuaries. We have to restore the flow of clean water south."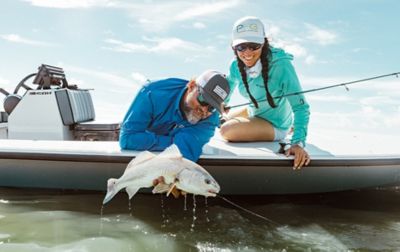 Wittman isn't the only angler who's been involved in conservation efforts.
Wesley Locke is a
saltwater fly fishing angler
based out of Boca Grande. She too has been active in the Captains For Clean Waters initiative to restore diverted waterways.
Locke became passionate about the subject in 2018 after seeing the real-life impact of the region's environmental threats. That year, a red tide that swept her hometown waterways caused a massive fish die-off and tarpon season was "cut off at the knees."
"I was always taught that water quality and conservation are important, but I wasn't smacked in the face with it until I experienced that intense red tide bloom on the west coast of Florida," she said. "After watching my hometown struggle for an entire year to push through the severe environmental and economic impacts, I knew I had to reach out and be part of the solution."
"To those guides and anglers that haven't made the connection between the fishing sport and the environmental resource they are benefiting from, I would say, 'Wake up.' … We as guides and anglers have a strong voice when united for a worthy cause."
~ Wesley Locke
She became involved with
Captains For Clean Water
, along with Bull Sugar and the Bonefish and Tarpon Trust. Fishing guides and other anglers are in a great position to act as an environmental alarm system to the rest of the world, she said.
"We're the first ones to see the effects," she said. "We have a responsibility to be involved because we are lucky enough to enjoy, share, and benefit from this resource. Therefore, it is our duty to give back and leave it better than we found it."
Locke echoed Wittman's sentiments, arguing that it's shortsighted for anglers to go about their daily lives guiding charters and having meaningful personal experiences on the water while ignoring the compounding negative effects that development is having on the fisheries.
"To those guides and anglers that haven't made the connection between the fishing sport and the environmental resource they are benefiting from, I would say, 'Wake up.'
"You may think, 'What can I do? I'm just one person.' But we as guides and anglers have a strong voice when united for a worthy cause. Contact conservation organizations in your area and get involved in protecting the sport that you love so that others can experience it for years to come."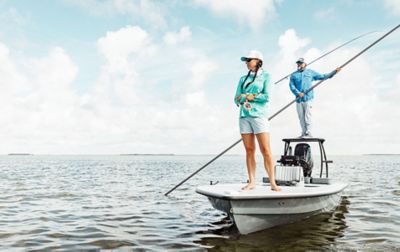 Wittman agreed, noting that the fishing community has a unique responsibility to
get involved
in protecting rivers, oceans, and other waterways.
"As anglers, our way of life depends on clean, thriving waterways—without them, there'd be no fish to chase and no adventure to pursue. So we have to do everything we can to protect these wild places. It's really our responsibility, not only for ourselves but for the next generations.
"Taking care of it requires a little bit of up-front elbow grease, but the result is absolutely worth the effort."
Click here for more information on Captains for Clean Water and how you can get involved.