Pete Alonso's Passion for Conservation Runs Deep
Pete Alonso's Passion for Fishing and Water Conservation Runs Deep
Off the field, the MLB player is an avid angler and advocate for the eco-group Captains for Clean Water
Pete Alonso may be able to slug 480-foot home runs out of the park, but that's not the only thing the Major League Baseball (MLB) player knows how to do. The New York Mets' first baseman happens to be a skilled angler too, and one who's deeply passionate about his fishing—something he attributes to his Tampa, Fla., background.
"Here in Tampa you have baseball and you have fishing," Alonso explained. "[They] are entrenched in the fabrics of the city. I'm just really fortunate that I happened to like those two things a lot."
The MLB player spoke during a conversation with Columbia Sportswear and Chris Wittman, cofounder of the ecological nonprofit
Captains for Clean Water
(CFCW). The two Florida anglers shared their love for their state's waterways as well as their commitment to protecting them.
"There's just something about being on the water, having a line, and hoping to catch a fish," Alonso said. "There's very few places where I can find total relaxation and just clear my mind. On the water and on the boat, for me, that's one of those places.
"[You] have to have a symbiotic relationship with higher sustainability because a healthy ocean equals a healthy planet."
Wittman agreed, noting how increasing water pollution in recent years has threatened Florida's estuaries, along with the wildlife that resides in them, including snook, tarpon, and other popular game fish.
"[The red tides are] killing manatees, sea turtles, dolphins," he said. "Those are signs that our fishery is showing us that we have way too many nutrients polluting our waters."
Alonso and Wittman are both advocates for water conservation in the Everglades region, and during their interview, the Mets player vocalized his support of CFCW, which is run by fishing boat captains and other anglers. With sport fishing being such a big part of Alonso's life, a group like Wittman's is a natural fit.
The environmental organization has been involved in the
Comprehensive Everglades Restoration Plan
, a suite of 68 eco-projects that Wittman called "the largest restoration project ever undertaken in the world."
"What drives me today is really to make sure that the things that have shaped me are still there and healthy and thriving and available for the next generation," Wittman said.
Part of his organization's strategy is to bring policymakers and other agency officials out to visit the Everglades in person so they can experience the region firsthand and understand its issues from a "boots-on-the-ground standpoint," rather than from a distance.
"You see something new every time you're on the water. I think in baseball it's the same thing. There's no game that's the same."
Pete Alonso, New York Mets
There are lots of parallels between fishing and baseball, Alonso said. For one, you have to be prepared.
"You have to have a plan. And you have to be willing to adjust or adapt, whether it be weather or [dealing] with unexpected things and make the best of it."
He also noted that both pursuits involve challenging yourself in new ways.
"You see something new every time you're on the water. I think in baseball it's the same thing. There's no game that's the same."
During his conversation with Wittman, the
PFG-clad
slugger pointed to the importance of having
high-quality fishing gear
when you're on the water.
"In Florida, the temperatures can vary, especially now that it's summertime. … You can run into a 30-minute torrential downpour and then be totally fine."
Staying dry
and
staying cool
are both critical, he added.
"Having the
right clothing
is just as important as having the right
rod-and-reel setup
or throwing the right bait out." Alonso said. "If you're not comfortable, you're not going to have a good time, and if you're not having a good time, you might as well just go back in."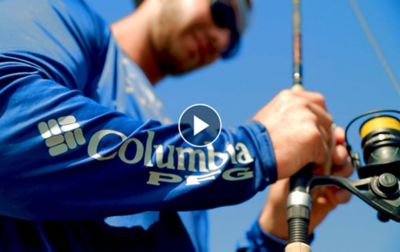 Pete Alonso noted the importance of having the
right clothing
and gear when you're fishing. "If you're not comfortable, you're not going to have a good time, and if you're not having a good time, you might as well just go back in."
Water protection isn't the only good cause that Alonso has gone to bat for. The first baseman also established a nonprofit organization in 2020 called
The Alonso Foundation
, which supports veterans, underprivileged youth, animal welfare, and other humanitarian efforts.
"What drives me is just to make the most out of every day, creating that positive impact for the future, and making the most of the now," he said.
Among other things, the foundation has provided hurricane relief around Fort Myers and the southwest Florida region.
Wittman explained that on top of the human impact, many of Florida's hurricanes have hurt the local waterways.
"The longer-term effect outside of just the destruction the storm caused is the impact to the estuary and the water quality," Wittman said. "Any time you have a storm like that that puts that much water on the landscape, you end up getting a huge flush of nutrient pollution into the water."
Alonso said that red tides have been on the rise too.
"Obviously you can't avoid [red tides completely], especially on the west coast of Florida, but as of recently, it's every year like clockwork," Alonso said.
From social issues to environmental causes, Alonso said his goal in life is simply to make the world a better place. That was the reason he and his wife established the foundation in the first place—they simply wanted to help people.
"The easiest way to do that was to create a foundation and provide resources and funds to people who needed the help the most," he said.
"We don't want to be reactive, we want to be on the forefront of things. We want to be fluid and be able to help out."