Father's Day: How These Real-Life Dads Are Creating Traditions Outdoors
Father's Day: How These Real-Life Dads Are Creating Traditions Outdoors
Six outdoorsy fathers talk about how they spend time with their kids outside—and why it matters
Whether it's hiking, camping, fishing, or trail running, all of the adventurous dads featured here have one thing in common: the desire to share their love of the outdoors with their kids. In honor of Father's Day, we asked them to talk more about why the outdoors is important, and how they're
passing on their love of nature to their children.
Read more about their stories below.
If you are looking for the perfect Father's Day present, check out our
Gift Guide for Outdoorsy Dads.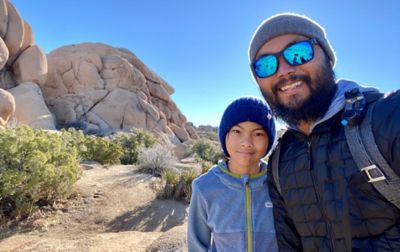 Chris Baltazar, now 45, and his daughter Caroline, now 11, pause for a photo during a hike in the Joshua Tree National Park in 2020.
Chris Baltazar – Rockville, Maryland
Chris Baltazar has been
hiking with his daughters
, Jasmine and Caroline, since they were infants. Beginning when they were in backpack carriers, the girls started out small and eventually began walking alongside their parents on the trails. Now, trekking through rugged national parks is a regular part of the family's lifestyle.
Typically joined by their mother, Mao, memorable hikes have included Camelback Mountain in Arizona,
Joshua Tree National Park
in California, and even Angels Landing in Utah's Zion National Park, dubbed by some as the "scariest hike in America."
Baltazar says the girls' first challenging hike was the nine-mile trek up Old Rag Mountain in Shenandoah National Park when they were 7 and 8. "We were extremely proud of them and treated them to gourmet pizza after," he recalls.
Although Baltazar never hiked with his own parents growing up, his mom now joins them on family hikes at the age of 78. He and Mao did a multiday hike on the Inca Trail during their honeymoon, and the girls have talked about hiking to the top of a mountain to get married—wedding dresses and all.
"We see that hiking now is deeply ingrained in their souls," Baltazar says, explaining that its benefits stretch beyond simple recreation.
"Not only is there the physical benefit through exercise, we also get to connect with each other and with nature. It's great for our mental well-being [and] since most of our family vacations revolve around being outdoors and hiking, it's definitely given our family a closer bond."
Dinner table conversations often address favorite hikes, future hikes, or occasionally, notable mishaps—like when they had to hike back from Delicate Arch in the dark after miscalculating Utah's time zone.
"As a father, it brings me great joy that my girls have learned to enjoy the great outdoors as much as I do, and hopefully they'll pass it on to the next generation," he says. "More importantly, I get to cherish these memories forever."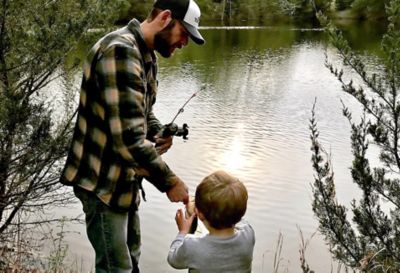 Matt Fleet teaches his son Camp, now 5, to fish on one of the ponds on his family's land in Ada, Oklahoma. The spot is referred to as "The 200" because it encompasses 200 acres that have been owned by the Fleet family for generations.
Matt Fleet – Ada, Oklahoma
Matt Fleet's passion for the outdoors is so strong that he named his son Camp, who has been exposed to fishing, kayaking, and fossil exploration since he was a baby, says Fleet.

Fleet and his wife, Geni, love taking the 5-year-old out to their family's land in Ada, Oklahoma, to explore the outdoor spaces. They call the area "The 200" because it spans 200 acres that's been in the family for generations. They go there every spring to hunt for morel mushrooms.

"My love for the outdoors began when I was little," says Fleet. "Big, tall forest exploring. Insects, lakes, rivers, creeks. I find it all amazing. [It] kept my attention when most things couldn't.

"I think it's really important to take your child out with you in nature at a young age."

Fleet says he loves to see that his son likes to carry a bug barn around with him everywhere he goes, given how pervasive technology is nowadays. It's part of why he takes Camp fishing and tries to give him an upbringing more similar to what he had as a child.

"Kids these days need to have the same experiences I was afforded—without screens and being plugged into a diversion," he says. "It's important to impress how enjoyable nature can be. Fishing teaches patience and perseverance in many ways."

In addition to fostering a love of nature, Fleet says that exploring the outdoors has brought the two of them together. Camp learns about the past while they create memorable experiences outside of their comfort zones.

"I love to see the look in Camp's eyes when he learns or sees something new outside, whether it be an animal, a plant, an insect, or a fish," he says. "Now more than ever, it is important to value nature and teach my son the importance of having fun outdoors."
Conrad Rodas, now 39, training for a triathlon with his daughter Sophie, now 8, near Longmont, Colorado, two years ago.
Conrad Rodas – Longmont, Colorado
As an Ironman triathlete, Conrad Rodas spends a lot of time outside, and he's worked hard to instill the same passion in his daughters. In fact, Sophie, 8, and Emma, 9, often train with him
when he goes trail running
.
In addition to the recreational aspect, it gives him more time to spend with the girls when his calendar is full, he says.
"I usually spend a lot of time training, which takes me away from them, so if they can come with me while I'm running, it's more time together for us," he says.
Rodas started training with his daughters at a very early age, he says—basically as soon as they could ride in a stroller. From there, they began riding their bikes next to him as he ran.
Nowadays, they go mountain biking together too. Sometimes he brings both girls while other times it's just one or the other. His wife, Christelle, often joins them. He says the girls like to sing while they bike next to him.
"It has become something very special for us to do as a family," he says. "We get to spend extra time together."
Although Rodas says he had an amazing childhood, it didn't involve a lot of outdoor recreation. It wasn't until he moved to Colorado that the family began doing things like snowboarding, hiking, camping, and biking together.
Spending time outside with his daughters has helped them to understand a part of his life that they might not otherwise know, he says.
"Usually my daughters never see me train," he says. "They know I leave for long periods of time and come back sweaty and tired, but running with them, they can now be a part of my training. When they see me racing, they understand better what it takes to compete in an Ironman, for example.
"Having the girls being such a big part of my training is probably what has kept me competing in the sport of triathlon."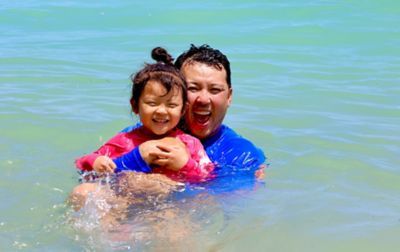 Ki Chang Kim, now 42, fishing with his daughter Olivia, now 5, this May in Islamorada, Florida.
Ki Chang Kim – Coral Springs, Florida
Ki Chang and his wife, Jesse, have been taking their daughter Olivia fishing since she was a baby, though she didn't start holding her own rod until she was about 3. She's now almost 5, and it's quickly becoming a favorite pastime.

"We're blessed enough to live in South Florida, and for the past year, the pandemic gave us a lot of free time to be outside," Kim explains.

During that time, they visited Islamorada every two weeks to fish, bike, camp, and visit the local piers. Kim says the idea was to show his daughter how outdoor activities can be a part of everyday life so that when she grows up and has her own family, it will be natural for her.

"I want my daughter to see that fishing brings joy and family fun time," he says. "It also provides us with a healthy meal, and she knows where it comes from."

Kim moved to the United States from South Korea at age 10, he says, and by the time he arrived, his uncle and grandparents were already here learning to fish, even though fishing was "almost nonexistent" back home.

"My uncle was an avid mountain climber and when he moved to South Florida, there weren't any mountains, so he picked up on saltwater fishing," Kim recalls. "It became our family outdoor activity. I learned how to fish from my uncle and I would teach my dad.

"He wasn't good at outdoor activities, but he understood the value of doing things together as a family. He made sure that every summer we went camping at the Great Smoky Mountains. He implanted the tradition in me and I want my daughter to have a similar experience."

Kim says that his goal isn't to catch fish but rather to see the ocean and relax. Plus, he wants to teach his daughter to be active instead of watching TV or playing video games, and give her the opportunity to talk to family when she wants to.

"Learning to have a real conversation with your family is missing in today's society," he says. "Fishing and other outdoor activities allow us to spend family time together and learn about each other in more depth.

"We can explore our daughter's fears and teach her how to overcome them through outdoor experiences. Our goal is to give her a lasting impression that she will one day share with a family of her own."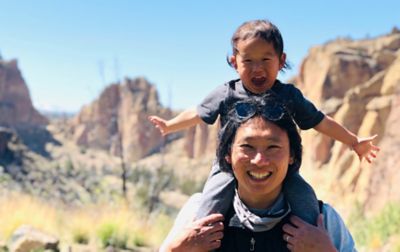 Jay Yeum, now 45, is pictured with his son Maximus, now 2, at Oregon's Smith Rock State Park this past April.
Jay Yeum – Beaverton, Oregon
Hiking with his two children has been a part of Jay Yeum's life since they were born. Generally accompanied by his wife, Lauren, the family of four loves to explore all of the outdoor spaces around Oregon where they live.

Elizabeth, 5, and Maximus, 2, have accompanied their parents on practically all of their outdoor adventures. When Elizabeth was little, they liked to take her to different parks around the Portland metropolitan area to educate her about nature.

"We love camping at the Oregon Coast," says Yeum. "We don't really have a favorite place, but we've been to Nehalem Bay the most. One of the most memorable times was when my 2-year-old son tried s'mores for the first time at the campfire—the joy on his face and how his eyes lit up."

Yeum says that he only had a few camping experiences with his parents growing up, but he discovered a passion for being outside in his 20s when he started camping and participating in outdoor activities with friends.

"It's important for me that my kids get to experience the outdoors and nature at an early age," he says. "As we get older, our lives get busier and it's harder to enjoy what Mother Nature offers us."

He says that being outside has brought the family a new hobby and he can see the happiness that it's already given both of his children.

"I am grateful that I can have opportunities to enjoy outdoor activities with my family," he says. "Especially for my children, being able to open their eyes and experience things or places that I wasn't able to do as a kid."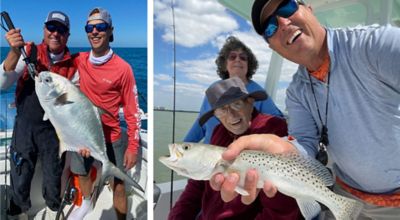 (Left) Dan Nolting, now 58, fishing with his son, Chris, now 30. (Right) Dan is pictured with his father, Jack, 89, now and cousin Allyson Blohm, now 65.
Dan Nolting – Bonita Springs, Florida
Fishing is a tradition that spans four generations in the Nolting family, one Dan Nolting gets to share with two sons, a grandson, and his 89-year-old father.
He first began
fishing with his dad
(who learned to fish from his dad) at age 5, when he remembers hooking a large bass on a cane pole. His dad came running to help as the pole snapped, he recalls. The two have been fishing together now for more than 50 years.
"Fishing has always been the constant thread for my father and me," Nolting says. "[It] has created a sense of admiration and respect for each other in our relationship. He taught me to fish as his father taught him.
"You come to realize it's more than a skill that's passed down from father to son—it is something you are born with that goes back many generations. It's in your blood and that bond is undeniable.
"As [my dad] is in the latter stages of life, I cherish the opportunities we have had, and I constantly look for one more trip, or one more fish to catch."
The two have fished all over together, from the Northwest Territories up to Alaska, and around their current home in Bonita Springs, Florida. He says that in his younger years, his dad fished offshore for grouper, snapper, tripletail, and cobia. Now he tends to take shorter trips around the backcountry, fishing for trout, snook, and redfish.
Nolting has passed on the tradition to his own grown sons, Chris, 30, and Nick, 33, and now to his 4-year-old grandson, Noah.
"There's not a single fishing trip in our time together that I would ever consider unsuccessful," Nolting says. "We have had many trips where we did not catch fish, but every opportunity to spend time together and be outdoors together has been time well spent."