How to Get Your Kids Outside
How to Get Your Kids Outside
Spark your children's interest in the great outdoors with these 6 tips
In today's digitally connected world, it's often difficult for adults to unplug, and even harder for kids who've never known a time without computer screens and smartphones. With video games and conversations with their friends at their fingertips, it can be tough to convince kids that trekking through the woods or taking a
hike in the rain
can be just as fun.
The sooner kids develop an interest in being outdoors—climbing trees, splashing in creeks, hunting for rocks, and exploring nature—the sooner they'll reap the physical, mental, and emotional
health benefits of being outside
. And while it takes effort to foster an
appreciation for the outdoors
, once your children have it, it's something that can last a lifetime.
We've pulled together six of our best tips for encouraging the children in your life to get outdoors.
1. Make a good first impression
Kids have long memories and if their first experience in the wilderness leaves them exhausted and cranky, it may be hard to convince them to do it again. So make a good first impression by ensuring their first adventure is fun, comfortable, and not too difficult. If you're hiking, for example, pick an easy trail the first time—you can increase the ruggedness later. And equip them with the right gear by making sure they have
proper footwear,
along with
outdoor-specific clothes and apparel.
If you're worried about them outgrowing the gear, choose technologies like
OutGrown™,
which adjusts as they grow. And if their outdoor activity requires a skill, such as
skiing
or
fishing
, consider lessons to help ease them into it with confidence.
2. Limit screen time
It can be a challenge to persuade kids to turn off their screens and go outside when they're right in the middle of watching TV or playing a video game. But if there's a set limit on how much time they can spend on their devices, it makes the task much easier. Plus, toys that don't have screens or electronic components, like dolls and race cars, can easily be taken outside to play with in the fresh air and sunshine. Establishing a set amount of screen time and giving kids something fun to do outside will encourage them to head outdoors when time is up.
3. Sign them up for group activities
Hanging out in the woods with Mom or Dad might sound boring to your children, but a group activity with other kids their age is a great way for them to socialize and get excited about the outdoors. Sign them up for outdoor summer camps or group activities like hiking, biking, skiing, and swimming. Outdoor youth programs generally include something for every interest, so be sure to check your local offerings. Plus, structured group activities remove the pressure of having to coordinate them yourself while also providing a safe environment for kids to get to know the outdoors.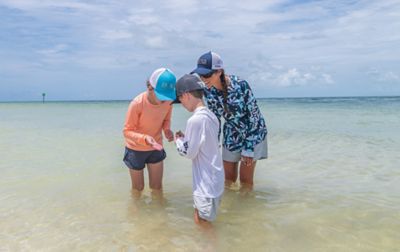 4. Visit a national park
Another great way to introduce a love for the outdoors at a young age is by
visiting a national park.
Seeing the wonder and majesty of nature in someplace like Glacier National Park, Yosemite, or
the Grand Canyon
can leave a huge impression on young minds. And unlike more remote stretches of wilderness, national parks are designed to be inclusive, with access and pathways that make it easier for young children to experience these grand outdoor spaces. The National Park Service Junior Ranger program also offers a series of outdoor activities for children of all ages to engage in. And don't let the weather stop you—
visiting national parks in the winter
or
fall
can be amazing with kids too.
5. Let them pick out their gear
Letting your kids pick out their own gear can be a fun experience for both of you. And once they have some
gear of their own,
they'll want to go outside and use it. Whether it's a cool
new hat,
or a
backpack made for the outdoors,
they'll be excited to have a reason to go put their new stuff to use. Picking out a new pair of
hiking pants
or a slick
fishing shirt
before an adventure can give your kids a sense of inclusion that will help cultivate their growing interest in all things outdoors.
6. Start now and don't overthink it
A good first impression is important, but it doesn't need to be perfect. You don't have to plan an epic trip through the most beautiful backcountry in your region to get your kids outside. Start now and start small. It can be simple, everyday things like going to the park more often or taking short day hikes around town. There are lots of ways to
incorporate the outdoors into your day-to-day lives
without having to exert too much energy. The sooner children get accustomed to being outdoors as a regular family activity, the more likely they are to enjoy it and adopt outdoor adventuring as a lifestyle. Plant the outdoors-loving seed early on and watch it grow!