The Best National Parks to Visit in Fall
The Best National Parks to Visit in Fall
Take in fall's exploding colors at these 12 national parks
Whether you're hoping to
camp
,
hike
,
explore in your RV
, or simply soak up the views on a leisurely scenic drive,
national parks
are must-see destinations for any fan of the outdoors. In addition to offering stunning trails and natural landscapes, many are considered "dark sky parks," which makes them ideal locations for stargazers to enjoy celestial viewings with very little light pollution.
Our national parks are incredible any time of year, and fall is no exception. The scenery is majestic and the crowds tend to be smaller, especially compared to
summertime
, when visitor numbers tend to swell. To help you plan an upcoming national park visit, we have compiled a list of the 12 parks we think will make for unforgettable autumn adventures and even great fall vacation ideas. But before we get into the details of our chosen parks, let's quickly look at a few other benefits of visiting during shoulder season.
Columbia Sportswear is proud to support the National Park Foundation's Open OutDoors for Kids program, helping to connect students to their national parks through field trips, classroom activities, and educational activities.
Why visit national parks in the fall?

Fall foliage
The
changing leaves
are truly nature's fireworks show. And there is something unique about the explosion of red, yellow, and orange colors within the setting of a national park—the endless acres of unspoiled forests or large stands of trees set against majestic mountains, crystal clear alpine lakes, or rocky shorelines. We've all seen changing leaves, but you haven't seen changing leaves like this until you experienced a national park in fall.
Milder temperatures
Less extreme temperatures and weather conditions are a big reason to plan your national park visit in the fall. Sure, autumn mornings and evenings can be cool and crisp, but it's nothing a
warm fleece
can't handle. Just be sure to
dress in layers
so you can add items of clothing or take them off to adjust to shifting conditions.
Smaller crowds
Once summer vacations have ended and kids are back in school, national parks become less crowded and the opportunity for solitude is that much greater. Smaller crowds also mean less waiting at local stores or restaurants and, better yet, more availability of lodging and campground sites. Not only that, it's easier to obtain permits required for areas that limit access to prevent overuse. That said, pay extra attention to operating days and hours of any national park activities, as they may be limited as it gets later into the fall.
Wildlife viewing
Our national parks are home to countless wildlife species, from bears to moose to bison. And there's no better time of year to observe them in their natural habitat than fall. With the summer heat passed and the extremes of winter still weeks away, animals are at their most active, giving you unmatched viewing opportunities. Just remember that you are in their territory, so be sure to follow any posted guidelines and give these wild animals a wide berth for both your safety and theirs.
The Best National Parks for Fall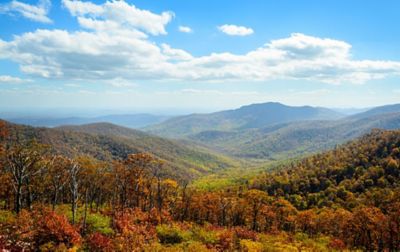 1. Shenandoah National Park, Virginia
Located in Virginia, Shenandoah National Park consists of 200,000 acres along the crest of the Appalachian mountains. The park's top attraction and the number one reason to visit in the fall is Skyline Drive. One of the East Coast's most scenic drives, it's made all the more spectacular by the red, orange, and gold colors of fall foliage. You'll find plenty of places to camp as well as 500 miles of hiking trails, where you can discover waterfalls; 50 mammal species, including black bears and white-tailed deer; over 190 bird species; and over 1,400 plant species in the park's rich ecosystem. For the extra adventurous, don't miss the hikes and challenging rock scrambles to reach Old Rag Summit for the breathtaking 360-degree view of nature in its multicolored fall glory.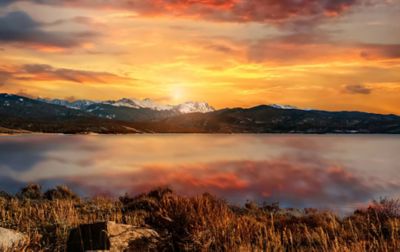 2. Rocky Mountain National Park, Colorado
The chance to enjoy the park with fewer crowds is a big reason to visit Rocky Mountain National Park in the fall. The park encompasses a large part of the Rocky Mountains and features a number of peaks that reach an elevation of over 14,000 feet, with the tallest being Longs Peak at 14,259 feet. Among the many varied hikes within the park, Longs Peak is one of the more notable and challenging to take on.
The park is also known for its alpine tundra—the area above the tree line where beautiful
wildflowers
and various high-elevation vegetation can be found. Hiking trails like the Ute Trail and Tundra Communities Trail provide an opportunity to explore these unique and beautiful mountain landscapes. Remember that even during the fall, the combination of high elevations and lack of shade above the tree line greatly increase your exposure to damaging ultraviolet rays. So make sure to protect yourself with sunscreen and
UPF-rated clothing
. For those looking for something less strenuous, the park offers Trail Ridge Road, the highest continuous paved road in North America, with breathtaking panoramic alpine views that most roads can only dream of.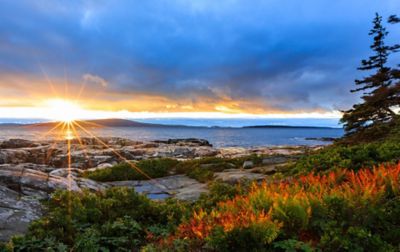 3. Acadia National Park, Maine
A place like no other, Acadia National Park is located off the coast of Maine and is the easternmost of all national parks. Relatively small in size for a national park, Acadia fits a lot into less than 50,000 acres. Its rugged coastline, granite peaks, lush forests, and mountain lakes offer endless adventuring opportunities. Hike or bike on historic crushed-stone carriage roads. Explore tidepools, spot seals and seabirds, and watch for whales. And when you're lucky enough to be here during the fall months, you'll see arguably the most beautiful fall colors of any national park. For the best views, enjoy a leisurely stroll around Jordan Pond or take on the challenge of climbing the park's historic iron rungs of the Precipice Trail to reach the summit of Champlain Mountain. As with most coastal areas, Acadia is often windy, so be sure to bring a
windbreaker
or other light- to medium-weight jacket.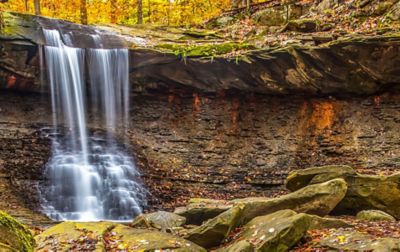 4. Cuyahoga Valley National Park, Ohio
Due to its location between Cleveland and Akron, Cuyahoga Valley National Park is considered one of the most easily accessible national parks, and one of the few located outside the western U.S. It is named after the river that flows through the park, which offers opportunities for both kayaking and canoeing, so
prepare to get wet
. The park also includes the 60-foot Brandywine Falls that can be viewed from the end of a boardwalk trail, a scenic railroad where you can take in the fall foliage and historic sites from a vintage train, and plenty of trails for hiking and biking. The popular Ohio and Erie Canal Towpath Trail offers many miles of outdoor exploration that include views of the river and historic canal locks. When visiting Cuyahoga Valley National Park in the fall, be sure not to miss the Ledges Trail, a 2.2-mile hike that goes through a rocky landscape of limestone formations as well as forested areas that explode with the colors of the changing leaves.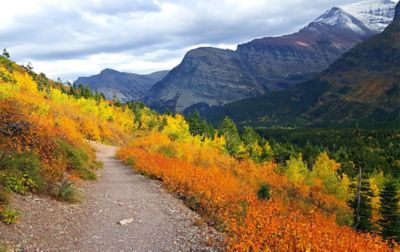 5. Glacier National Park, Montana
Located in Montana, Glacier National Park features more than two dozen glaciers that make up the park's rugged mountain landscape, creating the area's U-shaped valleys and alpine lakes. Hike and backpack your way through 700 miles of mountain trails (TIP:
Choose your footwear wisely
). Need more than a day to explore? Without the crowds of summer, you should find plenty of good options for
camping
.
While you're here, be sure to drive Going-to-the-Sun Road, Glacier's famous scenic drive—a must-do for a fall trip to Glacier National Park. Constructed in 1932, the 50-mile road that winds through the heart of the park is considered to be a true feat of engineering. At its highest point at Logan Pass, the road reaches an elevation of over 6,500 feet, offering sweeping mountain views, made all the better by the red, orange, and yellow fall colors. And along the way, keep an eye out for wildlife like mountain goats, bighorn sheep, marmots, and even the occasional grizzly bear. The road is open into October, weather permitting.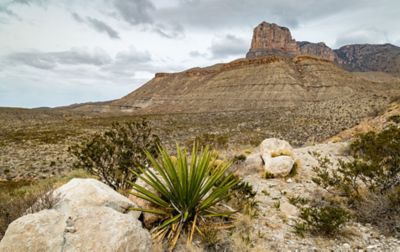 6. Guadalupe Mountains National Park, Texas
Located in west Texas, Guadalupe Mountains National Park features a unique mix of diverse ecosystems: high desert, woodland, and riparian areas—transitional zones of land and water found along riverbanks, streams, lakes, ponds, etc. This unique ecosystem makes the park a rare place in the southwest to find the exploding colors of changing foliage. Follow the 4.2-mile Guadalupe Peak Trail to the top of Guadalupe Peak with an elevation of 8,751 feet (the highest point in Texas) for unmatched views of fall desert beauty, best enjoyed mid-October to mid-November.
As a bonus, Guadalupe Mountains National Park is located right next to Carlsbad Caverns National Park, which features a vast network of caves and chambers to explore on your own or as part of a guided tour. Make sure to see The Big Room, one of the largest cave chambers in North America. Temperatures in these underground caves are consistently cool year-round, so make sure to bring a
light jacket
or
midlayer
—and probably
a headlamp
.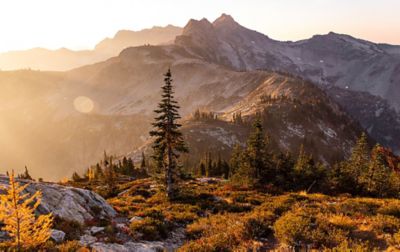 7. North Cascades National Park, Washington
Often referred to as the "American Alps," this northern Washington state park, located near the Canadian border, is a backpacker's paradise. It features hundreds of glaciers, with many of its peaks reaching more than 9,000 feet in elevation, such as Mount Shuksan (elevation: 9,131 ft.) and Mount Baker (elevation: 10,781 ft.). These peaks create a rugged mountain playground that's as
perfect for hiking
as it is climbing. The park's many hiking trails range from easy walks to backcountry treks, and include part of the Pacific Crest Trail for really serious adventurers. Be on the lookout for the park's many wildlife species, including grizzly bears, black bears, gray wolves, and mountain goats. And no fall visit to North Cascades National Park would be complete without hiking the Maple Pass Loop Trail, a 7.2-mile trek that features vibrant fall colors reflected in clear alpine lakes.
Extend your Washington state fall visit by including Olympic National Park for the Dungeness Crab & Seafood Festival held every October in Port Angeles, Washington. Delight in the delicious bounty from the Pacific Ocean and learn about the local maritime culture while enjoying live music and visiting artisan vendors.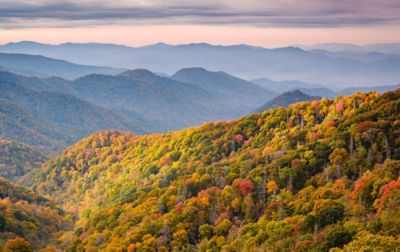 8. Great Smoky Mountains National Park, North Carolina and Tennessee
Located along the border of North Carolina and Tennessee, the 500,000-acre Great Smoky Mountains National Park is one of the few national parks in the south but among the nation's most popular, which is a great reason to visit in the fall when there are fewer crowds. The park offers plenty of amenities like campgrounds and visitor centers, and thanks to the nearby towns of Gatlinburg and Pigeon Forge, there are plenty of food and lodging options. Among the park's notable features are an old-growth forest you can explore on foot; plenty of wildlife like black bears, white-tailed deer, and elk; many bird species; and hiking trails, including the Alum Cave Trail. Take it to the summit of Mount LeConte for panoramic views of the surrounding mountains covered in brilliant fall colors—one look and you'll know you picked the right season to visit. You can also hike or drive to the park's highest point, Clingmans Dome, for more unforgettable fall views. Just also be prepared for the chill at over 6,500 feet—we recommend bringing a
warm jacket
.
If you find yourself visiting in October, be sure to head to Gatlinburg to experience the annual Ober's OktOBERfest, where you can enjoy Bavarian folk dances, German-inspired foods, and much more all month long.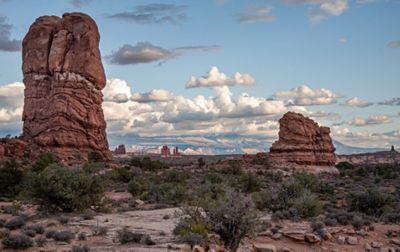 9. Arches National Park, Utah
The beautiful red colors of Arches National Park in fall have nothing to do with autumn and everything to do with the park's unique and stunning red rock formations, which include more than 2,000 natural stone arches spread across nearly 77,000 acres near Moab, Utah. Even if you've seen photos of some of these arches, seeing what nature has created over millions of years is something that can only truly be appreciated in person. The park's more famous formations such as Delicate Arch, Landscape Arch, and Balanced Rock can all be reached via hiking trails, including the popular Windows Loop Trail, a relatively short and easy 0.7-mile loop with views of Turret Arch and Double Arch. For the more adventurous, obtain a permit or schedule a ranger-led tour of Fiery Furnace—a visually mind-blowing hike through a maze of narrow sandstone canyons, fins, and arches you won't soon forget.

Another special fall event near Arches National Park is the Harvest Time Scarecrow Festival in Capitol Reef National Park, where you can see various scarecrows created by the locals and enjoy pumpkin-carving contests and food vendors throughout October. And if your travels in Utah take you to Zion National Park at the end of September, be sure to check out the Zion Canyon Music Festival in Springdale, Utah, where you'll find an abundance of music, food, arts, crafts, and fun.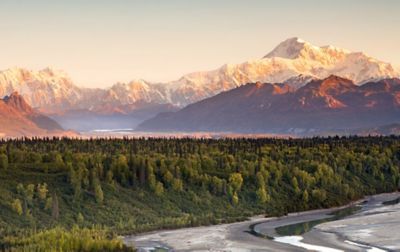 10. Denali National Park and Preserve, Alaska
Denali National Park and Preserve in Alaska is home to Mount Denali, which stands a majestic 20,310 feet above sea level. The highest peak in North America, it's as awe-inspiring to look at as it must be to climb—just ask the expert mountaineers who flock to it each year. As part of an ongoing commitment to preserve its natural ecosystem, most of the park is only accessible via Denali Park Road, which stretches 92 miles into the Alaskan wilderness. Only the first 15 miles of the road are accessible by private vehicles, with the rest open only to park shuttles and permitted buses. From the road, you'll enjoy breathtaking vistas of fall colors set against snow-capped peaks, along with glimpses of the park's wildlife, including grizzly bears, moose, and caribou. The road also offers access to visitor centers and hiking trails, where you can further explore the park's beauty. Try the Savage River Loop Trail for an easy two miles of beautiful river views, or Triple Lakes Trail, a moderately strenuous 8.8-mile hike with incredible mountain and wildlife viewing opportunities.
Visiting Denali National Park and Preserve in the fall is a great time to explore the park without the crowds of summer or the extreme cold of the winter months. Just remember, those more moderate temperatures will get cooler and cooler as you get deeper into October. So be sure to
dress warmly
—we'd recommend
outerwear and footwear
featuring extra warm
Omni-Heat™ Infinity
technology.
11. Blue Ridge Parkway, Virginia and North Carolina
While not technically a national park, we're giving Blue Ridge Parkway special mention as it is arguably one of the country's most beautiful drives, especially in the fall. Often referred to as "America's Favorite Drive," it is all the more beautiful when the views are awash in the reds, yellows, and oranges of the changing leaves. This 469-mile scenic highway that reaches elevations of 6,000 feet connects two other locations on our list: Virginia's Shenandoah National Park and the Great Smoky Mountains National Park in North Carolina.

There are stops along the parkway that provide plenty of opportunity to learn about Appalachian history and culture. You'll also find scenic overlooks, camping areas, and hiking trails. If you're up for a challenging hike of over 11 miles round trip, take the Mount Mitchell Trail to the peak of Mount Mitchell (elevation: 6,684 ft.). With a 3,600-foot gain in elevation, you're atop the tallest peak east of the Mississippi River.

If your visit to Blue Ridge Parkway allows time for a side trip, consider heading to Congaree National Park during the Congaree Swampfest the first full weekend of October. Enjoy a variety of live R&B, jazz, and gospel music as well as special exhibits, activities for children, and events offered by the park, from guided hikes to an evening Owl Prowl.
12. Grand Teton National Park, Wyoming
Located near the town of Jackson in northwestern Wyoming, Grand Teton National Park is noted for the Teton Range, which includes the park's namesake peak, Grand Teton, with an elevation of 13,775 feet. In addition to plenty of opportunities for camping, hiking, and backcountry adventuring among the park's towering peaks and natural wildlife—including grizzly bears, black bears, moose elk, bison, and bald eagles—a visit to Grand Teton National Park in fall also offers plenty of water activities. Experience whitewater rafting as well as
fly fishing
and kayaking on the Snake River, which runs through the park, or fish, canoe, and kayak the pristine waters of both Jackson Lake and Jenny Lake. Or if you prefer to enjoy the water from afar, you can't beat the view of Jenny Lake and the fall colors surrounding it from Inspiration Point, which is just a short but steep half-mile hike away.