Mother's Day Activities - Wildflower Hikes
Take Mom on an Enchanting Wildflower Hike this Mother's Day
Looking for something to do with Mom this Mother's Day? Why not soak up the natural beauty of a wildflower hike?
Bringing your mom a bouquet of flowers on Mother's Day is certainly a sweet gesture, but why not take it one more step? Bring her an entire field. Mother's Day is the time of the year when wildflowers are in bloom. That makes it a great time to thank the woman who raised you by taking her on a hike to show her the beautiful array of wildflowers that nature has to offer. And walking through fields of pinks, purples, blues, and oranges is a great way to get some exercise while also soaking up the scenery. To help you feel inspired, here are eight of the best wildflower hikes in the U.S.
1. Black Mountain Trail, Vermont
With striking natural beauty that rivals coastal New England, this beautiful inland trek near Dummerston, Vermont, is rated as moderately difficult. The 3-mile excursion provides hikers with a challenge that's steady without being too grueling. Among its many delights include craggy granite boulders spread throughout thick forests full of tall pines and oak trees, mixed with sprawling fields of violets, dwarf ginseng, and wild strawberries.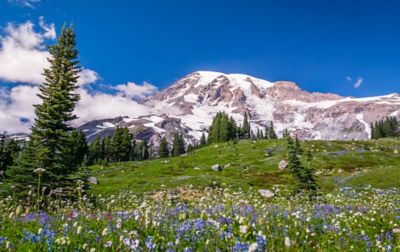 2. Mt. Rainier National Park, Washington
Washington state's Mt. Rainier National Park is a cornucopia of wildflower delights in the springtime. Pick a trail—it doesn't matter. You and Mom can walk just about anywhere in the park and find a spectacular variety of daisies, avalanche lilies, buckwheat, and bog orchids blooming right in front of your eyes. Try Reflection Lakes, a 2.75-mile loop that offers breathtaking views of alpine lakes, or check out Sourdough Ridge, an easy 4-mile trek that affords glimpses of the impressive Emmons Glacier, along with endless fields of wildflowers.
3. Dells Canyon and Bluff Trail, Illinois
This moderate 2-mile loop is filled with every shade of wildflower imaginable—like bright-red columbines, rich-magenta shooting stars, and lavender hepatica—and runs through a jagged U-shaped canyon. As the trail winds through Matthiessen State Park, just south of Starved Rock, you'll see beautiful lake-fed streams, picturesque waterfalls, and gorgeous rock formations. If you have time, there's an archery range and several equestrian trails that Mom may enjoy too.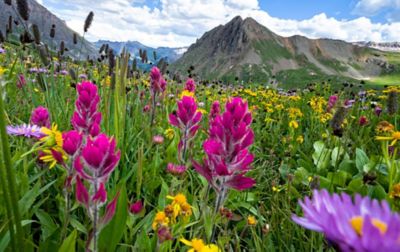 4. Ouray, Colorado
Between the deep-red columbines and the bright-yellow sunflowers, the fields around Ouray, Colorado, are bound to mesmerize you. The region offers wonderful wildflower hikes this time of year, from the Ouray Perimeter Trail, a moderate 5.6-mile trek through forests and waterfalls, to Yankee Boy Basin, a scenic area in the San Juan Mountains that's sprinkled with multicolored meadows and old mining structures.
5. Bay Area, California
The mountains around San Francisco are famous for their awe-inspiring fields of California poppies. If you haven't seen them in full bloom before, this is the perfect time. The bright, otherworldly hues that range from red to orange to yellow are truly a sight to behold, offering viewers a kaleidoscope of natural color. Check out the waterfalls and wild cattle around Little Yosemite, a moderate 2.2-mile excursion, or trek through fields of sky lupine and larkspur on Mount Tamalpais, a mountain peak with a variety of trails to choose from.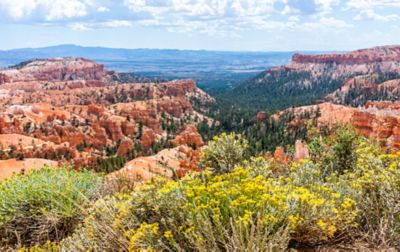 6. Bryce Canyon, Utah
Utah's rugged national parks are typically known for their giant rust-colored arches and jaw-dropping geological formations. However, they also boast beautiful wildflower fields in the spring and summertime that offer exquisite opportunities for Mother's Day hiking. In Bryce Canyon, check out the Queen's Garden Trail or the Bristlecone Loop, both of which are moderate trails that are likely to boast blue flax, Western iris, and red canyon penstemon.
7. Brenham, Texas
Nestled in Washington County, Texas, the town of Brenham is known countrywide for its dazzling display of bluebonnets that bloom in the springtime, creating a gorgeous spectacle for hikers, scenic drivers, and photographers alike. There are tons of hiking trails in the area that make excellent mini-adventures with Mom, along with the Bluebonnet Trail, which offers more than 80 miles of scenic roadway.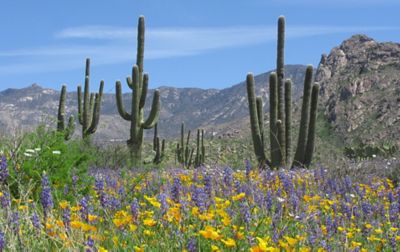 8. Sonoran Desert, Arizona
Few places in the country offer the stillness and beauty of the Sonoran Desert. With a wide assortment of
national parks
and state reserves to choose from, it's an excellent location for springtime wildflower viewing. Check out Jojoba Trail, a 2.7-mile trek full of poppies and cactus flowers and suitable for all skill levels), or venture inside the McDowell Sonoran Preserve, a scenic area filled with brittlebush, cholla cactus, and desert marigolds, with hikes of varying difficulty levels.