Hiking Boots vs Hiking Shoes: The Showdown
Hiking Boots vs Hiking Shoes:
The Showdown
Table of contents
Whether you're a diehard survivalist or a casual weekend warrior, chances are that if you've ever done anything remotely outdoorsy, you already know what hiking boots are. You might not, however, be as familiar with hiking shoes. These are more modern inventions that, while also designed for hiking, look and act a bit differently.
These days, there are dozens of different types of hiking footwear out there—day hikers, thru-hikers, trail runners, barefoot shoes, low hiking shoes, approach shoes, backpacking boots, mountaineering boots. The terminology can make your head spin (and that's before you even get into features and materials). If you've been searching for hiking footwear recently, you may be wondering what the differences are.
The good news is that all of the footwear listed above can be broken down into two main umbrellas: hiking boots and hiking shoes. In this article, we're going to break down the key differences to help you decide which one is best for you.
But first, let's talk about the question on everyone's mind: Do you really need
special shoes for hiking
anyway?
Why is hiking footwear so important?
While it may be tempting to throw on your old gym shoes and hit the trail, that's typically not the smartest choice. In addition to potentially setting yourself up for an injury, you really won't enjoy yourself as much.
Hiking is what some people refer to as "Type II Fun." It can be hot. It can be wet.
It can be cold
. It can be tiring.
It can be dirty
. You might spend half the day scrambling up steep, endless switchbacks and the other half trekking through ankle-deep water. If you don't have the right footwear, you're going to be hot and tired at best. At worst, you'll be miserable and injured.
It's worth the investment to get shoes that are designed specifically for the job
The roots of hiking boots
Hiking boots have a long history in the outdoor world. In the early years, they were essentially big chunks of leather wrapped around a piece of rubber—those clunky contraptions your mom or dad may have strapped on your feet when you took trips into the "Great Outdoors." They probably looked something this: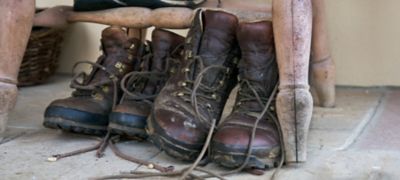 The goal was to protect your feet at all costs and make sure you came home with all of your toes. The material was thick and heavy with little regard for comfort or frivolities.

They tended to have higher tops and were made with rugged metal hardware. The lace-up process was often a Herculean task that involved tugging at your ankles for 10 minutes to get your foot inside the boot.

That said, for all their clunkiness, early hiking boots did their job beautifully. They kept you warm, they kept you dry, and they kept you protected. Not only that, they were tough enough to survive an apocalypse. This ad says it best: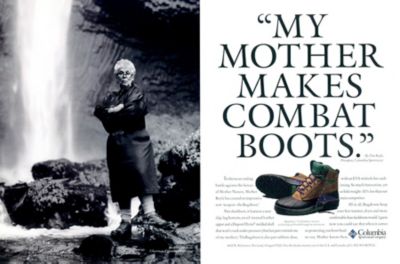 But as great as they were, they lacked certain features: They were often heavy, stiff, and hard to break in.

Not only that, they weren't exactly what you'd call "stylish."

In fact, they were so unstylish that sometimes the manufacturers had to make fun of themselves:

As the demand for more comfortable, style-conscious hiking boots grew, outdoor footwear began to evolve. Summer hiking boots emerged. Spring and fall options were released. Soon, hiking boots were equipped with flexible materials that felt lighter on your feet and softer footbeds that provided extra cushioning.
Lacing up your boots
also got easier.
In short, the hiking industry got the memo.
Within a matter of time, the trails started crawling with a new generation of comfortable, lightweight hiking boots—and they even looked good on your feet.
As more time passed, they got even lighter, more flexible, and more comfortable. And then one day, lo and behold: The hiking shoe emerged.
What are hiking shoes?
The open knit bootie of the SH/FT Breeze™ delivers lightweight comfort and breathability.
Ultra-resilient rubber outsoles built to traverse concrete jungles and trailheads.
SH/FT cushioning for best-in-class energy return, durability, and comfort.
Industry-leading waterproof construction of the Outdry™ Mid keeps feet dry no matter what.
Hiking shoes (which are also referred to as hiking sneakers) are essentially modern-day spin-offs on traditional hiking boots with added versatility. They resemble athletic sneakers but provide
extra traction
, cushioning, and protection so you can hike in them safely and comfortably.
The best hiking shoes are made with high-performance features that allow them to be lighter and more flexible without compromising their effectiveness on the trail. These items include things like protective upper materials, high-grip lug patterns, waterproof coatings, sock-like booties, and other hiking-specific elements.
What's the difference between hiking boots and shoes?
In terms of comfort and durability, both types of footwear have plenty of cushioning and endurance. They can withstand heavy weather elements and offer protection from trail hazards. Best of all, both types of footwear are far more style-savvy than their predecessors.

Still, there are some key differences.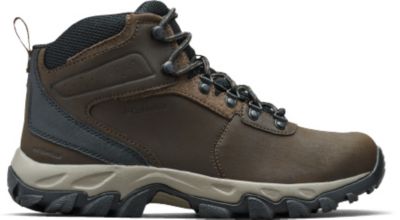 Hiking boots
- Higher tops
- Thicker uppers
- More leather materials
- Traditional boot design
- More protective
- More rugged
- More stable
- Feet that require extra ankle support
- Hikers that prefer a stable feel
- Easy, moderate & advanced hikes
- All-season hiking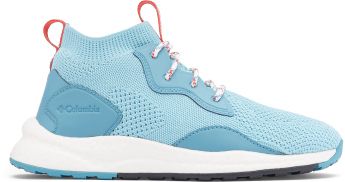 Hiking shoes
- Lower tops
- Thinner uppers
- More knits & mesh materials
- Sneaker-style design
- More flexible
- More lightweight
- More versatile
- Feet that require less ankle support
- Hikers who prefer a lightweight feel
- Easy to moderate hikes
- Spring, summer & fall hiking
Hiking boots shine brightest on technical terrain and are typically a bit more rugged and protective. They're often made with thicker leather materials and tend to have more metal components.
With higher tops and some of the toughest uppers available, they tend to be a bit more stable than hiking shoes, which makes them especially good choices for people who need extra ankle support, or
beginning hikers
who are still developing their foot skills.
Hiking shoes, by contrast, are a bit thinner with lower tops and knit or mesh components that often make them stretchier and more flexible. They feel a bit lighter on your feet and the materials allow them to be a bit more breathable. They don't offer the same degree of support as full-sized boots but their versatile styling offers hikers a look that can go from trail to tavern more smoothly.
People who like that extra-secure feeling when they hike often prefer boots, whereas hikers who like a more lightweight, flexible feel may prefer hiking shoes.
Which footwear is best for you?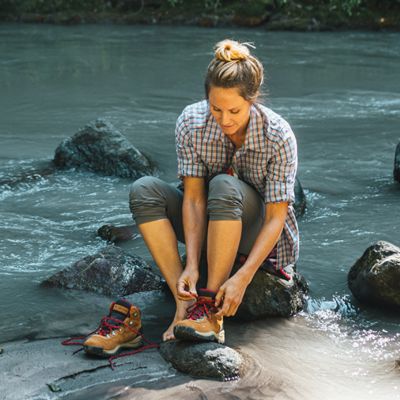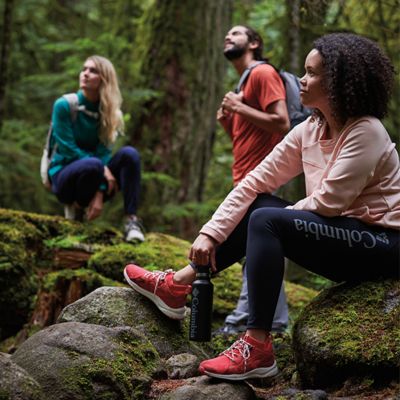 The answer to this question is largely a matter of personal preference. As you start looking at specific styles, there are several things to consider:
What you're doing: Will you be primarily hiking on dirt, gravel, or pavement? How technical is the terrain? Will you be day hiking, backpacking, or thru-hiking?
Where you're doing it: What's the climate like? Is it hot and dry or wet and rainy? Will there be mountains and rivers or beaches and deserts?
Who you are: Are you a beginner, intermediate or advanced hiker? How hard do you like to hike? How fast do you like to go?
All of these questions will factor into the footwear you choose. To make it simple for you, we've put together a list of footwear recommendations based on different adventures you may be planning.