How To Explore National Parks in an RV or Camper Van
How To Explore National Parks in an RV or Camper Van
Planning a road trip this summer? Here's our guide to getting the most out of your national parks visit
Whether you're exploring the Grand Canyon in a 40-foot RV or boondocking near Yellowstone in a converted Sprinter,
touring national parks
by van or motorhome is a great way to experience their natural beauty. On top of the added
comfort and luxuries
, there are practical reasons to travel this way—you can roll into your campsite at any hour, you never have to worry about setting up a tent in the dark, you don't have to deal with bugs or dirt, and if the weather turns sour, it won't affect your trip.
Given all of these perks, it's no wonder that RV visitors made up more than
2.5 million of the overnight stays in national parks
in 2018. Columbia Sportswear is proud to support the National Park Foundation to help protect and preserve our most treasured places, keeping them ready for your adventures now and for years to come. Below are some tips to help you maximize your RV adventure.
Explore Columbia's guides on the best national parks to visit in the
winter
,
spring
,
summer
, and
fall
and plan for the perfect season for your trip. You should also check out Columbia Sportswear's
RV camping packing list
to make sure you have everything you need for your next RV adventure. And even if you have not fully committed to the RV or Van life you can explore the options of
car camping vs. tent camping
.
1. Make sure your vehicle is allowed
Many national parks allow RVs and motorhomes, but there are exceptions to be aware of. For instance, even parks that do permit RVs sometimes have length restrictions, or areas where RVs may not be allowed to drive. So do some research before you go to avoid arriving at your destination to find that your vehicle (aka your house) is not allowed inside. Keep in mind that some campsites within the parks can have their own special restrictions, so be mindful of the rules at the spot where you plan to camp.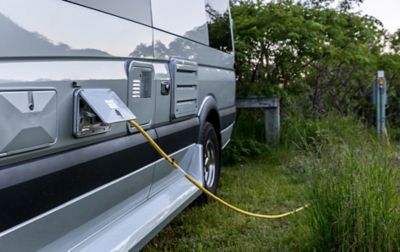 2. Research the hookups ahead of time
When it comes to hookups for vans and RVs, not all national parks are created equal. Don't make assumptions, especially if you're driving a bigger rig. Check ahead of time to confirm what types of amenities are available—and don't forget to locate the dump sites too. Some national park campsites offer full hookups that include water, sewer, and electric, while others only have water spigots. Some of the more remote sites might not provide any services at all. Whether you are RVing or just heading out for a day hike, it's always smart to know before you go and plan ahead to make sure your park visit is fun and safe.
Columbia Sportswear is proud to support the National Park Foundation to help protect and preserve our most treasured places, keeping them ready for your adventures now and for years to come.
3. Download maps and carry park guides
Many national parks don't have Wi-Fi, or if they do, it's very limited. The last thing you want when you're 70 miles into a scenic drive is to get lost because you don't have downloaded maps to refer to. Aside from the hassle that this can create (not to mention the potential safety hazards), you may miss out on some amazing views. So it's a good idea to
make sure any maps you'll need are downloaded
ahead of time. It's also wise to save screenshots to your phone and have paper copies too, if possible. The same goes for trail guides—get printed versions at the park office and carry them with you when you hike or explore.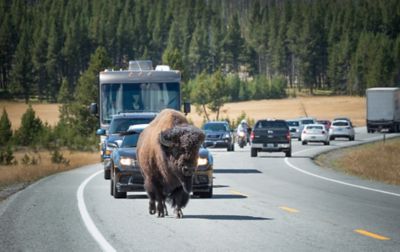 4. Reserve your campsite early
National parks are extremely popular and campsites at some of the more notable ones can fill up quickly, sometimes up to a year in advance. Start
planning your trip early
and don't set out for your adventure without confirming that you have a site secured. If the destination you plan to visit has a first-come-first-served policy, make sure to have some backup options and don't expect to roll in on Friday night and snag a spot by the river.
5. Don't leave your windows open
It may be tempting to leave your windows cracked when you're out exploring, especially in a hot climate. But just as tent campers are advised to hang food on trees to avoid attracting bears and other wildlife, you should keep your windows shut tight. Unlike with tent camping, you have a full-sized kitchen inside, so don't just walk off and leave it exposed. This is for your own safety, as well as the good of the critters.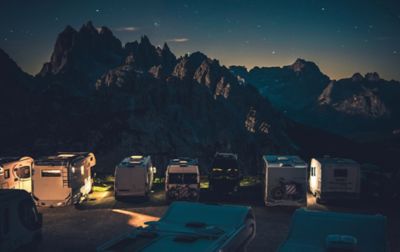 6. Avoid the crowds
National parks can get crowded, especially in the summertime. However, if you start early and plan your day strategically, you can sometimes stay ahead of the circus. Try waking up before sunrise and hitting the trails early. Bonus: It will
help you stay cooler
too. Plan activities for close proximity so you don't waste time driving and can get the most out of your day. Another option is to plan your visit in the spring or fall when you can soak up the beautiful sights with fewer people. It's also good to remember that there are 400+ parks across the country – checking out
one of the hidden gems
within the National Park System can be a great way to enjoy the majesty of the parks while avoiding crowds.