5 of our Favorite National Parks
5 of Our Favorite National Parks
With 85 million acres covered by the U.S. National Park Service, it's hard to pick just one spot to explore. Even among the 62 official National Parks (distinct from National Monuments, National Historic Sites, etc.), the superlatives are as abundant as the acreage. But we tried. These five are just a few Columbia staff favorites to help you prep for a summer vacation or a last-minute, off-season getaway.
• Hawai'i Volcanoes National Park
(Hawai'i)
• Acadia National Park
(Maine)
• Zion National Park
(Utah)
• Olympic National Park
(Washington)
• Glacier National Park
(Montana, pictured above)
If you plan on
visiting a national park by RV
, check out Columbia's
RV camping packing list
for a complete checklist of everything you'll need for your national park adventure. You should also explore Columbia's guides on the best National Parks to visit in the
winter
,
spring
,
summer
and
fall
.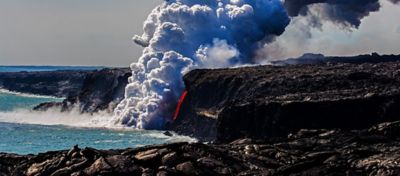 PHOTO BY NPS / JANICE WEI
Kamokuna Ocean Entry
Why?
Pahoehoe and aa. These two types of lava erupt from active volcanoes such as Kīlauea and Mauna Loa. You can see them up close and personal, from a safe distance, at Hawai'i Volcanoes National Park on the Big Island.
These are active volcanoes, so be sure to
check
for any park advisories or closures when you go. In 2018, Kīlauea erupted, causing significant damage to nearby residential areas.
If you do one thing:
Get up early and beat the crowds with a sunrise over Kīlauea caldera.
Don't go without this:
While Hawai'i is a haven for lounging on sandy beaches barefoot or in flip flops, the volcanic terrain of the park requires
sturdy hiking footwear
. Prepare with a comfortable, supportive pair of boots or shoes and wicking socks to keep your feet dry.
Fun fact:
Before you go, take a
Pono Pledge
: guidelines for
taking care
of yourself, your loved ones, and the environment while you visit.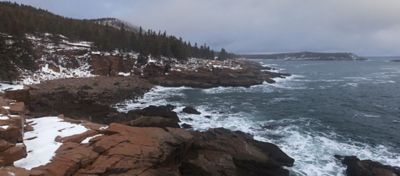 PHOTO BY COLIN HOFMAN
Thunder Hole
Why?
While most National Parks are west of the Rocky Mountains, Acadia is a gem perched on coastal Maine and is one of the northeasternmost places in the U.S.

If you do one thing:
Hike to Bubble Rock. Once upon a time, glaciers carried and left a boulder precariously perched on the 768-foot peak of the eastern side of South Bubble.

Don't go without this:
Insect repellent to ward off mosquitoes and black flies is essential during the warm months unless you love to scratch bug bites. You can also try to avoid too much time in thick, low-lying areas where insects huddle.

Fun fact:
The Precipice Trail is a refuge for endangered peregrine falcons that nest there March through August. During those months, the trail is closed but a staff naturalist may be present to help birders catch a glimpse from the parking area.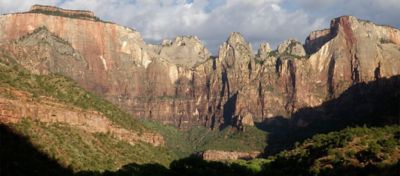 PHOTO BY NPS / REBECCA ALFAFARA
Towers of the Virgin at sunrise
Why?
Zion is the oldest among its National Park siblings Canyonlands, Arches, and Bryce Canyon in Utah. Its challenging hikes will make you feel unstoppable.
If you do one thing:
Angels Landing—a hike not for the faint of heart. While the first half of the climb is fairly accessible, once you pass "Walter's Wiggles," you're in for the long haul. Be ready to complete a nearly 1,500-foot climb. But the reward at the end is heavenly.
Don't go without this:
Much of the park is exposed to sun, especially Angels Landing. So sun protection is vital. Avoid repeatedly applying sunscreen by wearing long sleeves and long pants with
built-in UPF protection
.
Fun fact:
Upon its founding first as a National Monument in 1909, Zion was originally called
Mukuntuweap
, meaning "straight canyon" in the language of the area's Southern Paiute people.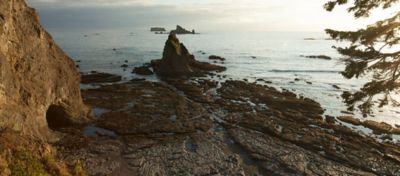 PHOTO BY COLIN HOFMAN
Rialto Beach
Why?
We have a soft spot for the Pacific Northwest, a.k.a. our backyard. Lush evergreen rainforests, skyscraping peaks, and rocky coasts visited by humpback whales—it's all in Olympic National Park on Washington state's coast.

If you do one thing:
Visit or camp at Ruby Beach, which offers a PNW sampler of outdoor adventure day and night. Spy the tiniest sea life in its tidepools, look out for breaching humpbacks (winter and spring), then cozy up for some of the most breathtaking stargazing in North America.

Don't go without this:
Wear a waterproof windbreaker during your day hikes (Hoh Rain Forest gets 140 inches of precipitation a year) and have a compactible puffy on hand for chilly summer nights camping.

Fun fact:
The Olympic Marmot is unique to the peninsula. So unique, it's the only place in the world you'll find these friendly rodents.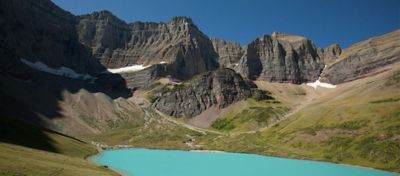 PHOTO BY COLIN HOFMAN
Cracker Lake
Why?
This National Park in Montana is one of the most lauded, dreamed of, and bucket-listed of them all. Hikers, beginner and experienced alike, are awed by its glacial lakes and powerful mountains.

If you do one thing:
While its rugged terrain may look intimidating or be inaccessible to some, there's one path just about anyone can enjoy: Going-to-the-Sun Road. It's 50 miles long and crosses the Continental Divide. Start out early to avoid traffic and to go slowly enough to take it all in (while driving safely).

Don't go without this:
With notoriously shifting weather conditions throughout the park, make sure you have cold-weather accessories on hand—especially gloves with touchscreen-friendly fingertips so you can keep hands toasty and not miss a photo op.

Fun fact:
Thanks to Glacier's placement on the Continental Divide, there have been dramatic temperature shifts up to 100° in 24 hours.
Honorable mentions
(We warned you, it's not easy choosing just five.)
The very first National Park is known for iconic scenes like Old Faithful and roaming bison. It even inspired a certain cartoon bear.
Its two monoliths, El Capitan and the Half Dome, are serious climbers' must-dos. If you're staying closer to the ground, gaze up at Yosemite Falls, one of the highest waterfalls in North America.

While all of the above have entrance fees, look out for select days when all parks are free.
Inspire others by sharing your National Park photos on Instagram and let us know by tagging @Columbia1938. Or check out our collaboration with National Parks.