UPF and You - How It Works
UPF and You – How It Works
Who doesn't love a nice sunny day? Exposure to sunlight has been touted to increase serotonin (the feel-good neurotransmitter) levels, provide much-needed vitamin D, and even make us more energetic.

But there's a down side to that enormous burning ball of gases that sustains our planet with its warmth and light. Sunlight contains ultraviolet (UV) radiation and prolonged exposure to it can cause sunburn, skin damage, and even cancer.
What is UPF?
With all the acronyms used to describe sun protection products, it's easy to get confused. Let's start with the basics. UPF (Ultraviolet Protection Factor) is a measure of the amount of light that reaches your skin through any material, while SPF is a rating for cosmetic products (aka sunscreen).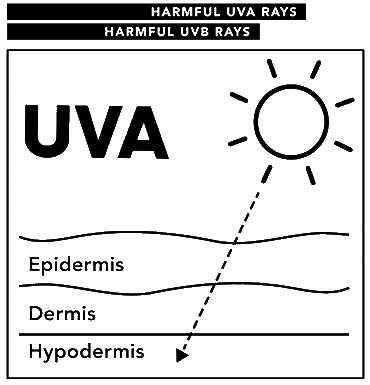 UVA and UVB Rays
The UV spectrum of light contains both UVA and UVB rays. UVA rays account for about 95% of the spectrum and penetrate the dermis (deeper layer of the skin). UVB rays penetrate the epidermis (uppermost layer of skin) only but are more energetic than UVA rays. Both forms of UV radiation are damaging.
Several factors help determine how much sunlight you're exposed to:
Time of day (peaks late morning to early afternoon)
Season of year (peaks in spring/summer)
Proximity to the equator (closer is hotter)
Altitude (the higher up, the more intense the rays)
Stratospheric ozone (how thick the layers are)
Cloud cover, smog, and smoke
Tech Talk
Columbia's
Omni-Shade™
technology blocks both UVA and UVB rays via tight fabric construction or modified fibers and has earned the Skin Cancer Foundation's Seal of Recommendation.
Do the math
The higher the UPF rating the better. A UPF rating of 30+ is good, 50+ better. UPF 30 blocks all but 1/30th of the sun's rays, while UPF 50 blocks all but 1/50th. All told, UPF 50 + allows less than 2% of UV radiation to reach your skin. Though use of
UPF-rated apparel reduces the amount of sunscreen you need
, you'll still need to apply sunscreen to exposed areas of skin not covered by UPF-rated apparel.
How UPF products are made
Most
UPF-rated fabrics
rely on dense fabric constructions or modified fibers to block harmful rays. Though fiber type (synthetic vs. naturals) and color (dark vs. light) do affect the fabric's ability to block rays, it's wise to rely on UPF ratings first and foremost when selecting apparel. The best UPF-rated products are those that are engineered to block UV while remaining light and breathable to maintain comfort when it's hot out.
Tech Talk
Our
Omni-Shade™ Sun Deflector
gear deflects solar radiation away from the body, blocks damaging UVA and UVB rays, mitigates heat build-up, and utilizes breathable fabric to wick away sweat.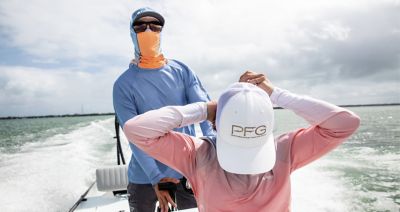 Stay both cool and protected
UPF-rated fabrics that also feature breathable, sweat-wicking technology allow you to stay cool, comfortable, and protected while under the sun. Cooling Fabrics are ideal for hot, humid conditions when you are
trail running
,
fishing
,
adventuring on the river
or any physical activity outside.
Tech Talk
Industry-leading
Omni-Freeze™ ZERO
features sweat-activated cooling, with blue rings that accelerate wicking and work with perspiration to provide next-to-skin cooling in hot, humid conditions.
Stay both cool and protected
What else can you do to protect yourself from overexposure?
Avoid long hours under the sun
Seek shade, avoid peak exposure times
Beware of cloudy days, refracted and reflected light off water and snow (rays are deceptively intense)
Choose UPF-rated apparel and accessories
Wear sunglasses and broad-brimmed hats
Invest in a neck gaiter to protect vulnerable areas
Opt for long sleeves and pants when possible
Staying safe under the sun can be challenging. But if you understand the basics, use common sense, and choose the right gear, you can enjoy every moment.