Quick Guide to Fall Fly Fishing: Tips for a Better Catch
Quick Guide to Fall Fly Fishing: Tips for a Better Catch
From Pacific Northwest Steelhead to Louisiana Redfish, fly fishing enthusiast Ruth Sims shares everything you need to know to score big this fall
As the leaves turn colors and the river banks become dotted with orange and red hues, autumn is a great time to hang out by the water no matter what you're doing. Of course, if you're into
fly fishing
, it's even better. The scenery is extra vibrant and there's an abundance of fish to be caught. Plus, the bigger crowds tend to dissipate this time of year and you'll be treated to a more serene experience.
To help you get the most out of this stellar season, we chatted with Seattle-based fly fishing enthusiast Ruth Sims. The fly fisherwoman, who often researches new species of fish in her spare time, shared her best tips and tricks for fall fly fishing.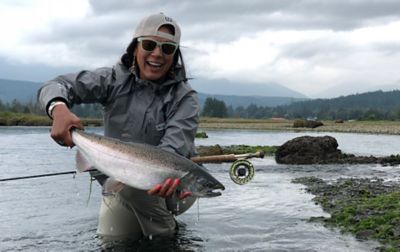 Fly fishing enthusiast Ruth Sims, who is an engineer by day, says that fall is a great time for fly fishing because it tends to be cooler and the fish are abundant.
Why go fly fishing in the fall?
According to Sims, autumn is one of the best times of the year for fly fishing. Aside from the
beautiful natural scenery of fall
, there are practical reasons to love it, too. "One of my favorite things about the fall is that you can still have warm summer days, but it's starting to cool off a little bit, she explains. "You probably won't have to endure a full day of blistering heat like you would in the dead of summer, and the fish feel the same. Oftentimes it can be easier on fish to catch them in cooler elements."
On top of that, the fishing itself can be exceptional, she says, especially in geographical regions where the water freezes over in the winter. The fish tend to go on feeding frenzies right before this happens, targeting food sources they might not have the chance to feed on as the ice forms and thickens in the coming months.
"In the fall, the (non-anadromous) fish are doing their last-minute grocery shopping," she says. "They're all on the same schedule and they all have the same goal which is to eat as much as they can before the top of the water freezes and their metabolism slows."
Where are the best fall fly fishing spots?
The best fall fly fishing destinations depend partly on which month you're talking about, Sims says. Some of her favorites are as follows:

September
The Pacific Northwest is one of the best regions in the U.S. for fly fishing in September, Sims says. Several species of salmon are running including cohos, kings, and chum. Not only that, late summer steelhead is running, too. "A lot of times you can catch those in September," she says. "I enjoy exploring the Skeena River system in Northern British Columbia." California's Sacramento River Delta is another notable west coast destination where the striped bass can be fantastic. Back east, Martha's Vineyard is on her list to fish due to the huge runs of exposed Albacore and striped bass.

October
When it comes to fly fishing in October, Sims says she feels a personal affinity for stillwater fishing in interior British Columbia, as well as Montana and other inland states where trout fishing begins to shine during the pinnacle of fall. In addition to epic fishing, these geographical areas boast stunning backdrops with lush green forests and jagged mountain peaks. October is also an exceptional month for coho and chinook, as some of the final salmon runs make their way back to the watersheds from which they were born.

November
As winter begins creeping in and parts of the north start freezing over, Sims recommends heading south to Louisiana and other gulf states. The coastline waters in that region are known for excellent bull redfish, speckled trout, and black drum, and especially from late October into December. "The red fishing can be absolutely bonkers," she says. "All the big bulls come in." Throughout this part of the Mississippi Delta, giant schools of menhaden (commonly known as "pogies") gather en masse, attracting large swarms of redfish and other sport fish.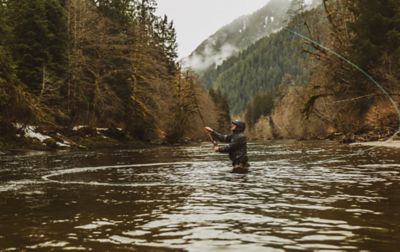 Sims says that one of her best fly fishing tips for beginners is to learn how to read water levels. Above: Columbia Sportswear ambassador Curtis Ciszek fishes in the Pacific Northwest.
Fall fly fishing tips
Here are a few of the top tips that Sims says will improve your game and help you catch more fish in the fall.
1. Read the water levels
One of her best tips for fall fly fishing, Sims says, is to learn how to read river levels and write down what you experienced that day. She recommends getting into the habit of checking the river gauges each time you go out and noting the river flows in cubic feet per second (CFS). There are also a lot of apps you can download that organize the CFS data into easy-to-read displays, or you can visit the
United States Geological Survey website
. Pay close attention to how these different levels affect the fishing. How do the features of the water change? Where is the fishing better at higher levels and where is it better at lower levels? Over time, this will help you understand how each river flows and when the best time is to go fishing.
2. Check the water clarity
In addition to CFS, water clarity is another key factor in determining how good the fishing is going to be on any particular day, Sims explains. Since autumn tends to see a spike in rain (which can decrease the water clarity), it's important to observe how well you can see through the water and note how it corresponds with the CFS. When you first arrive at a given fishing location, wade into the river up to your knees (as long as it won't disrupt the fish at that spot) and write down whether or not you can still see your boot. That tells you whether you have at least a foot-and-a-half of visibility, which is typically enough for a fish to see your fly. "Making notes about these things can really help you to figure out a river quite quickly."
3. Fish when it's "on the drop"
After a heavy rainfall, water levels rise and the rivers tend to get muddy, sometimes enough to take on the appearance of chocolate milk. About 24 hours after these levels start coming down again, they become "loaded with fish," according to Sims, especially in systems that host migratory species. "The fish wait down at the mouths of the rivers until there's enough water for them to be able to move from hole to hole," she says. "When there's enough rain, they'll flood into the rivers and try to get as far as they can before the river levels drop again. As soon as it's clear enough for them to see your fly within a foot, I'll be out there fishing." When levels are decreasing like this, the river is said to be "on the drop."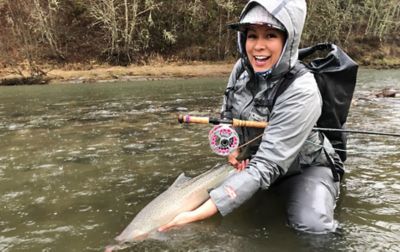 In the fall, Sims recommends fly fishing when the river is "on the drop"—the period roughly 24 hours after a heavy rainfall when water levels are decreasing again.
What gear do I need for fall fly fishing?
Unlike with
summer fly fishing
, it's not uncommon for fall to bring rain showers, so you need to be prepared. Your most important piece of gear is
a reliable raincoat
, Sims says. The best rain jackets for fly fishing usually have neoprene sleeves, a front zipper pocket, and a hood with drawstrings, she says.
The neoprene sleeves help keep water from coming in at your wrists and leaving you with damp, cold cuffs. The front zipper pocket lets you keep important items like your phone or car keys handy (bonus points if it has waterproof zippers). A hood with drawstrings prevents your hat from flying away and also keeps it dry.
"A lot of times when you're out fishing, you're wearing a baseball hat or something similar where the brim comes out," Sims explains. "You don't want your hood to fly off and get your hat wet, so raincoats with pull strings that tighten down are really helpful."
Another piece of gear she finds critical for fall fly fishing is a headlamp. She says that if you've been fishing all summer when the days are longer, it can be easy to forget that the days start getting short fast. Once the sun sets, it can get dark quickly and you don't want to have to walk a mile back to your car in the dark.
It is also important to choose
the right footwear for the style of fishing
and the conditions outside.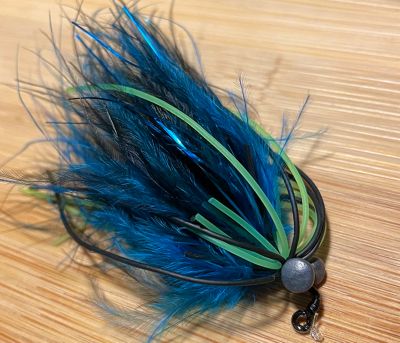 Name: Mr. Bowdangles
Species: Salmon
Colors: Black and Blue; Black and Purple; Black and White; Blue and Green; Black, Pink
Notes: Fish it on a floating line with or without a sink tip, depending on how deep the water is or how fast the current is moving. Let it swing through the current with an occasional pull on the line to create a 'bounce.'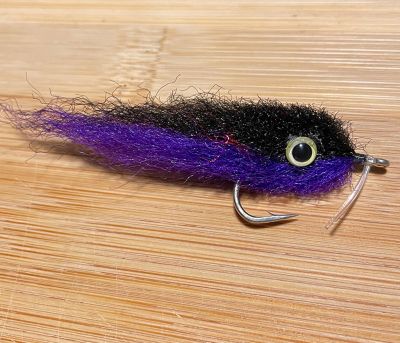 Name: EP Peanut Butter
Species: Redfish
Colors: Black and Purple; White and Tan; Yellow and Tan; Red and White
Notes: This fly is meant to imitate a baitfish pattern and can be made with a variety of the colors above.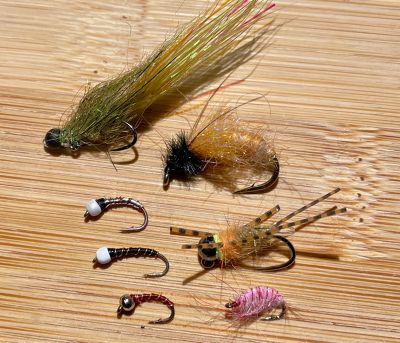 Name: October Caddis
Species: Trout
Colors: Yellow, Orange and Black
Notes: This fly is great for fishing for trout in the fall.