A Pro Angler's Guide to Fly Fishing
A Pro Angler's Guide to Fly Fishing
Pro Angler Curtis Ciszek offers his best advice on how to start fly fishing
Whether you're a longtime sports angler who's interested in a new challenge, or you've never dipped a rod in the water in your life, fly fishing has something to offer. Not only is it fun and rewarding, it's also a great way to enjoy nature and its
therapeutic benefits
.
That said, the learning process can feel a little overwhelming sometimes. Fly fishing tends to be more difficult than traditional fishing, especially when you're first starting out.
To get some tips on how to get started, we reached out to pro angler and Columbia Sportswear athlete Curtis Ciszek, owner of
Jet Boat Fly Guides
out of Bend, Oregon. He offered tons of advice for the novice angler—read his interview below.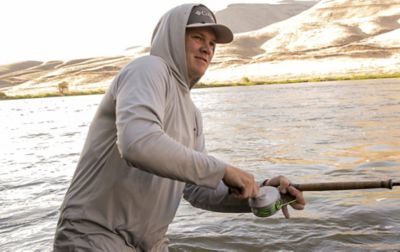 Q: What's the difference between fly fishing and traditional fishing?
Curtis Ciszek: There are several differences, but the biggest is that the gear is different. With fly fishing, you use a weighted line with a leader. It's tougher to cast. With traditional gear fishing, you're using an unweighted line and it's a little easier to get your lure out into the river. You can just click open the bale and sling it out there. In fly fishing, you have to back cast, then forward cast, and fully let the line out as you're casting. Also, in fly fishing you only use artificial flies, whereas you can use live bait when you're gear fishing.
Q: Is fly fishing harder than traditional fishing?
Curtis Ciszek: Generally speaking, yes. It can be more challenging. There's a lot more technique to it. That's not to say that there isn't technique to gear fishing—there are certain aspects of regular spin fishing that are challenging and require a lot of skill. But for the most part, fly fishing involves more technical skill. However, I don't want to make it sound like it's so much harder that you shouldn't try it. There are certain ways to fly fish that are easier than others, which is what I would suggest for someone who is just getting into it.
Q: What species are best for beginners to fly fish?
Curtis Ciszek: You definitely want to start with an easier fish. You don't want to go out and try and catch a steelhead on your first day. Start with something like a smallmouth bass. Go somewhere where there's a ton of them—one of those spots where you can catch a hundred fish in a day. That'll get you the practice. You'll be out catching fish and having fun. Then you can step into rainbow trout or brown trout and those are a little harder. Eventually you can work your way up to steelhead or tarpon or something more challenging like that.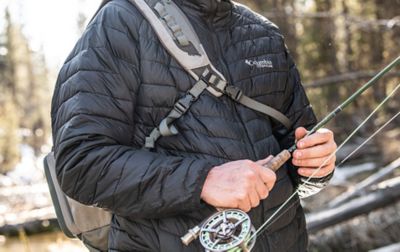 Q: How does someone get into fly fishing? What are the first steps?
Curtis Ciszek: Go into your local fly shop and talk to the people that work there. Consider booking a guided fishing trip with someone that really knows what they're doing. They can teach you the basics instead of going out there by yourself and trying to do it on your own. It'll be a huge step forward and you'll learn more in a day than you would in a year fishing by yourself.
Q: Can people teach themselves to fly fish?
Curtis Ciszek: Sure, you could definitely watch some YouTube videos, get some basic fundamentals, and go out and give it a try. But as you get more into it—say you go out a few times and you decide that you do really like it and you want to keep doing it, then it's definitely worth hiring a guide for a day, especially on your local waters. You'll learn where all the spots are, what the fish are eating, how to present the flies to them, all of that. You can gain a huge amount of knowledge in just one day from a good guide.
Q: How do you decide where to fish?
Curtis Ciszek: For me, depending on what I'm fishing for, the first step is usually to check the water levels—especially if you're traveling to drive somewhere really far. In Oregon, I fish on the Deschutes a lot where the White River comes off of Mt. Hood and dumps into it. So if we have a rain event up on the mountain, it'll make the lower Deschutes all muddy. That happens all the time. So before you commit to a two-hour drive, make sure the river's in good shape. Then consider what is hatching that time of year. Here in the spring we have a big stonefly hatch and a salmon fly hatch. That's a popular time to fish in this area. Go to the fly shop and ask what bugs are hatching and where.
Q: What gear do you need to start fly fishing?
Curtis Ciszek:
You can start with a basic beginner's fly fishing setup. That would include:
Rod (9'5")
Reel
Line (5 weight)
Leader
Tippets
Weights
Fly nippers
Tackle box
Measuring tool
Fishing vest
Waders and boots (if you're fishing from the water)
Q: What type of clothes are best for fly fishing?
Curtis Ciszek:
It depends on the time of year. If you're fishing in the wintertime, like for winter steelhead or something like that, then you're probably going to want to be bundled up and bring
rain gear
. But in the summertime, I just wear a
PFG sun shirt
with a hood like the
Terminal Tackle
. I always wear a long-sleeve shirt and I like to have a hood because it keeps the sun off my ears and neck. Clothes with
UPF protection
are key when you're out there with the sun reflecting off the water—they
work better than sunscreen
, which you constantly have to reapply. Then a good pair of polarized
sunglasses
and a
UPF-rated hat
.
I also like having something with cooling technology like
Omni-Freeze
or
Omni-Freeze ZERO Ice
. I fish mostly on the Deschutes in the summer where it can be 105 degrees. I wear Omni-Freeze every day. I've worn normal sun shirts before and it sucks. You're sweating and the shirt is sticking to your back and it's all gross. But if you have something with
cooling material
you're so much more comfortable—and if you're more comfortable, you're going to have a better time.
Q: Any tips for fly fishing techniques? What are some common beginner mistakes?
Curtis Ciszek: When you forward cast and then back cast, you have to pause in between to let the line straighten out to get the rod to flex before you cast again. A lot of people whip it back and forth way too quickly and it doesn't work at all. That's a huge one. Another thing I always stress is to take your time. Don't rush into it. Try to be patient. It is frustrating in the beginning, but if you're doing it the right way it really doesn't take that much energy. The rod does most of the work casting the line. But the worse your technique is, the more energy you use trying to compensate.
Q: Does it help to practice fly casting at home?
Curtis Ciszek: Yeah, for sure. Go out into a grassy area and practice. Just don't put a hook on because you don't want to hook yourself. Put on a fly and maybe clip the hook end off and practice. Stare at your fly line in the air and watch what it's doing.
Q: How do you learn to tie fly fishing knots?
Curtis Ciszek: There are just a few basic knots. YouTube is a great tool for that. Watch some videos and practice at your desk. Get it dialed in before you're out there standing waist deep in the river and trying to tie a knot, slipping and sliding and getting frustrated.
Q: What do you love most about fly fishing?
Curtis Ciszek: I love everything from the casting to just standing in the river and being outside. The animals you see, camping on the river, just being in the boat. It's the whole process. When you make a good dry fly presentation to a fish that's eating off the surface and they eat your fly, it's very rewarding. But just slowing down a bit and getting out in nature I think is the biggest thing for me.