The Best National Parks to Visit in Summer
The Best National Parks to Visit in Summer
Consider these U.S. national parks for your summertime getaway
Summer is finally here, and with it comes the desire to get out and explore. And what better way to embrace the spirit of exploration than by visiting our country's best national parks? With the arrival of June, designated as Great Outdoors Month, there's no better time to plan a summer getaway and immerse yourself in the breathtaking beauty of nature. The National Park Foundation's "Explore More" campaign encourages people to venture out and discover the wonders of our national parks.
June, July, August, and September are prime months for park visitation, offering the perfect opportunity to
spend more time outdoors
and enjoy the
therapeutic benefits
of nature. Just keep in mind that the popularity of these parks in the summertime can lead to longer wait times, larger crowds, and potential challenges in
securing camping reservations
or visitation permits where required.
Consider visiting lesser-known parks or exploring sections of popular parks that are off the beaten path. Opting for weekdays or early mornings can help you avoid the peak crowds. Additionally, national seashores and locations at higher elevations can provide a cool respite from the summer heat, making them excellent choices for those seeking a refreshing escape.
So whether you're yearning to witness the towering granite monoliths of Yosemite National Park, the colorful geothermal wonders of Yellowstone, or the pristine waters of Acadia National Park, the vast array of U.S. national parks awaits your exploration this summer. With a little planning, you can create memories that will last a lifetime.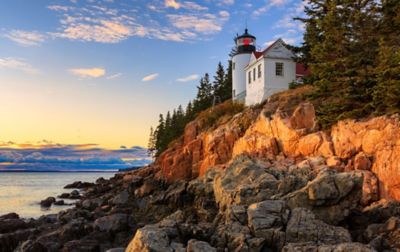 Acadia National Park – Maine
Acadia National Park is a breathtaking haven nestled on the rugged coastline of Maine. In the summertime, it bursts with vibrant colors, enchanting landscapes, and a plethora of awe-inspiring activities.
The park offers a wide array of outdoor activities that allow you to immerse yourself in stunning beauty. Lace up your
hiking boots
and explore the iconic trails that weave through the park, such as the famous Precipice Trail or the scenic Jordan Pond Path. These trails offer panoramic vistas of the park's rugged coastline, majestic mountains, and picturesque lakes.
A notable landmark in the park is the summit of Cadillac Mountain, the highest point on the east coast of the United States. Wake up early for sunrise from this unique vantage point to watch the first rays of sunlight illuminate the surrounding islands and ocean.
In addition to hiking, Acadia National Park offers a wealth of opportunities for water enthusiasts. Take a refreshing dip in the pristine waters of Sand Beach, go kayaking along the tranquil shores of Jordan Pond, or hop on a boat tour to explore the rugged coastline to spot seals, puffins, and other fascinating marine life. Remember to bring a good pair of
boat shoes
.
Acadia also hosts several festivals and special events throughout the summer. In June, you can join the Acadia Birding Festival, where you'll have the chance to observe and learn about the park's diverse bird species. July brings the Annual Bar Harbor Music Festival, featuring world-class performances by renowned musicians. And in August, don't miss the Acadia Night Sky Festival, celebrating the park's pristine night sky with stargazing events and educational programs.
Summertime in Acadia National Park is known for its pleasant weather and cooler temperatures along the coast, which range from the mid-60s to the low 80s Fahrenheit (around 18°C to 27°C), providing the perfect climate for outdoor adventures. While it's generally warm during the day, you might still need a
light jacket
or
windbreaker
for cooler evenings.
To make the most of your summer break, pair your trip to Acadia National Park with a visit to the charming town of Bar Harbor. Just a stone's throw away from the park, Bar Harbor offers a delightful blend of coastal beauty, delicious seafood, and vibrant shops. Explore the quaint streets, indulge in fresh lobster rolls, and treat yourself to locally made ice cream while enjoying the laid-back coastal atmosphere.
Olympic National Park – Washington
Olympic National Park is a breathtaking natural wonderland located in the state of Washington.
One of its must-visit landmarks is the Hoh Rainforest. This magical forest boasts towering moss-draped trees, shimmering ferns, and a chorus of birdsong. Take a leisurely stroll through the Hall of Mosses or venture deeper into the wilderness on the Hoh River Trail, where you can soak up the serene beauty of this ancient ecosystem.
For those seeking a coastal adventure, head to Rialto Beach, where you'll find dramatic sea stacks, tide pools teeming with marine life, and vast stretches of pristine sand. Feel the refreshing ocean spray on your face, and let the rhythmic crashing of waves soothe your soul.
The park is also full of beautiful peaks, with hiking trails that wind their way through alpine meadows where you can spot elusive mountain goats and marmots enjoying the sunshine. Remember to bring a
warm jacket
, as even in summer the higher elevations can be a bit chilly.
Don't miss the Lavender Festival in Sequim (July 21), held just outside the park, where the air is filled with the soothing fragrance of lavender fields in full bloom. Or celebrate the rich Native American culture at the Makah Days in Neah Bay (August 25–27), where traditional dances, arts, and crafts are showcased.
Olympic National Park experiences mild and pleasant temperatures during the summer months, with average highs ranging from 65°F to 75°F (18°C to 24°C), making it the ideal climate for outdoor activities. However, being a diverse ecosystem, the weather can vary, so it's always a good idea to check the forecast and come prepared for potential changes.
Columbia Sportswear is proud to support the National Park Foundation's Open OutDoors for Kids program, helping to connect students to their national parks through field trips, classroom activities, and educational activities.
Glacier National Park – Montana
As the snow melts away, the breathtaking wilderness of Glacier National Park becomes a playground for adventure seekers and nature enthusiasts. With its majestic peaks, shimmering lakes, and abundant wildlife, Glacier National Park offers a truly remarkable summertime experience.
Summer is one of the best times to visit Glacier National Park, when the weather is generally pleasant, with average temperatures ranging from 70°F to 80°F (21°C to 27°C). However, the higher elevations may still require a
fleece
or
lightweight jacket
, so be prepared for varying conditions as you explore.
One must-see landmark is the famous Going-to-the-Sun Road. This engineering marvel takes you on a scenic drive through the heart of the park, offering breathtaking views of rugged mountains, cascading waterfalls, and pristine alpine meadows. Keep your camera ready, as each twist and turn reveals a new postcard-worthy vista.
For
hiking
enthusiasts, Glacier National Park boasts an extensive network of trails that cater to all skill levels. The Highline Trail is a popular choice, taking you along a narrow ledge with jaw-dropping views of the glacial valleys below. Another favorite is the Grinnell Glacier Trail, which rewards hikers with glimpses of stunning turquoise lakes and the ancient ice formations of Grinnell Glacier.
In June, July, and August, the park comes alive with festivals and special events that celebrate its unique heritage. The Native America Speaks program offers captivating presentations by tribal members, shedding light on the rich cultural history of the region. The Glacier Arts Festival showcases the work of local artists, with vibrant displays of paintings, sculptures, and traditional crafts.
While exploring Glacier National Park, consider pairing your trip with a visit to the nearby town of Whitefish, which offers a delightful blend of boutique shops, art galleries, and cozy eateries. You can also experience the adrenaline rush of white water rafting on the Flathead River or embark on a scenic boat tour of the picturesque Flathead Lake.
So pack your
hiking shoes or boots
and visit Glacier National Park this summer for a truly unforgettable experience in one of our country's prettiest national parks.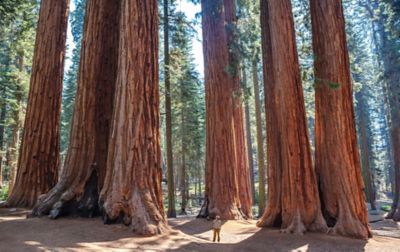 Sequoia National Park – California
Nestled in the heart of California's majestic Sierra Nevada mountains is one of our nation's must-see national parks. As you step foot into Sequoia National Park this summer, prepare to be enchanted by giant sequoias, some of the largest living organisms on Earth. These ancient trees, with their massive trunks and soaring heights, create a magical atmosphere that will leave you in awe.
One must-visit landmark in the park is the General Sherman Tree, the largest living tree on the planet. Standing tall at over 275 feet, it is an absolute marvel to behold. Take a stroll along Congress Trail to witness the beauty of other remarkable sequoias, such as the President Tree and the House Group.
To truly immerse yourself in the splendor of Sequoia National Park, take a scenic hike along the breathtaking trails that wind through the park's picturesque landscapes. The popular trails include the Alta Peak Trail, offering panoramic vistas of the surrounding mountains, and the Tokopah Falls Trail, which leads to a stunning cascading waterfall. Just remember to check trail conditions and make sure they are open during the summer months.
For adventurous souls, white water rafting along the roaring Kaweah River is an exhilarating experience. Feel the rush as you navigate the exciting rapids and witness the incredible beauty of the river canyon. If you prefer a more relaxed water activity, you can enjoy swimming or boating in the crystal-clear lakes nestled within the park.
Throughout the summer, Sequoia National Park hosts a variety of events and festivals that add an extra touch of excitement to your visit. In June, the park celebrates the Giant Forest Museum's anniversary with educational programs and interactive exhibits showcasing the wonders of the sequoias. July brings the Independence Day celebration, where you can enjoy fireworks illuminating the night sky against the backdrop of towering trees. Additionally, keep an eye out for ranger-led talks and stargazing events that provide fascinating insights into the park's flora, fauna, and celestial wonders.
Summer brings warm and pleasant temperatures to Sequoia National Park. In June, temperatures range from 70°F (21°C) during the day to 40°F (4°C) at night, making it an ideal time for hiking and outdoor activities. July and August see average highs of 80°F (27°C) during the day and lows of 50°F (10°C) at night, while early September begins to cool down slightly. It's the perfect climate for exploring the park's wonders without extreme heat or cold.
While visiting Sequoia National Park, consider extending your trip to explore neighboring Kings Canyon National Park, which offers breathtaking vistas, dramatic canyons, and awe-inspiring waterfalls. Marvel at the magnificent views from the panoramic overlooks along the Kings Canyon Scenic Byway or embark on a thrilling hike through the pristine
backcountry
.
After a day of adventure, indulge in the comfort and tranquility of the park's campgrounds or lodges, where you can unwind amidst the sounds of nature and take in the serene beauty surrounding you.
Great Smoky Mountains National Park – North Carolina and Tennessee
With nearly 13 million visitors to the park last year, the enchanting Great Smoky Mountains National Park, located within the picturesque states of North Carolina and Tennessee is one of the most visited national parks in the United States.
This natural wonderland of dense forests offers a myriad of breathtaking summertime experiences. When you step into the park, you'll find yourself surrounded by a kaleidoscope of colors. The dense forests come alive with vibrant shades of green, while wildflowers blanket the meadows with a riot of hues. The sun casts its warm glow on the gorgeous peaks, creating a mesmerizing backdrop for your adventures.
One must-do activity in the park is hiking. Put on your boots and embark on the iconic Appalachian Trail, which traverses the park. Feel the thrill of conquering Clingmans Dome, the highest point in Tennessee, where you'll be rewarded with panoramic views that stretch for miles. For a more leisurely stroll, take the easygoing trail to Laurel Falls, which will leave you in awe of nature's beauty.
In addition to hiking, Great Smoky Mountains National Park offers a wealth of recreational opportunities. Grab your fishing gear and cast your line into cool mountain streams, home to rainbow and brook trout. Explore the park's vast network of scenic drives, such as the Cades Cove Loop Road, where you can spot wildlife and witness historic homesteads.
Between June and early September the park hosts various festivals and special events. In late June, immerse yourself in the rich cultural heritage of the region at the Smoky Mountain Tunes & Tales, where musicians and storytellers captivate visitors with their performances. July brings the renowned Gatlinburg Craftsmen's Fair, showcasing the work of talented artisans from across the country. And in August, the Smoky Mountain Folk Festival fills the air with traditional music and dancing.
Summer weather in Great Smoky Mountains National Park is typically pleasant and inviting. Expect average temperatures ranging from the mid-70s to low 80s Fahrenheit (mid-20s to high 20s Celsius). While the days are warm, evenings can be cooler, so it's a good idea to have an
insulated midlayer
or
puffer coat
on hand for your nighttime adventures.
Pair your visit to the national park with a trip to Gatlinburg, where you can enjoy family-friendly attractions like the Ripley's Aquarium of the Smokies or take a thrilling ride on the Ober Gatlinburg Aerial Tramway. In Pigeon Forge, indulge in entertainment at Dollywood, an amusement park filled with thrilling rides and live performances.
Stonewall National Monument – New York
Welcome to Stonewall National Monument in New York City, where summer radiates with warmth and excitement! Nestled in the heart of bustling Greenwich Village, this historic site becomes an epicenter of celebration and acceptance during the summer months. With its rich LGBTQ+ history and enchanting atmosphere, Stonewall National Monument is a great way to
celebrate Pride Month
in June.
When you visit the monument, you'll be greeted by the vibrant energy of the neighborhood and the commemorative park, which pays homage to the Stonewall Riots of 1969, a pivotal event in the fight for LGBTQ+ rights. The monument itself stands tall, proudly marking a significant turning point in the struggle for equality.
The weather in June, July, August, and early September is typically warm and sunny, perfect for exploring the monument and its surroundings. Average temperatures range from about 75°F to 85°F (around 24°C to 30°C).
One of the highlights of a summer visit to Stonewall National Monument is immersing yourself in the local Pride Month celebrations that commemorate the
LGBTQ+ community's
achievements and serve as a reminder of the ongoing effort for equality. The streets are adorned with rainbow flags, with various parades, parties, and events taking place throughout the month to embrace the spirit of unity and inclusivity.
While exploring the area, be sure to stroll along Christopher Street, a vibrant thoroughfare that runs adjacent to the monument. This iconic street is lined with trendy boutiques, colorful LGBTQ+-owned businesses, and quaint cafes where you can indulge in a refreshing iced coffee or a delicious scoop of gelato. Pause to admire the rainbow-colored crosswalks, symbolic of the neighborhood's proud identity.
For those seeking a deeper understanding of LGBTQ+ history, consider visiting the Leslie-Lohman Museum of Art, located just a few blocks away. This fascinating museum showcases queer art, culture, and history, providing insights into the diverse experiences and struggles of the LGBTQ+ community.
To soak up the natural beauty surrounding Stonewall National Monument, head to nearby Hudson River Park. This waterfront oasis offers breathtaking views of the river, where you can take a leisurely stroll or rent a bicycle to explore the park's extensive network of paths.
If you're looking to pair your trip with other attractions in the region, New York City has countless options to offer. Take a ferry ride to the Statue of Liberty and Ellis Island, two iconic landmarks symbolizing America's history of freedom and immigration. Explore Central Park's lush greenery, visit world-class museums like the Metropolitan Museum of Art or the Museum of Modern Art, or catch a Broadway show for a dazzling evening of entertainment.

With its historical significance, bustling streets, and proximity to other popular attractions, Stonewall National Monument is the perfect destination for a memorable summer break that celebrates both love and equality.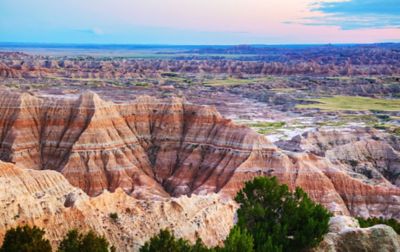 Badlands National Park – South Dakota
Welcome to the breathtaking Badlands National Park in South Dakota, where the summer unveils a tapestry of vibrant colors, epic landscapes, and an array of activities to indulge in. As you venture into this natural wonderland during the warm months of June, July, August, and early September, be prepared for an unforgettable journey.
The weather in Badlands National Park during summer is typically sunny, with temperatures ranging from a reasonable 70°F to 90°F (21°C to 32°C). It's the perfect time to embrace the outdoors and relish in the beauty of this remarkable region.
Embark on exhilarating hikes along the park's notable trails, such as the Notch Trail and Door Trail, which provide incredible vistas of the rugged rock formations and sweeping prairies. The Door Trail is particularly enchanting, leading through a natural door carved by wind and water that showcases the park's unique geology. Be sure to bring
sun-protective clothing
and a hat to shield yourself from the summer sun.
While exploring the park, keep an eye out for the abundant wildlife that calls this place home. You might catch a glimpse of bighorn sheep, pronghorn antelope, and majestic bison grazing in the vast grasslands. Remember to maintain a safe distance while observing these magnificent creatures in their natural habitat.
Immerse yourself in the park's history and culture by visiting the Ben Reifel Visitor Center. Here, you can delve into exhibits that reveal fascinating geological formations, learn about the native tribes that once thrived in the area, and discover the park's ecological significance.
In June, Badlands National Park hosts the annual Prairie Appreciation Day, a celebration of the park's unique grasslands and the diverse plant and animal life they support. This event offers engaging activities, guided hikes, and educational programs, providing visitors with a deeper understanding of the park's ecological importance.
As you explore the region, consider extending your trip to nearby attractions that complement your visit. Just a short drive away lies Mount Rushmore National Memorial, where you can marvel at the iconic granite faces of four former U.S. presidents. Additionally, the nearby Custer State Park offers scenic drives, hiking trails, and the opportunity to witness the unforgettable sight of a majestic buffalo roundup.
Capture unique photographic memories of the panoramic vistas, the
vibrant wildflowers
that paint the prairies, and the dramatic sunsets that cast an ethereal glow upon the Badlands.
Denali National Park and Preserve – Alaska
Denali National Park and Preserve is a true Alaskan wonderland that comes alive in the summertime! Nestled in the heart of Alaska, Denali National Park and Preserve offers stunning landscapes and thrilling outdoor activities to create an unforgettable summer experience.
As you step into Denali National Park and Preserve, you'll be greeted by towering mountains, vast valleys, and sprawling tundra. The crown jewel of the park is Denali, formerly known as Mount McKinley, which stands proudly at 20,310 feet, dominating the horizon with its majestic presence. The mountain is often adorned with a crown of clouds, creating an ethereal sight that will surely take your breath away.
Several notable trails provide ample opportunity for exploring. The most popular trail is the Denali Park Road, which stretches for 92 miles over the park's incredible wilderness. Along the way, keep your eyes peeled for wildlife sightings, including grizzly bears, wolves, caribou, and moose. If you're lucky, you might even spot a playful fox darting across the landscape.
For a closer look at the park's beauty, embark on a hiking adventure. Options like the Savage River Loop Trail and Horseshoe Lake Trail offer picturesque views of the surrounding wilderness, with blooming wildflowers showcasing nature's artistry. Remember to pack appropriate gear, including
sturdy hiking boots
, a
puffer jacket
,
baselayers
, a
hat
, sunscreen, and plenty of
UPF-rated clothing
, to ensure a comfortable and safe journey.
If you're seeking a thrill, consider taking a guided rafting trip down the Nenana River. Feel the rush of the rapids as you navigate the pristine waters, surrounded by towering cliffs and lush greenery. It's an exhilarating experience that will make your heart race with excitement.
June, July, August, and early September are the prime months to visit Denali National Park and Preserve, while the weather is generally mild, with average temperatures ranging from 50°F to 70°F (10°C to 21°C). However, do keep in mind that weather conditions in Alaska can be unpredictable, so it's always a good idea to
dress in layers
and be prepared for changes. You will likely need a
jacket
in the evenings.
To add to the summer charm, Denali National Park and Preserve hosts various festivals and special events. In June, you can enjoy the lively atmosphere of the Denali Music Festival, where talented musicians showcase their skills against the backdrop of the park's natural beauty. July brings the vibrant Denali Art and Science Festival, featuring exhibitions, workshops, and performances that celebrate the intersection of art and science. In August, the Denali Blueberry Festival takes center stage, where you can indulge in delicious blueberry treats while enjoying live music and entertainment. While Denali National Park and Preserve is a destination in itself, you can also pair your trip with visits to other popular attractions in the region. Just a few hours' drive from the park, you can explore Fairbanks, known for its rich gold rush history and the enchanting northern lights. Anchorage, Alaska's largest city, offers a mix of urban delights and natural wonders, with stunning coastal scenery and a thriving arts and culture scene.
Whether you're an adventure seeker, a nature enthusiast, or simply looking for a serene escape, Denali National Park and Preserve is the perfect summertime destination.
Yellowstone National Park – Wyoming, Montana, and Idaho
Yellowstone National Park is one of the most popular national parks in the United States. In the summertime, this magnificent wilderness truly comes alive with its vibrant colors, breathtaking landscapes, and wide array of activities.
As you step foot into Yellowstone during the summer months of June, July, August, and early September, you'll be greeted by warm and pleasant weather. The average temperatures range from 70°F to 80°F (21°C to 27°C), creating the perfect climate for outdoor adventures.
One must-see landmark within the park is the iconic Old Faithful geyser. Witnessing this natural wonder erupting and shooting steaming water into the air is an unforgettable experience. You can time your visit to see this spectacle from various viewing points around the geyser. Be sure to check the predicted eruption times for the day.
Exploring Yellowstone's diverse range of trails is a highlight of any summer visit. The Grand Canyon of Yellowstone is a sight to behold, with awe-inspiring waterfalls and colorful canyon walls. Hike along the North Rim Trail for breathtaking views of the Lower Falls or venture to the South Rim Trail for a different perspective. The Fairy Falls Trail takes you to the mesmerizing Fairy Falls, a 200-foot (61-meter) waterfall surrounded by lush greenery.
If you're up for exploring, venture to the Lamar Valley Wildlife Excursion. This vast valley is known as America's Serengeti, and you'll have the opportunity to spot an array of wildlife, including bison, elk, wolves, bears, and a variety of bird species. Don't forget your binoculars and camera for this unforgettable safari-like experience.
Yellowstone National Park hosts several festivals and events during the summer months. In June, you can catch the Yellowstone Music Festival, featuring live performances by local and national artists against the stunning backdrop of the park. In July, the Yellowstone Rendezvous Race brings together
cross-country skiers
and cyclists for a challenging and exhilarating race through the park's breathtaking landscapes.
While visiting Yellowstone, consider exploring the surrounding region as well. Just a short drive away, you'll find Grand Teton National Park, with its majestic mountain peaks, shimmering lakes, and abundant wildlife. The Teton Range is a
photographer's paradise
, offering stunning vistas and opportunities for outdoor activities such as hiking,
fishing
, and boating.
As you immerse yourself in the natural wonders of Yellowstone National Park, it's essential to come prepared. While the weather is generally warm, be sure to pack a fleece or puffer coat for the cooler evenings.
Comfortable walking shoes
or hiking boots are a must for exploring the park's trails. And don't forget
flip flops
and a
swimsuit or board shorts
, as there are beautiful swimming holes and hot springs to enjoy during the summer.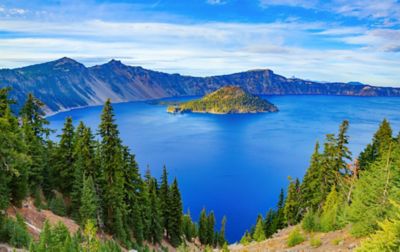 Crater Lake National Park – Oregon
Welcome to Crater Lake National Park, home of America's deepest lake—1,943 feet! Located in southern Oregon, this national park at the crest of the Cascades mountain range is a true gem that offers a memorable experience for visitors seeking an unforgettable summer getaway.
As you arrive at Crater Lake National Park, prepare to be mesmerized by the main attraction: the stunning Crater Lake itself. Formed within the caldera of Mount Mazama, this deep lake is the centerpiece of the park, surrounded by towering cliffs that create a dramatic, awe-inspiring sight. The vibrant blue waters contrasted against sheer rock walls create a picturesque scene that will leave you speechless.
During the summer months, the park bursts with life and endless opportunities for exploration. One must-do activity is taking a scenic drive along Rim Drive, a 33-mile road encircling the entire lake. This route provides numerous viewpoints where you can marvel at the lake's grandeur and capture breathtaking photographs.
Hiking enthusiasts will find a variety of trails to suit their interests and skill levels. The Cleetwood Cove Trail is the only trail that leads down to the water's edge, offering a unique opportunity to dip your toes into the crystal-clear lake. For panoramic views, the Garfield Peak Trail and Watchman Peak Trail provide stunning vistas of the lake and surrounding landscapes.
Summertime at Crater Lake National Park is also an excellent time to enjoy water activities. Boating and fishing on the lake are popular pastimes, allowing you to immerse yourself in the tranquility of these pristine waters. Swimming is allowed in designated areas, providing a refreshing
escape from the summer heat
.
Summer weather in Crater Lake National Park brings comfortable temperatures and sunny days. Average temperatures range from the mid-60s to low 70s Fahrenheit (around 18°C to 24°C) during the day, while nights can get chilly, with temperatures dropping into the 40s Fahrenheit (around 5°C to10°C). You might still need a
jacket
or
fleece
in the evenings, so it's advisable to pack accordingly.
If you're planning your visit in June, July, August, or early September, you might be fortunate enough to coincide with some special events and festivals. In June, the Mazama Village Fun Run takes place, offering a
scenic 5K run around the park
. July brings the Annual Rim Run, where participants can challenge themselves on a 6.7-mile race along the rim of Crater Lake.
While Crater Lake National Park is the highlight of the region, there are other attractions in the area that you can pair with your trip. Nearby, you'll find the Rogue River, famous for its exhilarating white water rafting opportunities. The Oregon Caves National Monument and Preserve is also close by, featuring stunning subterranean wonders and guided cave tours.

Whether you're exploring the rim, hiking the trails, or immersing yourself in the lake's refreshing waters, Crater Lake National Park offers a captivating and rejuvenating summertime experience.
Grand Teton National Park – Wyoming
Residing in the wondrous state of Wyoming is Grand Teton National Park, where the sun's summer warmth blankets the rugged peaks and pristine valleys, and the park becomes a haven for nature enthusiasts and wanderers seeking solitude and spectacular beauty.
Step into a world where towering granite summits pierce the cerulean sky, creating a dramatic backdrop for your summer escapades. Lace up your hiking shoes and hit the unforgettable trails that showcase the park's natural wonders. The iconic Cascade Canyon Trail is a must-see as it winds through alpine meadows and dense forests, leading to mesmerizing views of cascading waterfalls and glacier-carved peaks.
For a true adrenaline rush, venture into the rugged backcountry and set up camp beneath a starlit sky. To fully immerse yourself in the serenity of nature, bring
high-quality camping gear
to ensure a comfortable night's rest, and wake up to the melodious sound of birds singing in the crisp mountain air while you prepare to conquer more of the park's enticing offerings.
A summer visit to Grand Teton National Park wouldn't be complete without seeing renowned Jenny Lake. Take a boat across its sparkling waters, surrounded by towering cliffs and mirrored reflections of the majestic peaks. On the lakeshore, Hidden Falls Trail will lead you to a captivating waterfall hidden among the lush foliage.
As you explore the park, keep an eye out for the abundance of wildlife that calls this place home. Majestic elk, graceful moose, and elusive wolves roam freely, providing awe-inspiring, memorable encounters. Don't forget to bring your
lightweight rain jacket
, as the weather in summer can change rapidly and a sudden afternoon shower is not uncommon.
If you're lucky enough to plan your visit in June, July, August, or early September, you may be able to partake in some of the park's vibrant festivals and special events. The annual Grand Teton Music Festival in Jackson Hole brings together world-class musicians and orchestras to deliver enchanting performances against the backdrop of the Teton Range. It's an experience that seamlessly blends the magic of music with the grandeur of nature.
It's worth extending your trip to explore Jackson Hole, a town known for its charming western atmosphere. Indulge in delicious cuisine, peruse the art galleries, or simply soak up the lively ambiance.
Whether you seek thrilling hikes, tranquil moments in nature, or cultural experiences, Grand Teton National Park in the summertime has it all.
Yosemite National Park – California
Majestic Yosemite National Park, an expansive natural wonderland nestled in the heart of California's Sierra Nevada Mountains, comes alive in summertime with a kaleidoscope of colors, offering a perfect escape for your summer getaway.
As you enter this enchanting realm, prepare to be impressed by towering granite cliffs, cascading waterfalls, and lush meadows carpeted with wildflowers. Begin your journey by venturing to Yosemite Valley, where the world-famous Yosemite Falls steals the spotlight. Marvel at the thunderous roar of the water and the gentle mist that fills the air.
Go for a hike on Half Dome Trail, an epic adventure that rewards you with sweeping panoramas of the valley below. Challenge yourself as you ascend steep granite steps, and savor the sense of accomplishment at the summit as you take in the breathtaking vistas that stretch as far as the eye can see.
For a more tranquil experience, lose yourself among the ancient giants in the Mariposa Grove of Giant Sequoias. These colossal trees stand as living witnesses to centuries of nature's grandeur. A walk through this towering forest will leave you feeling humbled by their sheer magnitude.
Yosemite's summertime allure extends beyond its awe-inspiring landscapes. If your visit falls between June and early September, you may have the opportunity to join the lively events and festivals that grace the park. The Bracebridge Dinner, a cherished tradition dating back to the 1920s, brings together music, theater, and a sumptuous feast, creating an enchanting atmosphere reminiscent of a Renaissance-era celebration.
As you plan your trip, keep in mind that Yosemite's weather during the summer months is generally warm and pleasant, with average temperatures ranging from the 70s to the 90s Fahrenheit (20s to 30s Celsius). However, it's always wise to
pack layers
, as the evenings can bring a refreshing coolness to the air.
While Yosemite National Park is undoubtedly a destination that can captivate you for days, you can also pair your visit with other nearby attractions. Just a short drive away, discover the wonders of Mono Lake, an otherworldly body of water renowned for its striking tufa towers. Visit the charming town of Mammoth Lakes, where outdoor adventures abound, from hiking and mountain biking to fishing and rock climbing.
In Yosemite's neighboring region, you'll find the captivating beauty of the Sierra Nevada. Journey through the Tioga Pass, a scenic mountain highway that leads you to the unparalleled beauty of the Eastern Sierra. Explore the dramatic landscapes of Mono County and Inyo National Forest, where alpine lakes and jagged peaks offer a paradise for outdoor enthusiasts.
Summertime in Yosemite National Park beckons with breathtaking vistas, exhilarating trails, and a sense of natural wonder that lingers long after you've left.
Overall, these must-see national parks to visit in the summertime combine awe-inspiring natural beauty with an abundance of activities and events. Whether you're seeking outdoor adventures, cultural experiences, or simply a tranquil escape, these favorite U.S. national parks promise unforgettable summer vacation adventures that will leave you spellbound and yearning for more.
Want to visit the national parks year-round? Check out our guides on the best national parks for
fall
,
winter
, and
sping