How to Get Into Cross Country Skiing
How to Get Started
Cross Country Skiing
The beginner's guide to exploring winter trails on skis
Whether you're looking for an enjoyable change of pace from
downhill skiing
or seeking a new family-friendly winter activity, cross country skiing might be just the thing. It's accessible, kid-friendly, and most importantly, a whole lot of fun. But before you head out to slide your way through winter, let's take a look at what you need to get started cross country skiing.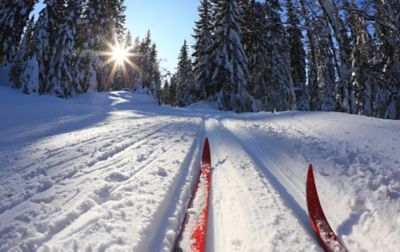 Cross country skiing definitions
First, let's cover some basic information.
What is cross country skiing?
Cross country skiing is a type of Nordic skiing, which refers to any skiing where the heel isn't locked to the ski with a binding. Rather than relying on steep mountains, chairlifts, and gravity, cross country skiing is powered by the skier's movement. Through a combination of back-and-forth motion of your skis, along with a bit of additional pushing with ski poles, you propel yourself forward on mostly groomed trails. As your skills progress, you can try more adventurous forms of Nordic skiing, like telemarking or touring, where you can explore more varied terrain that lies deeper in the backcountry.
Types of cross country skiing
There are two types of cross country skiing, classic and skate, both of which refer to the method of movement. Not surprisingly, the two different styles require different types of cross country skis.

Classic – The choice of most beginners, classic is the style of skiing most people think of when they hear "cross country skiing," and uses a straight-line parallel stride to move forward.

Skate – A more challenging form of cross country skiing, the skate style uses a motion similar to speed skating to propel the skier forward, which creates much faster speeds than classic skiing.
What you need for cross country skiing
Now that you have a basic understanding of the sport, let's take a look at the equipment and clothing you'll need before you head out.
What equipment do you need to go cross country skiing?
Skis:
Compared to downhill skis, cross country skis are much skinnier—about half the width, in fact. This is because they are designed to tackle small hills at the most, with much of the terrain being primarily flat with occasional slight inclines.
There are four factors that determine the right cross country ski for you: height, weight, skiing style (classic or skate), and ability level. You'll find that skis for beginners are designed for easier turning at slower speeds.
To find the perfect ski for you, talk to your local retailer—or better yet, your local rental shop so you can try before you buy.
Boots and bindings:
Because boots and bindings work as a system, it's important to make sure your boots clip into the bindings you have. For beginners, we'd recommend a soft, waterproof boot that will keep your feet comfortable and, most importantly, dry. Again, talk to your local retailer or rental shop to find the perfect boots and bindings for you.
Poles:
Because you'll need them to both maintain balance and help push you forward, poles are an essential part of cross country skiing. For length, the general rule of thumb is poles that fit under the armpit for classic skiing, and just a bit longer than that for skate skiing.
In addition to your cross country skiing gear, you'll also need some other basics for safety and comfort. Remember, there may not be a lodge nearby like there is when downhill skiing.
Quick-energy snacks
Compass or GPS device
Area map
Basic emergency kit
Sunscreen
What do you wear when cross country skiing?
When it comes to enjoying your experience, what you wear cross country skiing is arguably as important as the equipment itself. While not entirely different from
what you'd wear downhill skiing or snowboarding
, there are a few things to keep in mind when dressing for a day on skinny skis.
The main difference between cross country and downhill skiing is that cross country skiing is a much more aerobic sport. Generally speaking, gravity is not helping to propel you forward—it's pure exertion on your part. Even gentle terrain for beginners can be quite the
outdoor workout
. Because of that, you can quickly overheat if you're not wearing
breathable clothing
. And if your sweat has nowhere to go, your clothing will get wet and stay wet, leaving you wet, cold, and miserable.
Another thing to consider is that you're likely to experience a range of temperatures and weather conditions—from clear and cold to sunny and mild to snow and wind, sometimes all in the same day. In other words, you need to be prepared for anything. And the best way to do that, clothing-wise, is by layering.
Knowing
how to layer for cold weather
will go a long way in helping you fully enjoy your day. Layers not only help you
stay warm
, they offer options by allowing you to adjust to both the conditions and your activity level.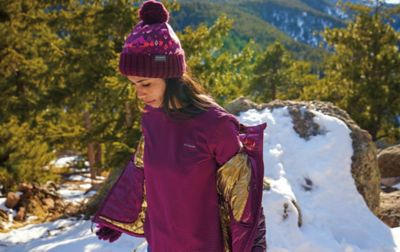 The three components of proper layering are:
Baselayer:
A thin inner layer that sits directly on your skin and wicks away sweat.
Baselayers
are typically made from a quick-drying, sweat-wicking material. They come in varying weights based on the conditions they are designed to take on. For especially
cold weather
, look for technologies like
or
Omni-Heat
™ that provide additional warmth by reflecting body heat back to you.
Midlayer:
A thicker middle layer that provides insulation to keep you warm. This middle layer typically consists of a
warm fleece
or
puffy jacket
. Of the three components, this is the insulating layer that provides the majority of your warmth. For strenuous activities like cross country skiing, it's essential that this layer also be breathable to prevent overheating.
Outer shell:
A thin outer layer that goes on the outside to offer weather protection. This
outermost layer
, typically some sort of shell, protects you from rain, wind, snow, and other elements. Its job is to keep the underneath layers dry, so it's best to look for a shell that is both
fully waterproof
as well as breathable to keep you dry inside and out. In milder conditions, this layer might be kept in your pack, but it's a good idea to always have it with you.
While your footwear will consist of cross country ski boots for much of the day, you will need a good pair of
warm socks
, as well as
winter boots
to wear to and from the ski area. And to take full advantage of being up in the snow, it's a good idea to
choose boots
that are up for some winter hiking, should you decide to do some exploring on foot.
In addition to what you'll wear while skiing, don't forget to pack some
warm dry clothes
to change into after the skis come off at the end of the day. Get some
winter gloves or mittens
to keep your hands and fingers warm during and after skiing. And don't forget extra dry socks!
How do you get in shape for cross country skiing?
For beginners, a little preseason conditioning will go a long way in preparing your body for a day of cross country skiing. You will be using muscles you didn't even know you had, but the better shape you're in, the less you'll feel it the next day.
For experienced skiers,
training for cross country skiing
isn't that different from
how you'd prepare for downhill ski season
.
At any level, whatever you can do to
improve your overall strength and fitness
is a great option, especially if done in cold weather. Winter hiking, trail running, and even
snowshoeing
are all great ways to get in cross country skiing shape and get yourself acclimated to cold-weather exertion.
Common cross country skiing questions
As a beginner, you're likely to have some questions, and we can answer a few of them for you here.
Is cross country skiing hard?
One of the best things about cross country skiing is how accessible it is to almost everyone, which is why it can be such a great family activity. Learning to cross country ski is really no more challenging than
learning to snowshoe
—snowshoeing is like learning to walk, while cross country skiing is more like learning to run. And with the classic and skate styles of cross country skiing, along with a wide range of trails and terrain to tackle, it's a sport that's easy to start and continues to be challenging as you get better, year after year.
Is cross country skiing safe?
Cross country skiing is a relatively safe winter activity for the whole family. On average, it leads to far fewer injuries than downhill skiing. Some cross country skiers might suffer slight injuries if they fall, but that risk can be minimized by learning how to fall—the key is to fall on your side rather than trying to catch yourself with your poles or hands, which can lead to wrist injuries. Also, being in good shape before you go out is an ideal way to prevent overuse injuries, like muscle strains.
As with any outdoor winter sport, cross country skiing exposes you to cold temperatures for long periods of time, which can be dangerous if you're unprepared or underdressed. But that's why wearing
high-quality winter jackets
and
snow pants
is important.
Minimizing risks really comes down to common sense and good preparation, so you can focus on having a great time while enjoying the winter scenery
What are some tips for your first time cross country skiing?
As you get ready for your first time on cross country skis, here are a few things to ensure you have a good experience.

Start slowly – While cross country skiing isn't the toughest sport to pick up, it may be a little challenging your first couple of times out. Just don't expect to be an expert from the start and you're sure to enjoy yourself.

Don't overdo it – Without the help of downhill slopes, cross country skiing engages muscles you don't regularly use. So start with a one- or two-hour outing rather than an all-day trek. Your body will thank you.

Rent before you buy – Instead of buying your cross country skiing gear, consider renting it for the first few times. It's a good way to find the gear that works best for you, and gives you time to make sure you enjoy the sport before investing heavily in it.

Consider a lesson – Avoid the frustration of trying to learn on your own by taking a lesson from an expert ski instructor. It's a modest investment that can greatly improve your enjoyment of the sport.

Wear layers – No activity is fun if you're cold and wet. So make sure to follow our guidelines on layering to stay warm, dry, and comfortable, no matter the conditions or how hard you're working.