How to Choose the Best Baselayers for Skiing
How to Choose the Best Baselayers for Skiing
Expert advice for staying warm from the lift line to above the treeline
The freezing level is dropping. The snow is falling. And the mountain is calling. But before you answer, make sure your last run is as warm, dry, and comfortable as your first.
Dressing in layers
is the perfect place to start—but you need to know how. Every outdoor activity is different, and so is the way to layer your clothing. How to layer for fishing, for example, is different from how to layer for hiking, hunting, or trail running.
To get a full understanding of the importance of baselayers, we reached out to Kelly Steinauer, head of apparel design for Columbia Sportswear, and her two colleagues, Dorothy Hopkins and Lauren Fryan. The apparel designers explained that, as the name implies, the baselayer is the base upon which your warm, dry comfort is built.
"Baselayers are a magic 'second skin' when you're in the cold and doing something active," Steinauer said. "Their job is to add an extra layer of insulation and to wick away the sweat. Both of these things are key to enjoying activities outdoors in the winter."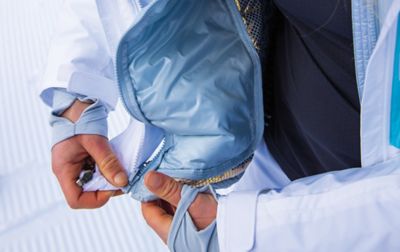 Layering 101
Regardless of what activity you're doing outside, there are three main pieces of gear you need in order to
layer properly
:
Baselayer: This is the thin inner layer that sits directly on your skin and wicks away sweat. Baselayers are typically made from moisture-wicking, quick-drying material.


Midlayer: A thicker middle layer that provides insulation and keeps you warm. This middle layer typically consists of a warm fleece, knit, or puffy jacket.


Outer shell: A thin outer layer that goes on the outside to offer weather protection. This outermost layer, usually a shell or even ski pants, protects you from rain, wind, snow, and other elements.
Why are skiing baselayers so important?
First and foremost, skiing baselayers help regulate your body temperature. When you're on the mountain, your baselayer adds warmth while also wicking away sweat to keep you dry so the cold never sets in. This is why any old long-sleeved shirt typically won't do—you'll be much happier with a performance layer made specifically for winter pursuits.

"Once you ski with a cotton tee under your layers and you spend the day freezing and shivering, you will learn the importance of a good baselayer," explains Steinauer. "Sweat cools you down—that's what it's supposed to do. Cotton absorbs that sweat, leaving you wet and miserable anytime it's below 50 degrees outside."

Hopkins agrees: "Never underestimate the importance of good baselayers. They serve as the foundation of your winter sports kit, playing a critical role in keeping you comfortable, dry, and warm so you can spend more time playing on the slopes and not fussing with your gear."

The start-and-stop nature of skiing and snowboarding makes high-quality baselayers especially important when you're out on the slopes. You spend the day engaged in a nonstop high-intensity interval training (HIIT) workout when you ski, alternating between periods of high-aerobic activity and long pauses as you ride up a chairlift. That change in activity level results in high fluctuations in body temperature, so you need something to manage the sweat.

"Skiing and snowboarding are unique winter activities because they have dramatic peaks and valleys of action versus inaction," Steinauer explains. "One minute you're hurling down a mountain in motion, sweating and warm—and the next minute you're sitting still on a lift, sweaty and cold."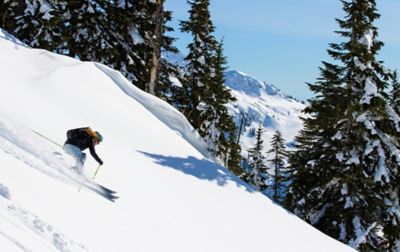 How do you choose a good baselayer for skiing?
There are four main qualities to consider when choosing baselayers for skiing: warmth, breathability, comfort, and moisture management.
Warmth: Baselayers are the foundation of warmth and insulation when you're on the mountain. Choose options with thermal properties and reflective technologies like Omni-Heat or Omni-Heat Infinity. These will add extra warmth by reflecting your body heat back to you.


Breathability: In simple terms, breathability is the degree to which a fabric allows moisture to move through it. Opt for breathable fabrics that will keep you dry and help you avoid overheating. They will also feel fresher, cooler, and better ventilated. .


Moisture management: Whether it's winter weather elements or your own perspiration, you encounter a lot of moisture when you ski, so you need a way to manage it. Pick baselayers made from fabrics that can wick moisture and reduce odor.


Comfort: One of the most important factors in being comfortable in your baselayer is making sure it fits right. Stick to choices that provide a snug fit but still offer a full range of motion. Also look for soft, four-way stretch fabrics that allow maximum movement, as well as flat-lock construction that will help prevent rubbing and chafing.
What is the best baselayer material?
The best materials for baselayers can include polyester, nylon, and other synthetic materials. However, there's one thing they should never be made from and that's cotton. Cotton absorbs moisture and stays wet, so it's best to choose synthetic fabrics for your baselayer.

"Polyester is one of the materials that we love most," says Steinauer. "It's lightweight, great at wicking sweat, it retains heat, and it's affordable. Pairing it with elastane makes it stretchy and comfortable, and helps it to provide better movement and fit."

Nylon is another great option, or a blend of the two materials. In addition to the previously mentioned features, polyester and nylon are durable and quick-drying fibers. They can also easily be treated with antimicrobial solutions to decrease odor buildup.

For people who prefer natural fibers, Merino wool can also work as a baselayer fabric because it expands when wet, allowing moisture to be naturally wicked away while providing insulation. It's soft, ultrafine fibers provide flexibility—and unlike traditional wool, it doesn't have itchiness associated with it.

That said, polyester and nylon are usually superior when it comes to overall performance.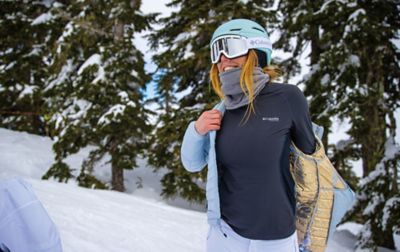 How should your baselayer fit?
Baselayers shouldn't be too tight or too loose—the idea is to hit that sweet spot right in the middle where they feel snug without restricting movement. That said, if you're going to err on one side, it's better to be a bit tighter. Baselayers need to fit snugly against your body in order to be effective.
What are the different baselayer weights?
Baselayers typically come in three weights: lightweight, midweight, and heavyweight. For skiing and snowboarding, you typically want the added warmth of thicker fabrics, so look for options in the
midweight to heavyweight range
.
What is the difference between baselayers and thermals?
A common question people ask when shopping for baselayers is how they're different from "thermals" or "long underwear." Technically speaking, a thermal is a construction of knit, historically created with cotton yarn. However, the term has become interchangeable with baselayer.

"Baselayer is basically the new thermal and typically when people say 'thermal,' they are actually referring to baselayers, even if the material is now superior to that found in traditional thermals," Steinauer explains.