How to Choose Ski Pants
Winter is coming! Learn how to pick the best ski or snowboard pants with our handy guide
The approach of winter conjures up visions of
cruising down ski slopes
and making fluffy powder turns. It might also have you wondering
what to wear
this season. It can be challenging to know what to look for when picking out winter gear, especially when it comes to ski and snowboard pants. To help you avoid being
that guy who skis in denim jeans
, we've broken it down into some easy steps.
First, let's answer a few common questions you might have when shopping for ski pants.
Ski Pants 101: common questions
1. Ski bibs versus pants: which are better?
The main difference between ski pants and ski bibs is in the length and fit. Ski pants look similar to regular pants that cinch at the waist, while ski bibs look more like overalls.
There are pros and cons to both. For example, ski bibs offer more coverage than ski pants because they stretch up under your coat, preventing snow from getting in at your waist. However, they fit more snugly which some skiers may find constraining. Ski pants, on the other hand, tend to be looser fitting.
Bibs also tend to be slightly warmer and more ideal for drier, colder climates like in the Colorado Rockies. If you're skiing in warmer climates, like the Cascades in Washington or Oregon, ski pants will work just fine.
Skiers who opt for pants instead of bibs often make use of their jacket's powder skirt—a piece of fabric commonly found on the inside of a ski jacket just above the hemline. It has a stretchy elastic band that can be snapped closed to create a seal that prevents snow from getting inside the pants.
If your jacket doesn't have a powder skirt, you'll want to make sure you buy ski pants that go up high so you can tuck in your thermal layers. Or opt for a ski bib, which covers the torso and protects from snow coming in at the waist and going down your pants.
Skier's pro tip: if you're skiing off of the main trails and nature calls, pants will be way more accommodating than bibs. The same goes when you're using the bathroom in the lodge. (Just remember if you are out on the slopes to practice
Leave No Trace
).
At the end of the day, both ski bibs and pants will keep you warm and dry so much of your decision will come down to your personal preference.
2. Is there a difference between ski and snowboard pants?
There's very little difference between ski and snowboard pants when it comes to performance. In fact, many brands don't even distinguish between the two. Where differences do exist it's largely a matter of style and fit. Ski pants are often slimmer, for example, while classic snowboard pants tend to be looser, allowing for more crouching, twisting, and leg movement.
You can also sometimes spot minor differences in features, such as where the vents are placed. Because skiers face forward while skiing, the vents on ski pants tend to be on the side more, whereas snowboarders go downhill at a sideways angle, so those vents tend to be on the inside. Ski pants also have cuff guards at the bottom of the legs to prevent them from getting scuffed by edges or boot buckles.
These days, however, it is common to find hybrid pants that incorporate the features of both ski and snowboard pants.
3. What do I wear under ski pants?
Tights made with
breathable moisture-wicking materials
, are the best type of
baselayers to wear
under ski pants and can add warmth on colder days. This allows you to control your body temperature so you don't overheat while also wicking moisture from sweat. And knowing
how to layer
properly will help you to enjoy your time on the mountain.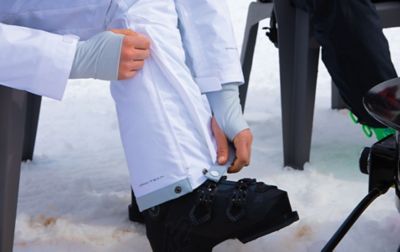 What should you look for in ski pants?
The conditions on the mountain will always be the major factor in deciding what outdoor gear you should use. Whether you're enjoying a clear, sunny bluebird day on the slopes or braving a windy, snowy, or damp day in strong elements, your ski pants need to rise to the occasion and keep you protected in all types of weather.
To help make choosing a pair of ski or snowboarding pants easier, think about the types of weather conditions you'll most likely be active in and consider some specific features before you make a decision.
Warmth
Look for bibs and pants that are made of waterproof, breathable material to keep you warm and dry. Bibs will offer greater warmth because they add an additional layer of insulation to your core. Ski pants will keep you cozy only up to your waist, so your jacket will need to provide warmth to the upper part of your body. If you're looking for additional insulation, reflective technologies like
Omni-Heat™ Reflective
and
Omni-Heat™ Infinity
will make them even warmer.
Water-Resistance
Skiing while wet is no fun, so it's important to wear waterproof or water-resistant clothing on the mountain. The
type of waterproofing
you choose depends on the weather: warmer and wetter tempaeratures generally call for stronger waterproofing, whereas water-resistant or water-repellent gear will suffice in drier, colder climates.
Breathability
The body naturally cools itself through evaporation, so
breathability
is an extremely important factor when choosing which ski pants are right for you. You'll need materials that breathe to keep up with your hard work and sweat, which you'll find in pants made with nylon or polyester. For even more comfort and protection, look for pants made with
Omni-Tech
™ to provide both breathability and water-resistance. If you are headed out to a snow park or the back country for
cross country skiing
, breathable gear is also very important
Ventilation
When choosing a pair of ski pants, look at the ventilation system, which is key to keeping your body dry and cool. Your ski or snowboard pants should have some sort of method for airflow, such as zippers along the sides or leg vents.
Features
Ski pants now come with a lot of features like zippered hand pockets, cargo pockets, pouches, thermal reflective linings, articulated knees, internal leg gaiters, reinforced cuff guards, keyrings, bottle openers, and more. Consider the type of activities you'll be doing and in what kind of weather to help you decide which features make the most sense for you.
Fit
You'll want to be comfortable all day on the mountain, so the most important thing to remember is that your ski pants must fit properly and allow you to move freely. You'll find plenty of stretchy fabrics to choose from, many different colors and patterns to fit your style, and options for all body types and sizes, including
plus size ski gear
.