How To Choose Winter Boots
How To Choose Winter Boots
From snow boots to rain boots, here's how to pick the best winter footwear
Wintertime is full of fun outdoor activities—skiing,
snowshoeing
, sledding, hiking—even just walking around the city. But to properly enjoy yourself, you need to know
how to stay warm.
One of the most effective ways to do this is to invest in a good pair of cold-weather boots. However, with so many options out there, it can be difficult to know where to begin.
To help you get started, we've put together an easy guide for how to pick out winter boots, focusing on four key factors: warmth, comfort, traction, and style. Check out the details below.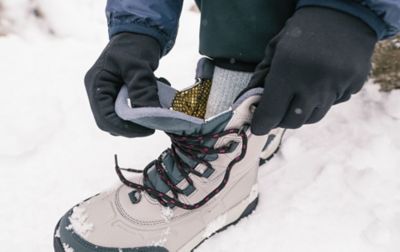 WARMTH
The primary purpose of winter boots is to keep your feet warm, so you want to make sure they can achieve that before making a purchase. There are three important elements that affect how warm a boot is:
Insulation: This is the inside part of the boot that traps warmth next to your body and keeps your feet feeling toasty. It's typically made from materials such as fleece, wool, or synthetic down. Some boots also feature reflective liners such as Omni-Heat Infinity that add extra warmth by reflecting heat back toward your feet.
Waterproofing: In addition to having high-quality insulation, winter boots need to be water-resistant, if not fully waterproof, so they can protect you from wet-weather elements such as rain, snow, sleet, and hail. If you're in a particularly wet climate, look for boots with technologies such as OutDry™ that are 100% waterproof yet breathable.
Material: The last major piece of the warmth equation is the exterior of the boot. Aside from being waterproof or water-resistant (check out our waterproofing guide if you don't know the difference), it's best for it to be made of something durable such as leather or CORDURA®. This adds a second layer of protection from the cold, while also making the boot more durable.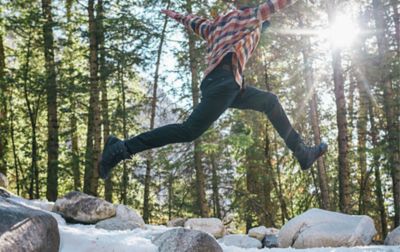 When it comes to materials, CORDURA® is one of the top-of-the-line fabrics that offers durability while remaining soft and comfortable. (Pictured above in Columbia Sportswear's
Men's Fairbanks Omni-Heat™ Boot
).
COMFORT
In addition to warmth, comfort is a must-have feature for winter boots. You won't want to walk around in them all day if you're not comfortable. Achieving a high degree of comfort comes down to three main components:
Cushioning This is a layer of foam or other similar materials that provide rebound as you walk. In addition to being more comfortable to wear, high-quality cushioning can help prevent foot fatigue
Shock Absorption: This is typically a layer in the middle (called the midsole) that dampens the impact of your foot as it strikes the ground. Look for selections with advanced cushioning technologies such as Techlite or Techlite+
Weight: On top of special features like cushioning and shock absorption, weight also plays a role in how comfortable your boot is. Walking around all day in boots that are heavy or clunky is not comfortable, so generally speaking, the more lightweight the better.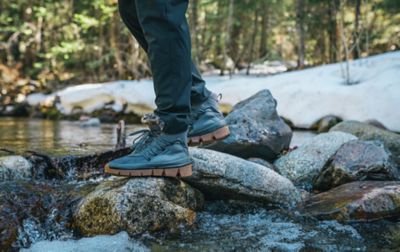 Equipped with Adapt Trax outsole traction, the
Women's Keetley Omni-Heat™ Infinity Shorty Boot
is an example of a winter boot that offers exceptional traction. The technology is specifically designed to perform well on ice, reducing your chances of slipping while you're out in the elements.
TRACTION
Another important factor in picking out a winter boot is traction. While this is always a consideration when selecting footwear, it is extra important for cold-weather boots since you are more likely to be walking on surfaces made slippery by ice, snow, sleet, or rain. Boots with technologies like Adapt Trax outsole traction are specifically designed to perform well on ice and can therefore reduce your chances of slipping or falling.
STYLE
Last but not least, style is worth considering when picking out winter boots. Not only do you want to find boots that are stylish, it's also important for them to be appropriate for whatever you will be using them for. Some winter boots are better equipped for active pursuits such as
hiking or snowshoeing,
while others make better around-town shoes.