The Best Spring Skiing Spots in North America
The Best Spring Skiing
Spots in North America
From Alaska to Vermont, here are the best places for spring skiing
It's hard to beat spring skiing—sunny bluebird days, slushy corn snow, and the thinning of the winter crowds. Lift ticket prices start dropping and spring deals emerge. And as the T-shirts and tank tops come out, skiers and snowboarders take part in pond skims, gear demos, happy hours, and costume contests. The
après-ski scene
moves from toasty fireside to sunny patio. And parking lots fill up with tailgaters barbecuing on mini grills while dogs chase frisbees.
To help you
plan the perfect ski trip
and find the best spring skiing spots, we've rounded up the best places in North America. Put your
warm ski jackets
away,
grab some breathable snow pants
, break out the
lightweight baselayers,
and get ready for some sunny spring fun.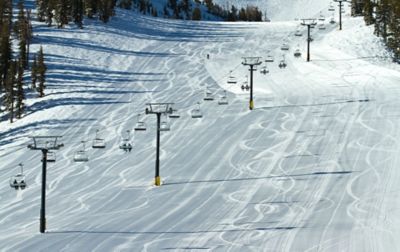 A chair lift carries skiers and snowboarders up the hill on a sunny day at Mammoth Mountain which typically boasts California's longest ski season. Photo Credit: iStock
Mammoth Mountain, California
Projected closing date: June 25, 2022

Mammoth Mountain is by far one of the best places for spring skiing and snowboarding in North America. The resort has California's longest ski season and usually doesn't close until late May or June. It has fantastic outdoor dining and the weekend après parties continue on the Canyon Lodge Sundeck well into the spring months. The mountain boasts an average summit depth of 111 inches in April, along with 1.6 snowy days a week. Plus, the Mammoth Bike Park is usually open by mid-spring, so you can do some biking after you get your turns in.
Sun Valley, Idaho
Projected closing date:
April 16, 2022
Although it's typically closed by May or June, folks seeking quality spring skiing in April should look no further than Sun Valley, Idaho. This western ski resort—home to the country's first chairlift—enjoys more than 250 sunny days per year and is chock-full of fun spring events, including costume parties, live concerts, and tailgates. Off the slopes, Sun Valley offers fantastic hiking trails so you can start
breaking in your hiking boots
for spring.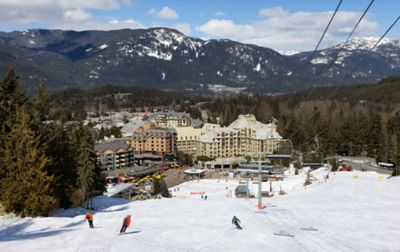 Skiers enjoy the sunshine on the way down to the lodge at Whistler Blackcomb Ski Resort in British Columbia. The popular resort hosts the World Ski & Snowboard Festival every April. Photo Credit: iStock
Whistler Blackcomb, British Columbia
Projected closing date: May 23, 2022

A trip to Whistler Blackcomb is usually full of fun activities and off-piste entertainment no matter when you go, but springtime is an exceptionally good time. In addition to awesome deals that can be found on lift tickets, this mega-resort hosts the World Ski & Snowboard Festival in April. Big crowds turn up to watch live events, and ski or snowboard on the resort's more than 8,000 acres of terrain. There are all kinds of competitions to enjoy, including the famous "Slush Cup," along with plenty of music, food, and drinks.
Arapahoe Basin, Colorado
Projected closing date: June 1, 2022

Celebrated in the Rocky Mountains for its spring skiing, Arapahoe Basin is definitely the place to be when the sun comes out. With a base area situated at 10,520 feet—and lots of skiable terrain located above the treeline—it's a wonderful place for spring turns. The smaller, old-school ski resort often comes to life in the spring after Aspen and the other bigger Colorado resorts close. Arapahoe Basin receives an average of 32 inches of snowfall in April and has even been open for the Fourth of July on several occasions.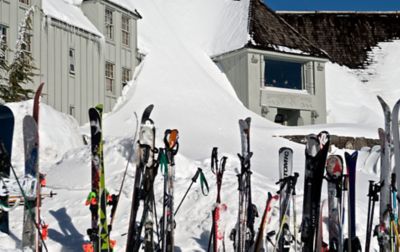 Timberline Lodge in Oregon stays open 10 months a year, offering some of the best spring skiing in North America. Photo Credit: iStock
Timberline Lodge, Oregon
Projected closing date: May 31, 2022

Boasting the longest ski season in North America, it's a no-brainer that Timberline Lodge would appear on a list of North America's best spring skiing destinations. The Mt. Hood ski resort stays open 10 months a year and is so spring- and summer-focused that it has a special chairlift—the Palmer Express—that doesn't even open until late May or June. The lodge offers a discounted spring pass, and when the ski season ends, the terrain parks get moved to higher elevations to keep them rideable for the pros who come in to train during the summer as well as ski and snowboard camps hosted by the resort.
Killington Ski Resort, Vermont
Projected closing date: May 23, 2022

In the eastern part of the country, Killington is the place to be for spring skiing and snowboarding. With the special discounted Nor'beaster Spring Pass, the ski hill fills up with locals, often wearing tutus and other costumes as they participate in pond skims, raffles, concerts, gear demos, and other end-of-season festivities. Spring highlights include April's annual "Dazed and Defrosted" and the May Day Slalom. Killington offers soft, slushy snow with temps in the low 40s, and about half of the resort's 155 trails typically remain open into the spring.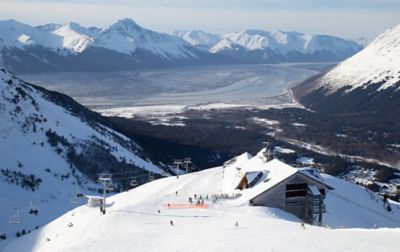 Springtime is an exceptionally fun time of the year at Alyeska Resort near Anchorage, Alaska. Skiers and snowboarders enjoy 15-hour days at the northern resort, along with incredible panoramic views. Photo Credit: iStock
Alyeska Resort, Alaska
Projected closing date: April 25, 2022

In addition to 15-hour days and spectacular panoramic views, Alaska's Alyeska Ski Resort offers lots of springtime fun to be had around the base area, including live music, brew fests, bike races, and the annual spring carnival known as the "Slush Cup" (not to be confused with Whistler Blackcomb's event of the same name). The excellent spring skiing conditions complement the fun, laid-back après vibe. Work on your goggle tan while watching tug-of-war events or listening to live music.
Snowbird, Utah
Projected closing date: May 24, 2022

With sunny bluebird skies and temperatures around 40 degrees, Utah's Snowbird is an ideal place to log your spring turns. It offers the longest season in Utah, with spring storms depositing big snow dumps as late as April and May. The season extends so long, in fact, that the resort has been able to open on the Fourth of July on five different occasions in the last 50 years—about once a decade. The average summit depth in April is an impressive 83 inches.
A skier makes his way down the mountain at Palisades Tahoe Ski Resort (formerly called Squaw Valley). In the distance, Lake Tahoe is pictured, providing hiking trails and other outdoor recreation opportunities for spring skiers. Photo Credit: iStock
Palisades Tahoe, California
Projected closing date:
June 5, 2022
Palisades Tahoe (formerly Squaw Valley) is another stellar place for spring skiing. The self-proclaimed "Spring Skiing Capital," the California resort enjoys an average summit depth in April of 83 inches (like Snowbird). Spring tickets are often discounted and the resort is included on the Ikon Pass. There's a cool après-ski scene with music, art, brewpubs, and gear demos. And with great hiking trails and the Truckee River nearby, you can ski or snowboard in the morning and then go
hiking,
trail running,
fishing,
or paddleboarding in the afternoon.