How to Shop for a Ski Jacket
How to Shop for a Ski Jacket
From wrist gaiters to powder skirts, here's everything you need to know to choose the right ski coat
Whether you're a newbie skier or a seasoned veteran, one of the
best ways to prepare for ski season
is to have a warm coat. After all, it's hard to have fun on the slopes or
out cross country skiing
when you're freezing to death and your teeth are chattering. Having a high-quality jacket allows you to focus on having fun and learning
how to ski better
. When it comes to what to look for in a ski jacket, here are some key factors to consider.
Insulated ski jackets versus shells: Which is better?
Before you start thinking about specific features, first consider what
type of ski jacket
you want. While they come in tons of styles, most can be broken down into three main categories: insulated jackets, outer shells, and interchangeable ski jackets.
Insulated jackets: These are warm ski jackets that feature built-in insulation so you don't have to wear much underneath them. Typically, these jackets are made with cozy insulation (goose or synthetic) and they sometimes have fleece or faux fur components as well. With these types of coats, you don't have to worry about buying multiple clothing items or learning how to layer—they're easy all-in-one pieces.
Outer Shells: These high-tech ski jackets are extremely thin and lightweight with rugged exteriors that provide 100% waterproofing and wind-resistance. The idea is to bundle up in your favorite fleece or puffy jacket underneath and wear the shell on top to protect you from the elements. This system allows you to add or remove layers as the day goes on, regulating your body temperature as you see fit.
Interchangeable (3-in-1): These interchangeable ski coats feature both an insulated layer and an outer shell. You can zip them together to form one jacket or wear each of them separately, resulting in three different pieces of gear.
How to choose a ski jacket: Things to consider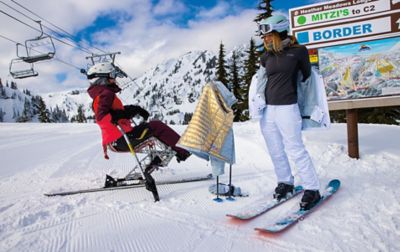 Warmth
Insulation: This is the section in the middle that traps heat and keeps you warm. The best options feature natural goose down or high-quality synthetic insulation.
Liner: This is the innermost part of the jacket that lines the inside, providing a soft texture and keeping the insulation in place. The warmest ski jackets feature reflective liners such as Omni-Heat , Omni-Heat 3D, or Omni-Heat Infinity, which rely on foil patterns that reflect your body heat back at you, adding extra warmth.
Exterior: Jackets made with Omni-Heat Black Dot take it a step further by incorporating warming technology into the exterior of the coat as well. If you're in a particularly cold climate with extreme conditions, or you tend to get cold easily, opt for a ski jacket with Omni-Heat Black Dot that can soak up solar heat to add extra warmth.
Durability
Unlike a regular winter coat that you wear around the city, your ski jacket gets subjected to quite a bit of wear and tear. It needs to be durable enough to handle things like snagging on tree branches or leaning against rocks, so look for tough materials like nylon or polyester that are also lightweight and moisture-resistant.
To keep your jacket performing at its best it is important to understand proper gear maintenance and cleaning instructions. Check out Columbia Sportswear's guide on
How to Wash a Puffer Jacket
to learn more about how to care for jackets with natural and synthetic down insulation.
Moisture management
You work up a sweat when you ski and snowboard so your coat needs to be properly ventilated. Seek options with features like side zippers, mesh panels, or pit zips. In addition to offering airflow, it's nice if the material itself offers breathable material (that's also waterproof) Moisture-wicking fabrics are also important, along with liners and other elements that can dry quickly.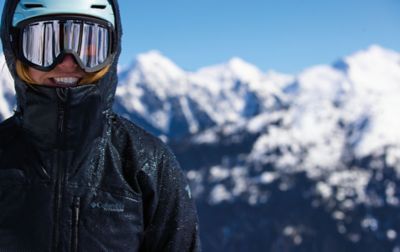 Water-resistance
Having a
waterproof ski jacket
is an essential part of the equation. Fluffy white powder may feel light and dry, but the minute it melts, it's just water. For that reason, it's imperative that your coat is constructed with waterproof-breathable materials. Otherwise, you will spend the day wet and miserable. Jackets featuring
weather protection systems such as Omni-Tech
are typically the best choices.
Special features
It's also nice if your jacket has ski- and snowboard-specific features such as:
Powder skirts
Wrist gaiters
Adjustable hoods
Goggle pockets
Pass sleeves
RECCO safety technology
Our top picks: Columbia Sportwear's ski jackets of 2022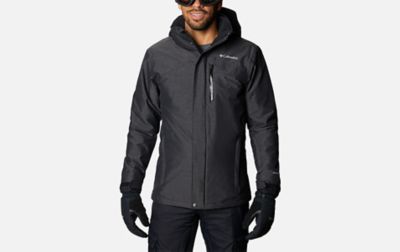 The best insulated ski jacket
Name:
Last Tracks Insulated Ski Jacket
This durable,
multilayered ski jacket
boasts warm insulation and lightweight, waterproof-breathable fabric. It's built with Omni-Tech waterproof-breathable technology and a heat reflective liner, along with an adjustable hood, powder skirt, and pass sleeve.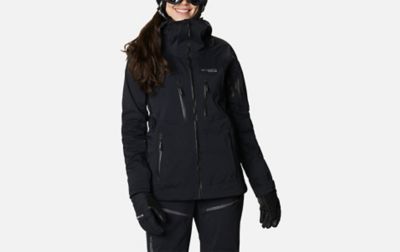 The best shell ski jacket
Name:
Peak Pursuit 3L Shell Jacket
If you opt for a layering system, the Peak Pursuit is one of Columbia's Sportswear's
best outer shell ski jackets.
In addition to a tough waterproof shell but additional features such as an adjustable hood, goggle pocket, pit zips, pass sleeve, and integrated RECCO safety technology.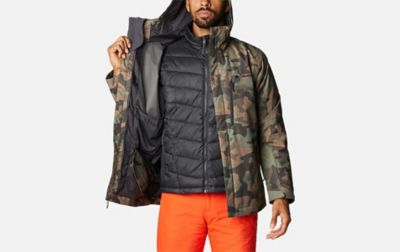 The best 3-In-1 ski jacket
Name:
Men's Whirlibird IV Interchange Jacket
For folks seeking a 3-in-1 option, this
interchangeable ski jacket
is a wonderful choice. The waterproof-breathable coat is warm and durable with fantastic moisture management features. On top of the cozy synthetic insulation and toasty reflective liner (with Omni-Heat technology), it has a pass pocket, goggle pocket, pit zips, adjustable hood, and powder skirt. (Check out the women's version of this ski jacket
here
.)
Want to complete you snow gear setup? Check out our
guide to finding the best snow pants
.