How To Layer for Cold Weather
How To Layer for Cold Weather
From baselayers to outer shells, here's a quick guide to layering for every outdoor activity
You know those people who can play outside all day long, even in the middle of winter? Their secret often comes down to one simple superpower: they know
how to layer
. Mastering this useful art can help manage your heat as weather conditions and activity levels fluctuate outside. Not only that, it makes your
outdoor gear closet
more versatile. For example, a lightweight fleece that you normally wear on spring hikes suddenly becomes a winter midlayer for skiing or
snowshoeing
.
To help you perfect this practical skill and learn
how to stay warm in cold weather
, we reached out to Columbia Sportswear Apparel Designer Nancy Zan. "In most outdoor pursuits," she explained, "activity level varies throughout the day. You could be huffing and puffing up a hill one minute, and sitting down for lunch the next. Layering allows you to fine-tune your heat management, depending on the activity. This keeps you comfortable and, in the more extreme cases, can prevent more serious side effects like hypothermia."
To learn more of Zan's tips on how to layer outdoor clothes, read our quick guide below.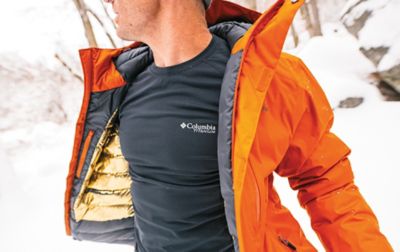 How To Layer Outdoor Clothes
Although there are a variety of ways to layer clothing when you're dressing for winter, most outdoor enthusiasts rely on a classic three-piece system:
Baselayer: A thin inner layer that sits directly on your skin and wicks away sweat.
Midlayer: A thicker middle layer that provides insulation and keeps you warm.
Outer shell: A thin outer layer that goes on the outside to offer weather protection.
Baselayer
Typically made from a quick-drying, sweat-wicking material such as nylon or polyester, your
baselayer
is a thin, lightweight layer that fits closely against your skin. The goal is to lift perspiration as you sweat to help it evaporate quickly. This keeps the sweat from cooling on your skin and making it feel cold and clammy.
Baselayers come in different weights to accommodate a range of outside temperatures and levels of activity. They're also available in different neck styles. Some, for example, have pullover-style crewnecks while others feature quarter zips that open at the top for extra ventilation. For especially cold weather, some baselayers offer additional technology such as
Omni-Heat
, which reflects body heat back to you, adding warmth.
Examples:
Outer shell
The shell is the outermost layer that protects you from rain, wind, snow, and other elements. Its job is to keep the layers underneath dry, blocking them from water or wind. Normally, outer shells are constructed from materials such as nylon or polyester so they're durable while also being lightweight.
Shell styles range in thickness from ultra-lightweight to triple-layer—and everything in between. Some feature high-tech materials such as
OutDry Extreme
that's fully waterproof and breathable. Others boast their
own insulating layers
, which can be helpful in chillier climates. "These are great if it's really cold and you want to double up your insulating layers," Zan says. Other options offer
interchangeable zip-out styles
where the midlayer and shell are all in one.
Examples:
Layering pitfalls to avoid
Wearing cotton:
Although cotton feels super soft and cozy against your skin, it's not usually the best layering material, Zan explains. "For wet weather or highly strenuous activities, cotton is not recommended because it will get wet, either from sweat or precipitation, and take a very long time to dry. In cold conditions, this could spell trouble." Instead, she says to opt for nylon or polyester.
Confusing waterproof and water-resistant:
Newbie layerers often misunderstand the
difference between waterproof and water-resistant fabrics
, Zan says. Windbreakers, for example, are often coated with treatments that make people think they're fully waterproof when they're really only meant for light drizzles.
Forgetting to use your ventilation:
It's common to see people struggling with their layers throughout the day, constantly stripping items off or putting them on. Pro-level layerers, however, know that the best way to manage your heat is to use your apparel's ventilating features such as pit zippers, cuff tabs, or adjustable hems.