What to Wear on Your First Snowshoeing Trip
What to Wear on Your First Snowshoeing Trip
Our beginner's guide to snowshoeing explains everything you need to bring on your adventure
If you're looking to get out and explore the snow-covered outdoors during the heart of winter, there's no better way to do it than with a snowshoeing adventure. Not only is snowshoeing easy to learn, it requires very little specialized equipment and can be done practically anywhere there's snow—a mountain area, a golf course, or even just your neighborhood park after a snowstorm. But before you
give snowshoeing a try
, you need to know what to wear (conveniently, there's some overlap with
what to wear skiing
). We'll explain everything you need to bring snowshoeing and provide a complete equipment checklist, so you're prepared for anything the trail has in store.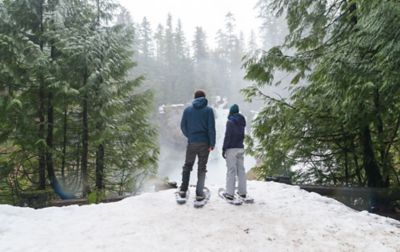 What to bring snowshoeing
The good news is that, gear-wise, there's not a lot of equipment you need for snowshoeing—basically just a pair of snowshoes.
Trekking poles
can be helpful, especially if you're wearing a heavy pack or have knee issues, but they are by no means required.
When it comes to clothing, bring the same clothes you'd wear for
winter hiking
or for any outdoor activity that requires you to
stay warm in cold weather
. Key must-haves include high-quality
winter boots
, a
warm jacket
, and a
good pair of snow pants
.
Of course, there are other things you'll want—plenty of layering options for changing weather conditions, dry clothes for the ride back home, and some other essentials we'll cover below. Keep in mind that there will be some variables based on your plans. An overnight excursion, for example, will obviously require more gear than you'll need for a family day trip to the mountain (not to mention a solid understanding of
how to camp in the snow
).
Packing Pro Tip 1: Understand the importance of dressing in layers
While your snowshoes will keep your feet on top of the snow, moving through the snow is 100% powered by you, so you can quickly overheat if you're not wearing breathable clothing. And if your sweat has nowhere to go, your clothing will get wet and stay wet, leaving you cold, wet, and miserable.
Snowshoeing can involve a range of temperatures and weather conditions—from clear and cold to snowy and windy, sometimes all in the same day. So you need to be prepared for anything, and the best way to do that is by layering your clothing.
Knowing
how to layer for cold weather
will go a long way in helping you to fully enjoy your day, because layers not only provide you with warmth, they provide options by allowing you to adjust to both the conditions and your activity level.
The three components of proper layering are:
1. Baselayer:
A thin inner layer that sits directly on your skin and wicks away sweat.
Baselayers
are typically made from a quick-drying, sweat-wicking material. They come in varying weights, based on the conditions they are designed to take on. For especially cold weather, look for technologies like Omni-Heat™ that provide additional warmth by
reflecting your body heat
back to you.
2. Midlayer:
A thicker middle layer that provides insulation and keeps you warm. This
middle layer
typically consists of an insulated jacket, fleece, or knit. If you
choose a puffer jacket
, try one with special reflective technology like
Omni-Heat™ Infinity
, and if you opt for fleece, try one with
Helix technology
3. Outer shell:
A thin layer that goes on the outside to offer weather protection. This outermost layer, typically some sort of shell, protects you from rain, wind, snow, and other elements. Its job is to keep the underneath layers dry, so it's best to look for a shell that is both fully
waterproof as well as breathable
to keep you dry inside and out. In milder conditions, this layer might be kept in your pack, but it's a good idea to always have it with you.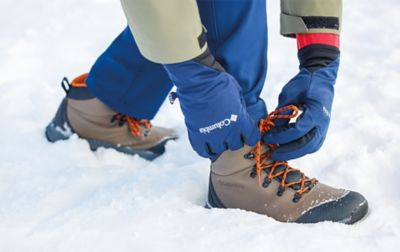 Packing Pro tip 2: Choose high-quality footwear
Because snowshoes are designed to work with your own boots,
choosing the right winter boot
is vital to having a good experience. A cheap pair of boots will leave your feet cold and wet. Needless to say, it's worth investing in the highest-quality winter boots you can afford. The
best boots for snowshoeing
are waterproof, insulated, and breathable. And since the boots aren't specific to snowshoeing, they're an investment that will pay off all winter long.
Snowshoes will provide the traction you need on the snow, but you'll also want your boots to have excellent traction, like
Adapt Trax™
, to give you the versatility of wearing them on the way to the mountain, in the icy snow-packed parking lot, or on your next winter hike.
And don't forget to pair your high-quality boots with high-quality socks. The best socks for snowshoeing will provide both warmth and moisture-wicking features—the same things you'd look for in a
skiing or snowboarding sock
.
Packing Pro Tip 3: Stay warm and dry with the right jacket and pants
Like any winter outdoor sport, staying warm and dry is essential. Enjoyment is tough to come by if you're cold and wet, for snowshoeing or anything else for that matter. So make sure you're comfortable all day long by choosing the right
jacket
for snowshoeing—one that is not only warm and waterproof but also breathable, so sweat doesn't build up inside your jacket as you hike through the snow.
Because snowshoeing constantly exposes your legs to snow, you'll need a good pair of snow pants too. The best pants for snowshoeing are
ski or snowboard pants
that are warm, waterproof, and breathable to keep you dry inside and out. Most ski pants will also have internal leg gaiters to help keep the snow out of your boots, but if you'll be trekking through deep powder, you might consider adding a pair of external gaiters to your packing list.
And of course, make sure to remember a
hat and gloves
for everyone.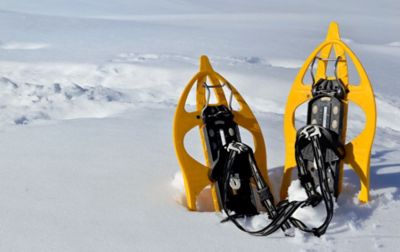 Snowshoeing packing checklist
Here's a checklist of essential as well as recommended gear to help make sure you don't leave anything behind:
Essential:
Snowshoes
Winter boots
Winter jacket or rain shell
Snow pants
Insulated jacket or fleece
Baselayer top
Baselayer bottom
Warm hat
Gloves
Socks (bring an extra pair)
Dry clothes for the drive home
Recommended:
Trekking poles
Neck gaiter
Sunglasses
Sunscreen
Lip balm
Cell phone and charger
Area map
Compass
GPS device
Knife or multi-tool
Lighter or waterproof matches
Headlamp and extra batteries
First aid kit
Bivvy sack or emergency shelter
Filled water bottle
Food (bring more than you think you'll need)
Quick energy snacks
Binoculars
For backcountry trips:
Avalanche transceiver
Avalanche probe
Portable snow shovel
Two-way radios