Choosing the Right Puffer Jacket
How To Pick Out a Puffer Jacket
From fill power to insulation type, here's everything you need to know about choosing the right puffy jacket
Shopping for a new
puffer jacket
can be a daunting task. With all the different
jacket technology options
and terminology out there, it can be confusing to know where to begin. What's "fill power," for example? How do weight and durability factor in? And what's the difference between synthetic and natural down?
To help you make an informed decision, we reached out to Douglas Maguire, senior outerwear designer for Columbia Sportswear to get some tips on how to pick the right
puffer jacket
. Here are five key factors he said you should consider.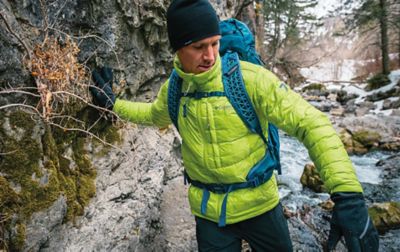 1. Weight
While there are certainly occasions when bundling up with a thick and cozy option feels amazing, it's generally preferable to opt for a more
lightweight puffer jacket
. This is especially true for people who take part in active pursuits like
hiking,
trail running,
snowshoeing,
fishing,
skiing,
or
backpacking
. "A person who's hiking the Pacific Crest Trail can only carry so much," Maguire explained. "Having a lightweight puffer means they can carry more or travel longer since there's less weight to carry." Lightweight taffetas are often used in puffers to reduce weight and make them squishier and cozier, he said. Plus, it doesn't flatten out the insulation. It's also nice to have a puffy jacket that's small and packable.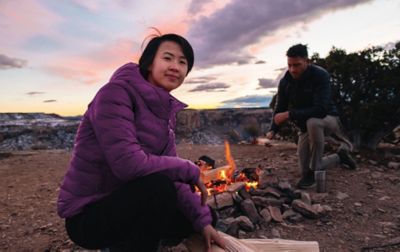 2. Durability
Puffer jackets make fantastic around-town coats, but the great outdoors is where they really shine. That's why it's important to select an option that's extra durable so it lasts a long time and doesn't snag or tear on rocks and tree branches. Maguire suggests
puffy coats with high-quality weaves
made from tough ripstop fabrics. "Fabric is a key component to durability, and specifically its construction," he said. "Tighter weaves can bring better tear strength and less insulation leakage." In addition to fabric, the type of zippers and hardware add to overall durability of the coat.
Looking for tips on how to care for your puffer jacket and keep it warm and puffy season after season? Check out our article on
How to Wash a Puffer Jacket
.
3. Insulation type
There are two main types of insulation when it comes to puffer jackets—
natural down and synthetic versions.
Each type has certain benefits:
Natural down: This type of insulation, made from natural feather down, is ultra-lightweight and compact. Not only that, it's super warm and exceptionally durable.
Synthetic down: Constructed from polyester fibers woven together to trap heat, the advantage of synthetic down is that it's extremely water-resistant. That makes it perform better in the rain, and it's also easier to wash.
What is fill power?
If you decide to go with a natural down jacket, you may hear the term "fill power." Sometimes described as "warmth-to-weight ratio," fill power is the measure of how much space in cubic inches is produced by one ounce of down. A higher fill power number doesn't necessarily mean the jacket is warmer, but it does mean it's more efficient for its size and weight. Fill power does not apply to synthetic down.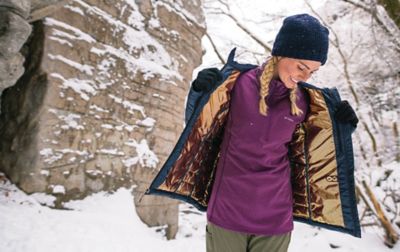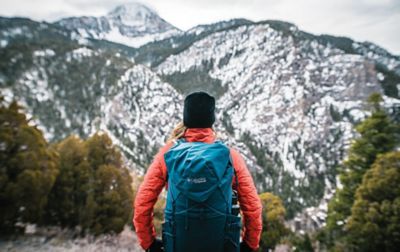 5. Weather-resistance
While the warmth mostly comes from the liner and insulation, weather resistance occurs on the outside of the jacket. If you plan to be in the wind or rain, consider a
water-resistant puffy jacket
with an exterior coating that can block out the weather. If you live in an especially wet or rainy climate, you may want to consider layering your puffer under a high-quality rain shell. (For layering tips, check out
"How To Layer Properly for Cold Weather.")
If you need something fully waterproof, another option is to go with an
insulated rain jacket
in lieu of a traditional puffer, or choose something with
Black Dot technology
for added warmth.
Super warm and water-resistant, this down, thermal-reflective jacket holds its own in the cold.
A water-repellent, thermal-reflective puffer built for stylish warmth you can wear anywhere.
A puffer with recycled down insulation and thermal-reflective lining banishes chills on winter hikes...
Read More
A puffer with recycled down insulation and thermal-reflective banishes the chill on winter hikes.