Hotdog Hans: The Most Legendary Skier The World Has Ever Known
Meet the Most Legendary
Skier the World Has Ever Known
Few skiers are as legendary as the legend Hotdog Hans. What a legend.
From bumps and brewskies at the 1973 Hotdoggin' World Championships to martinis and fettuccine in modern-day Snowmass, few skiers rival the legendary status of Aspen idol "Hotdog Hans." Known in the '70s as the "king of the mountain," the iconic athlete and one-single-time world champion has an off-piste style that's as hot as his ski moves. Vintage ski jackets. Tasseled hats. Jeans with leather belts.
Adored by women and idolized by men, Hans is a true icon. A super athlete. A heartbreaker. A real hotdogger.
In addition to being perhaps the greatest skier Aspen has ever known, he also stars in two epic ski flicks from Vital Films, "
Hotdog Hans
" and "
Hotdog Hans 2
". A third is scheduled to be released in January, which fans are eagerly awaiting.
Columbia Sportswear was lucky enough to sit down with the legend himself and get a glimpse into his world.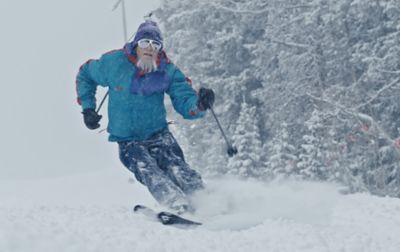 Hotdog Hans is all about the bumps, baby.
Q: How old are you, Hans?
Hotdog Hans: I never ask a woman her age. Next question.
Q: Ah, sorry about that. Let me rephrase: How long have you been skiing?
Hotdog Hans: It's been over 80 years. Long before chairlifts and baggy jeans were a thing.
Q: How'd you get so good?
Hotdog Hans: Better question is how did everyone else get so bad.
Q: Fair point—it's hard keeping up with such a legend. So what do you do to fuel up on a powder day?
Hotdog Hans: Don't ski powder—only bumps. Beers and bumps, baby!
Q: Do you have any other morning rituals you do to prepare?
Hotdog Hans: Breakfast martini and a little fettuccine. Margaritas if it's sunny to fill the tummy.
Q: How have you managed to stay so supple and in shape?
Hotdog Hans: I got it in my genes and jeans, baby.
Q: What's your fondest memory out on the slopes?
Hotdog Hans: That's easy—winning the 1973 Hodoggin' World Championships. I remember it like it was yesterday…although that night got a little blurry.
Q: Do you have a favorite motto?
Hotdog Hans: "Make Skiing Cheap Again."
Q: Yes, I love it. What is Hans' perfect day?
Hotdog Hans: Ski. Après. Night life. Chicks.
Q: Sounds fun. Who's your biggest inspiration or role model?
Hotdog Hans:
Klaus Obermeyer. Least favorite:
Alex Ferreira
.
Few skiers anywhere have more grace and style than the legendary Hotdog Hans.
Q: What do you love most about skiing?
Hotdog Hans: It's the only place I can get away from people that are bothering me. Nobody can keep up, such a blessing.
Q: Do you have a favorite ski trick?
Hotdog Hans: Double layout. Except when the patrol pulled my pass—then it was the single front flip—aka "the bird."
Q: What do you think of snowboarders?
Hotdog Hans: You said I can't use bad words. How else do I describe those freakin' one-plankers?
Q: True. OK, let's skip that one. You spend a lot of time alone in your videos. Do you ever ski with other people?
Hotdog Hans: None of these punks can keep up, so I ski "Hans Solo."
Q: That's clever. What's your routine after a ski day? Do you tailgate in the parking lot with the kids?
Hotdog Hans: No, the girls tailgate in the parking lot with me. Those kids just linger. So annoying.
Q: What annoys you? What's wrong with the kids these days?
Hotdog Hans: Too much texting. No respect. Baggy clothes. All they do is stand around in their expensive stuff and complain. Just ski, kids. Don't worry about Jim standing around on his 50th failed Tinder swipe.
Q: Tell us more about your son. He's been featured a lot in your films—what's he like?
Hotdog Hans: My son Chuck is a beautiful boy. He's a chip off this old block. A tough kid with a real sense of humor and a temper like his dad. He's an OK skier, but he's still got some things to learn from his old man.
Q: What's the rest of your family like? Any brothers or sisters?
Hotdog Hans: I have a brother, but he's into crypto and is dead to me, just like the market.
Q: Makes sense. Are you currently married?
Hotdog Hans: I called it quits after six expensive ex wives. I don't have time to get tied down. A tip for the guys out there—don't marry girls in Aspen. Go to Tahoe for that.
Hotdog Hans is not only a one-single-time winner of the Hotdoggin' World Champion but also a proficient beer pong player. His frat-games prowess has been known to impress the ladies.
Q: OK, Hans—quick lightning round:
Q: Celebrity crush? Farrah Fawcett

Q: Tinder or Bumble? Seniors Only.

Q: Title of your biography? "You don't like me? Then eff off."

Q: Childhood dream? To be a doggone hotdogger! Checkmate.

Q: Best decade? The '80s is where I belong. The music, the hair. And no inflation!

Q: Gravestone epitaph? "In loving memory of when I gave a s***."

Q: If you had a time machine, where would you go? 1984. The year Chuck was born.

Q: That's sweet. If you were an animal, what kind would you be? A freakin' lion. Lions don't lose sleep over the opinions of sheep.

Q: All right, great answers. Now back to business. Let's talk about your choice of clothing and gear. Why do you still wear jeans? Wouldn't you prefer something warmer or more waterproof?
Hotdog Hans:
I've been skiing in jeans since I was 5 years old—why would I change that? They're extremely stretchy, they're durable, and they make me look hip. Stick to what you know! As for the other gear? I've been rocking a
Bugaboo jacket
since 1986. Keeps me hot, keeps me cool, keeps me good looking. No reason to change.
Q: Why do you like the Bugaboo?
Hotdog Hans: It makes my shoulders look nice and buff. Colors that pop my beautiful eyes. As far as I'm concerned, your jacket oughta look as good as you ski. There's only one company that makes real ski jackets, and that's you guys. The rest of 'em make expensive rags and trash bags. That's the only reason I'm sitting here.
Q: Well you know, our innovation has come a long way since 1986, Hans. Our ski jackets now feature cutting edge technology like waterproof OutDry™ Extreme and Omni-Heat™ Infinity advanced thermal reflective liners, which add extra warmth and protection. We have a high-tech line of performance ski outerwear called Titanium that blocks wind and weather so you wouldn't feel so chilly on those cold Aspen days. And we have high-quality ski pants that would keep you considerably warmer than your jeans, and drier too. We also make performance baselayers, midlayers, gloves, and hats. As one of our most prized athletes, if you ever wanted any new gear, we'd be more than happy to send a care package your way and you could outfit yourself in some of the best ski apparel on the market. What do you think?
Hotdog Hans:
Pass.