Ask the Pros: Catching up with George Poveromo
ASK THE PROS:
CATCHING UP WITH
GEORGE POVEROMO
When you spend as much time on water as you do on land, sheltering in place is an odd position to be in. So we spoke with PFG athlete and fishing legend George Poveromo to see how his sea legs are holding up. The renowned angler, longtime writer for Salt Water Sportsman, and host of the popular fishing show George Poveromo's World of Saltwater Fishing discussed tips for organizing tackle, The One That Got Away (so far), and more.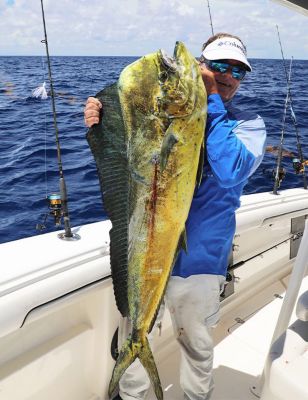 How are you doing under the circumstances?

George Poveromo: We're doing well. It's funny, in the beginning you're still a bit restless. As the days progress, you settle into a pattern and you watch a lot of Netflix late at night and you don't get up quite as early as you used to. All of a sudden, you find yourself in this new groove and it's almost actually enjoyable. I'm afraid I might get used to this.
CHILL AND NETFLIX: What is George watching in his downtime? "I got hooked on Ozark. I'm watching The Break currently and before that was Money Heist. But all three of them can't compare to World of Saltwater Fishing on YouTube!"
In many places you can still fish while social distancing. Have you gone out on the water or are you sticking close to home?

GP: No, I'm sticking close to home. Down here in South Florida, I'm in one of the harder-hit areas for [COVID-19]. You could fish if you live on the water or your boat's already in the water, as long as you're social distancing. But, for people who trailer their boats, the public ramps are mostly closed. I could take my boat to the marina and they could lift it in the water but I just feel an obligation to set a standard of "Let's hunker down, let's all get through this together. The faster we do this, the quicker we can go out and play." So I haven't taken my boat out because I want to be part of the solution.

Are you finding yourself with more free time than you knew possible?

GP: There's no doubt. All this free time gets dumped in your lap with really no set obligations and it can be easy to let hours waste away. But this is actually an outstanding downtime to reorganize the tackle garage, put new line on the reels, all new terminal rigs, take care of all your tackle, organize it nicely, and the same with the lures. I've got the boat 100% dialed in, the tanks are fueled up, the electronics are upgraded, and everything is ready to go. It's a good opportunity to go through everything so you're ready to get back on the water.

Do you have any tips for how you like to organize everything?

GP: With my rods, I rack them up based on the type of tackle they are. I have my trolling outfits all racked on one side of the wall from the lightest to the heaviest. Same with the spin tackle for light tackle fishing. All the spinners are lined up accordingly, smallest spinners with the lightest line up to the heavy-duty spinners with the heaviest line. That carries over to lures and hooks too. And then the tackle bags I have categorized based on the type of fishing that we want to do. It makes it so simple and fast to find what you need.

Do you have a "white whale" in terms of a species you've yet to catch or a location you'd like to fish?

GP: I've had the good fortune to travel to a lot of the greatest fishing destinations and I've taken a lot of bucket-list fish. But if I narrowed it down to one catch, it'd be the spearfish. Down here in South Florida, you might hear of one or two caught a year. Over my career, I've been able to catch seven of the world's greatest billfish: the Atlantic blue marlin, the Indo-Pacific blue marlin, the white marlin, [the black marlin], sailfish, striped marlin, and swordfish. The only one I've yet to catch is the spearfish, so I figure that would be pretty cool. Ironically, 30 years ago I took a friend to catch his first sailfish. We get a hit and I hand the rod to my buddy. Well, lo and behold, he pulls up a spearfish. Had I known what it was, I probably would've shoved him out of the way and grabbed the rod. (laughs)