Hiking Pants vs Leggings: How To Choose?
Hiking Pants VS Leggings: How to Choose?
Thinking about hiking in yoga leggings? Not sure if you need traditional pants? Here's a guide to help you choose
Table of Contents
It's a modern dilemma among hikers: pants or leggings? The answer is that it depends. Although personal preferences play a big role in the "hiking pants versus leggings" debate, the activity you'll be doing matters too. Leggings are often the best choice for easy day hikes, whereas more technical hikes or multiday excursions might require pants that are more rugged. Weather and climate can also play a role.
If you're wondering how to choose between
hiking pants and leggings
, read our easy guide below to help you make the right decision.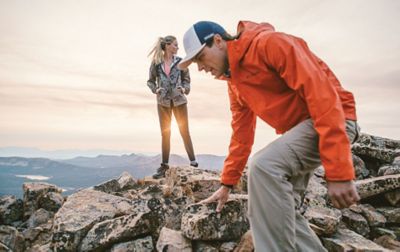 Both hiking pants and yoga leggings can work great but you need to know how to pick the right ones for your adventure.
Can you wear leggings for hiking?
A lot of people ask, "Can I wear yoga pants for hiking?" If you've asked this question in the past, the answer is yes. Well, sort of. You need to have the right leggings—this is really important. The pair of tattered cotton tights that you sleep in typically won't cut it. Hiking involves brushing up against branches and getting dirty, so you need options that are more durable.
Among other qualities, hiking leggings should be durable, weather-resistant, and moisture-wicking. Avoid cotton and look for options made from polyester or nylon.
How to choose hiking leggings
Here are some of the key qualities to look for when you're picking out leggings to hike in:
Durability
Hiking leggings need to be tougher than your everyday yoga tights. Typically, the best options feature fabric that's more densely woven, allowing you to sit on stumps, lean against rocks, and walk through brambles without tearing or snagging your tights. Abrasion resistance is key, so opt for choices that are
constructed with tough, durable fabric.
Moisture Management
You sweat a lot when you're hiking, so your leggings also need to be able to wick moisture and transport it to the exterior of the fabric. And they need to be odor resistant so all of that perspiration doesn't collect and make you start smelling funky. Stick to
leggings made with polyester
or other lightweight, moisture-wicking fabrics, and look for
options with antimicrobial treatments
for odor control.
Weather Resistance
When you're lounging around inside or doing yoga at the gym, you don't have to think about wind, rain, or other weather elements. But when you're hiking, you need leggings with quick-drying fabric that can tolerate some degree of moisture or rain. If you're in a windy climate, you may also want to consider
leggings with wind-blocking features.
Sun Protection
Depending on where you're hiking and the time of year, sun protection can be another important factor. Some hiking leggings are made with
UPF 50 fabric such as Omni-Shade™
, which guards your skin from the sun. If you plan to be in the sun a lot, try to find leggings with sun-protection options.
Comfort
When it comes to comfort, leggings made for hiking should feature soft, flexible elastane that keeps them stretchy. Furthermore, the waistband should be thicker than regular yoga pants so they don't slide down while you walk. Although it may seem counterintuitive, leggings that offer a snugger, more secure fit are often more comfortable when you're hiking.
Storage and Pockets
Although the zippers and pouches aren't normally as big as they are in regular pants, there are still plenty of
hiking leggings that offer pockets.
These can be great bonus features that allow you to store small items while you trek and not have to dig them out of your backpack.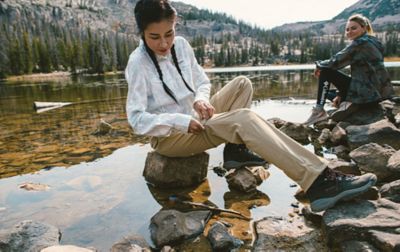 Although hiking leggings may have one or two small pockets, the storage options tend to be bigger and more versatile in hiking pants.
How to choose hiking pants
What's the difference between hiking pants and leggings?
The qualities you should seek in hiking pants are similar to the ones you should look for in hiking leggings: durability, comfort, moisture management, and sun protection.
However, there are a couple of key differences:


Extra durability:
Compared to leggings, hiking pants tend to be a bit thicker and more abrasion resistant . Some even have special reinforcement panels that help reduce wear and tear in high-impact zones.


Extra weather resistance:
In addition to the basic moisture management you find with leggings, hiking pants often have extra water repelling features such as Omni-Shield™ or durable water repellant (DWR) coatings that make them perform better in rain or snow.


Extra pockets and storage:
While hiking leggings often have one or two small pockets, hiking pants tend to offer bigger and more numerous pockets, often five or more of them, with deeper pouches that can fit larger items. More versatility: Hiking pants come in a wider range of styles than leggings do, offering variations such as cargo pants or convertible options that can be worn as either shorts or pants. They also tend to excel in the "trail to town" aspect.

In other words, hiking pants have all the same desired qualities as hiking leggings; they're just exaggerated versions, which tends to make them better for longer treks and more technical hikes.
What type is best for you?
Hiking pants and leggings have many similarities; however, each has its own strengths, depending on the type of hiking you're doing. Generally speaking, pants tend to be better for longer adventures, particularly multiday trips and backpacking journeys where you're in the woods for several days at a time. They're also usually preferable for more technical hikes where you need extra abrasion resistance on the trail as well as added pockets and storage.
Similarly, climate can play a role in which type of bottoms you choose. Milder climates are excellent for hiking leggings, while adventures in rainier locations or regions with more intense elements might require the extra weather resistance that pants provide.
Another option to consider are hiking pants with elastane in them, which makes them feel stretchy, offering the comfort of leggings with the added durability of hiking pants—the best of both worlds.
Keep in mind too that a lot of your decision will come down to personal preference. If you're someone who simply likes leggings better, it might be worth sacrificing some of the extra features that hiking pants offer. Everybody is different, so embrace your own comfort and style to make a choice that feels right for you.
Need some hiking bottoms? Check out the selection from Columbia Sportswear.