7 Questions to Ask When Shopping for Raincoats
How to Shop for a Rain Jacket:
7 Important Questions to Consider
From dropped hems to pit zips, here are some features you might not think about when picking out a raincoat
You wouldn't think that picking out a raincoat would be so challenging. After all, isn't it just a piece of fabric that protects you from the rain? The modern raincoats you find today are a little more complicated than they used to be. Gone are the days when a "rain slicker" was just a yellow poncho made out of rubber. Now you have dozens of fabrics and materials to choose from, along with special features such as drawcords, mesh panels, cuff adjustments, and insulated liners. Knowing what each of these things do and how they function is helpful when you're weighing your
rainwear
options.
To help give you a better idea of what to look for, we've put together a list of helpful questions to ask yourself before you start shopping.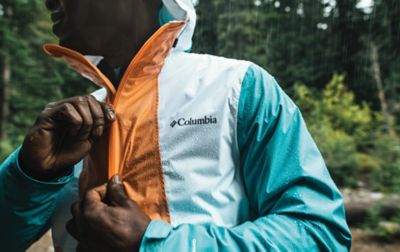 1. What is the difference between a rain jacket and a rain shell?
A lot of people don't understand the difference between
rain jackets and rain shells
. Typically, a
rain jacket
is a thicker, often multilayered article of clothing equipped with special features like venting or insulation. Shells, by contrast, are simple exterior layers that protect you from the rain and wind, and can easily accommodate layering. Here are some of the pros and cons of each:
PROS
CONS
Rain Jackets
- All-in-one design

- Extra features
- Thicker/bulkier

- Heavier

- Less room for layering
Rain Shells
- More lightweight

- More compact

- More versatile layering options
- No insulation

- Fewer features
2. What are the primary activities I'll use the rain jacket for?
This is an important consideration that people often forget. Rain jackets come in a huge range of styles and the type you choose depends partly on what you plan to do in it. Most of the variations have to do with weight and compressibility. If you're
trail running in the rain
, for example, you might prefer an ultra-lightweight shell that you can tuck away in a fanny pack, whereas a waterproof ski coat might benefit from an insulated layer or special storage features. Jackets for hiking, fishing,
hunting
, and
camping
have special considerations too, so be sure to keep your activity in mind when you're shopping around.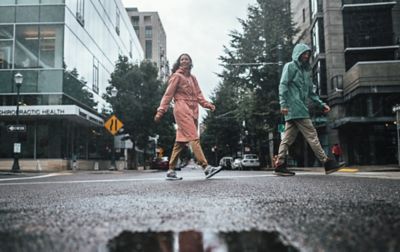 3. How waterproof is the raincoat?
Although it might seem like you'd always want the most waterproof jacket you can find, that isn't the case every time. In some climates, for example, a lighter, more
water-resistant coating is preferable
, while other times you'll want the heaviest option available. Think about where you live, what the weather is like, and what you tend to do. In regions that are more prone to drizzle and light rain, you might opt for a
water-resistant jacket
, whereas areas with hard downpours might be better suited for something with
OutDry Extreme
.
4. What's the ventilation like?
Chances are you will be moving in your rain jacket,
possibly at a cardio-lifting pace
so your rain jacket needs to do more than just keep you dry. You should choose a
jacket or shell with breathability
and venting features in line with your chosen activity level. Here are some features to consider:
Air vents: These panels, some of which double as pockets, are made from mesh or other fabric that allows air to circulate better while still maintaining water-resistance through discrete placement.
Pit zips: These zippers are located in the armpits, giving you the opportunity to regulate your body temperature and cool off when needed.
Breathable material: On top of special features, make sure the fabric itself offers some degree of aeration so that when you perspire, you don't wind up trapping moisture next to your skin.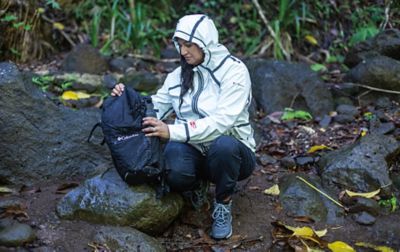 5. Can I sit down in this rain jacket?
Some rain jackets stop at the waist while others drop below or feature a curved tail in the back. These designs are called dropped hems and the purpose is to let you sit, lean, or squat without exposing your lower back to the elements. Before you make a raincoat purchase, think about whether you prefer an option that's short and lightweight, or something that gives you the choice of sitting on wet park benches or muddy trail posts.
6. Does my rain jacket need a hood?
When it comes to protecting your head and neck, there are two options: wearing a hat and neck gaiter, or buying a jacket with a hood. Much of it comes down to personal preference. In exceptionally wet climates, attached hoods are often better because they block out extra water and do a great job of protecting your neck. That said, they add weight and bulk, and some people don't like how they feel. If you don't see yourself using a hood super often, you might prefer a detachable option, which offers the best of both worlds.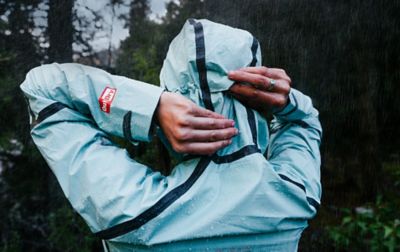 7. Does it have drawcords, hook and loop, or other cinching systems?
Drawcords and other tightening systems serve several purposes. In addition to adjusting the fit, they tighten down the jacket in areas where cold water and air can get in (such as the neck, face, waist, and wrists). Water has a tendency to pool up, especially around the wrists, where it likes to trickle down when you raise your arms. Drawcords and hook and loop closures prevent this while also blocking out frigid air. Cuff adjustments also come in handy to accommodate different arm lengths.