Why This French Alps Race Is the World's Most Badass Marathon
Why This French Alps Race Is the World's Most Badass Marathon
Set amid jagged mountain peaks, the UTMB combines grueling climbs with mind-blowing scenery
Nestled in the picturesque mountains of France's Chamonix Valley, the Ultra-Trail du Mont-Blanc (UTMB) is an event where gorgeous scenery and badass human beings collide. The legendary ultramarathon, during which participants circumnavigate Western Europe's highest mountain, typically takes place over two or three days.
The 106-mile course doles out 32,940 feet of elevation gain in a series of brutal climbs, although each one is set against a stunning panoramic backdrop. Participants race through the day and night, navigating steep trails and precarious boulder fields, often battling injuries, fatigue, and other obstacles along the way.
Completing the event requires immense
grit, determination, and physical fitness
—roughly 40% of those who enter don't finish. But the ones who do make it across the finish line are met with enthusiastic praise from the 50,000-plus spectators, not to mention the lifetime badge of honor that comes with being able to say they completed the race.
It's the leading event in a series of smaller races that take place that week, totaling about 10,000 participants. The race has been called the
"pinnacle of ultrarunning"
and the
"world's most important race."
Although not as well-known in the United States, it's enormously popular in Europe—and US participation grows every year. At present, no
American male has ever won the men's competition;
however, women have nabbed their title five times.
In addition to the thousands of participants and interested spectators, it draws an additional 20,000 supporters of participants who come to cheer on their loved ones, as well as 2,000 volunteers from 15 different countries.
The event is so popular that it has
sold out for 16 years in a row,
although not just anyone can enter. The system is based on a lottery, and in order to be eligible, racers need to first complete a series of qualifying races.
In short, making it to the race at all, let alone completing it, is a pretty badass feat. Here are five more reasons the UTMB is so badass:
1. A survival kit is required at the starting line
A lot of races have mandatory requirements—things like water, food, or basic first aid supplies. But the UTMB checklist is essentially a backcountry survival kit, basically everything you'd want if you appeared on an episode of "Naked and Afraid"
An emergency blanket. A survival whistle. Self-adhering bandages. Torches with spare batteries. Food reserves. An operational mobile phone.
Not only that, the requirements for running gear are exceptionally specific. For example, participants must have a
rain jacket that has a hood and sealed seams,
along with "a waterproof and breathable membrane (such as)
Outdry,"
according to the
official UTMB website.
A hat, waterproof gloves, and
waterproof overpants
are also required to compete. In cold weather, race officials require extra gear such as a
fleece
or compressible
down jacket.
In hot weather, racers must have
sunglasses
and a
hat that covers the nape of the neck.
2. Nearly half of the racers don't finish
Although thousands of participants enter the UTMB every year, nearly half of them don't make it across the finish line. The exact percentage varies, depending on the year, but the dropout rate averages around 40%. A variety of factors can lead to the demise of participants. In years past, for example, top contenders for the podium, along with others, have DNFed ("Did Not Finish") due to circumstances including extreme cold, bee stings, stress fractures, corneal edemas, fatigue, chafing, and other ailments.
Some runners simply push too hard too fast at the beginning and max out their energy reserves. Sometimes when this happens, they are unable to walk and must be airlifted off the course.
The terrain is also quite technical with a lot of loose scree and unmarked obstacles. These factors can create slip-and-fall hazards, particularly at night, that can cause injury to the runners (sometimes serious) or force them to quit early. This is a big reason why UTMB officials enforce
strict rules about footwear,
allowing only "sturdy, closed-toe
trail-running shoes"
and excluding minimalist and ultralight styles.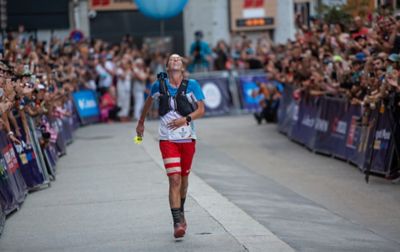 3. It can take up to 46.5 hours to complete
The race is so hardcore that UTMB officials give participants up to 46.5 hours to complete the course. The average runner finishes in about 40 hours, beginning around 5pm on Friday and not stopping until sometime Sunday afternoon. That's an entire weekend of nonstop running over highly technical terrain, all throughout the day and night.
Winners typically finish in 20 to 21 hours, with the current record at 20 hours,19 minutes. For some perspective, backpackers who hike the trail
typically take 9 to 12 days.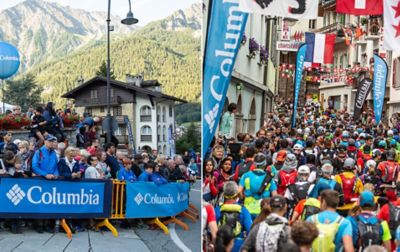 4. You run through three different countries
Some US races cross multiple cities, towns, or even county lines. During the UTMB, runners cross through three
countries.
The course runs the entirety of the Tour du Mont Blanc trail, a multiday trekking route that's popular among Europeans and tourists to the area, and manages to pass through France, Italy, and Switzerland.
It begins in the French town of Chamonix. From there, the course leaves civilization, winding uphill and along ridges in the rugged French Alps, before reaching the Col de la Seigne—a remote landmark on the border with Italy.
From there, participants run along the Mont-Favre ridge for a while before tackling several more grueling climbs, eventually arriving well above the clouds at the
Grand Col Ferret.
The 8,300-foot alpine pass is the trail's highest peak, marking the border with Switzerland.
Finally, participants make the final stretch through the Swiss Alps before they loop back to Chamonix.
In total, the course lashes out 32,940 feet of vertical elevation gain—
a total that surpasses the height of Mt. Everest.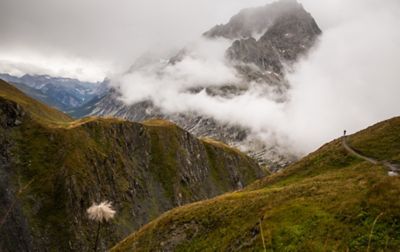 5. Its beauty will take your breath away (if the elevation doesn't)
The final piece of badassery that makes the UTMB so impressive is how strikingly beautiful it is. With tall, craggy rock cathedrals and giant sweeping glaciers, the
epic views that greet runners
are intoxicating.
It's full of majestic vistas and mythical views. The entire route is full of surreal sights and out-of-body splendor.
Given all of that, it's no wonder that when the race isn't happening, the spectacular trail is one of Europe's most popular backpacking journeys.
The UTMB will take place Aug. 22 to 29. To track runners and watch content in real time, check out
UTMB Live