Treks in the City: 10 Favorite Urban Escapes

Treks in the City:
10 Favorite Urban Escapes
Nature thrives right outside your door, even if you're in the city. You just need to know where to look for it among the towering buildings, honking horns, and bustling sidewalks. Whether you're seeking a hardcore hike or a quick stroll, here are some favorite spots around the country.
Lakefront Trail, Chicago, IL
Chicago spans over 230 square miles. You can cover about 19 of the most picturesque along Lake Michigan on the Lakefront Trail. This paved waterside path features skyline views, ample greenery, and many of the city's top attractions—including the Field Museum, Shedd Aquarium, Grant Park, Navy Pier, and multiple public beaches.

Best for: Anyone on foot, wheels, or paws.

When to go: Mornings in late spring and early fall to avoid summer humidity and crowds; just wear a good windbreaker.

What to do: There are opportunities aplenty but the south end of the trail is less congested and features Burnham Park, a nature sanctuary for birds and butterflies.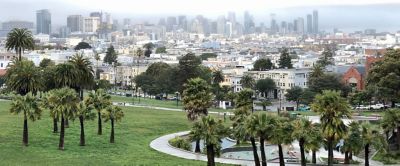 Dolores Park, San Francisco, CA
Dolores Park, San Francisco, CA
Golden Gate Park and The Presidio are iconic, but it's just as hard to avoid crowds there as it is anywhere in the city. Might as well join them at Dolores Park. This neighborhood gem is dotted with palm trees and sunbathers, a 16-acre space that's a "go to see or be seen" kind of place.
Best for:
Loungers, loafers, and picnickers.
When to go:
If you're seeking prime San Francisco energy, go after a Saturday brunch.
What to do:
Claim a spot with your blanket, buy a paleta from a vendor, and apply sunscreen regularly (it may be foggy along the water, but the Mission District's microclimate is typically sunnier).
Forest Park, Portland, OR
With more than 80 miles of trails, 112 bird species, and 5,200 acres—about six times the size of NYC's Central Park— this urban forest is the embodiment of our hometown's love for the outdoors. The wooded wonderland overlooks Portland's dense northwest neighborhoods and some residents can walk a few yards to the nearest trailhead.
Best for:
Hikers and trail runners of all levels,
leashed dogs
, families, and anyone who enjoys the outdoors.
When to go:
If you can manage a weekday morning, it's delightfully peaceful. Even on busy weekends, it's so big it rarely feels crowded.
What to do:
Just put one foot in front of the other. Oregonians love a hike.
Portland bonus:
If Forest Park is too big for you, visit the world's smallest. Mill Ends Park is a two-foot wide patch of rotating flora in the median of a major street.
Father Hennepin Bluff Park, Minneapolis, MN
Get views of both downtown and the Mississippi River Gorge. Saint Anthony Falls and the river-crossing Stone Arch Bridge are the center of attention here. The Dakota people once fished the falls for food; today, residents of the Twin Cities bike over for catch-and-release fishing.
Best for:
History buffs, urban anglers, and walkers who enjoy "fording" the Mississippi.
When to go:
Right after Memorial Day when the crowds have yet to descend in force. Unless you like spending Minnesota winters outside, of course.
What to do:
In summer, the National Park Service hosts free guided tours of the falls. Stay for a movie in the park (bring bug repellent).
High Line, New York, NY
Central Park is world-renowned for a reason. But stroll the High Line if you want to level-up your walk with a novel example of reimagining greenspaces in the heart of a major city. The 1.5-mile stretch of elevated train track on Manhattan's West Side has been transformed into a walking path with nature, art, and views typically unseen from street level.
Best for:
Urban adventurers who want to wander without getting lost.
When to go:
Early mornings and late evenings are your best bet for avoiding the tourist rush and the after-work crush.
What to do:
Pick up provisions at Chelsea Market around 16th St. and
picnic
on the seating steps at 23rd.
Jessie Ball Dupont Park, Jacksonville, FL
A downtown haven for nine-to-fivers and weekend wanderers, the park is anchored by a 250-year old tree known as the "Treaty Oak," with massive winding branches providing shade up to a 200-foot diameter.
Best for:
Tree huggers and those who want to avoid the sun.
When to go:
For solitude, a weekend morning in fall or winter helps to avoid crowds and humidity. On weekdays, nearby office workers take their lunches in the park.
What to do:
Bring a snack, a book, or just yourself and enjoy a moment basking in the shadow of the mighty oak.
Frick Park, Pittsburgh, PA
Once shrouded in steel mill pollution, Pittsburgh began reclaiming blue skies in the 1940s. Of its 165 greenspaces, Frick Park is the largest and most wild with 644 acres of hilly trails, birdwatching, and a huge off-leash dog park.
Best for:
Easy-going hikers, beginner trail runners, and dogs who love meeting other dogs.
When to go:
Dewy spring and crisp autumn mornings.
What to do:
Take Falls Ravine Trail to Riverview Trail, winding downhill to the dog park.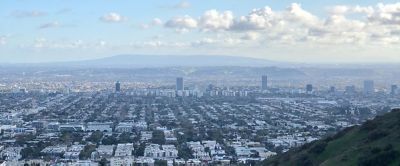 View from atop Runyon Canyon Park, Los Angeles, CA
Runyon Canyon Park, Los Angeles, CA
Just north of Hollywood's epicenter, Runyon Canyon is a haven for trail seekers at the mercy of car culture. With over half of its 160 acres reserved as off-leash areas, L.A. pups go to get tuckered out, while the hazy downtown skyline views never get old.

Best for: Hikers and runners who don't mind sharing sometimes crowded paths (though Runyon is less congested than its neighbor, Griffith Park).

When to go: Early morning before it gets too hot or crowded, and when you can still find street parking.

What to do: Lace up your sneakers, apply sunscreen, stay hydrated, and look out for a celebrity.

Forsyth Park, Savannah, GA
Lush with Southern Gothic vibes and moss-draped oaks, Forsyth's centerpiece is a landmark fountain that dates back to 1858 and has borne witness to many a family photo and marriage proposal.

Best for: Promenades, fresh peaches and greens at the Saturday farmer's market, and perhaps a ghost tour.

When to go: Late afternoon offers a piece of tranquility, especially in winter when all you may need to weather the weather is a light jacket.

What to do: Visit the Garden of Fragrance, a small area cultivated with highly fragrant flowers originally designed with visually-impaired visitors in mind.

Ruby Hill Rail Yard, Denver, CO
Just south of downtown, Ruby Hill boasts two kinds of skyscraper views: manmade and the Rocky Mountains. But its biggest innovation is as an urban terrain park for skiers, boarders, and sledders in winter and dirt bikers and hikers in warmer months.

Best for: Outdoor adrenaline junkies who can't get up to the mountains every day.

When to go: Snow days, summer days, and any other day you need to get outside without losing sight of the city.

What to do: Stomp a jump, hit the rails, or just hike around watching other people attempt the same.
Want more outdoors? Connect with @Columbia1938 on Instagram or or hit the switchback over to our hiking page.