Meet our newest Columbia Ambassador.
TESTED TOUGH ON AND OFF THE TRACK
Columbia is proud to announce a multiyear sponsorship with NASCAR driver Bubba Wallace. Bubba is a tough competitor and a courageous leader who has inspired us with his unifying message of "Compassion. Love. Understanding." The Columbia No. 43 car debuts at the Dover International Speedway on August 23rd.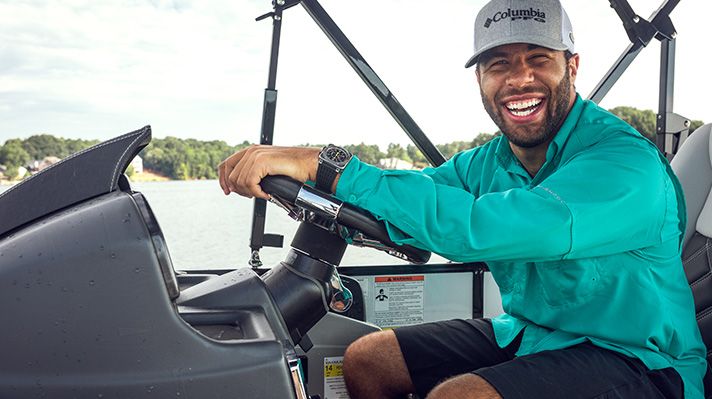 Darrell "Bubba" Wallace Jr.
NASCAR Driver, Outdoor Enthusiast
Bubba started racing at age 9 and hasn't let off the pedal since. After tearing up the junior circuits, he's earned six wins in the NASCAR Truck Series and eight Top 10s in the NASCAR Cup Series, including a runner-up finish at the DAYTONA 500. When he's not driving fast, he's taking it slow—fishing, hiking, camping, and engaging his passion for outdoor photography. When he took the wheel of the iconic No. 43 for Richard Petty Motorsports in 2017, then full-time in 2018, he became the first African-American driver to race full-time at NASCAR's highest level in nearly 50 years. A prominent advocate for equality and inclusion, he is truly Tested Tough, both on and off the track.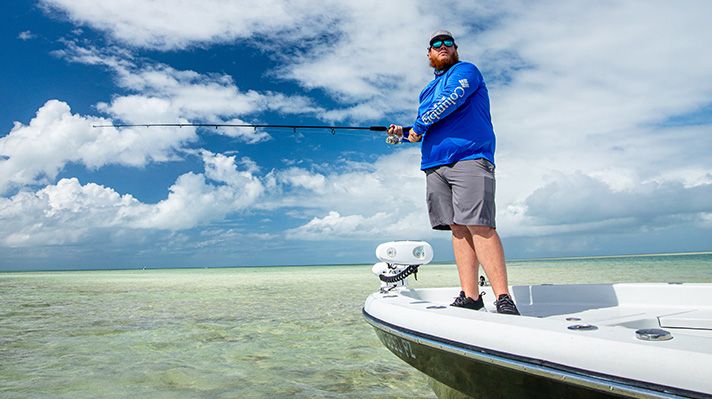 Luke is a multi-platinum, award-winning artist from Asheville, NC. Among numerous accolades, Combs has received awards at the CMAs, ACMs and Billboard Music Awards, earned multiple Grammy nominations, was inducted into the Grand Ole Opry, performed on Saturday Night Live and had his first eight singles all reach #1—a first on Billboard's Country Airplay chart. In addition to his acclaimed musical career, Combs is an avid outdoorsman and finds joy through fishing. Known to wear a Bahama™ II shirt both on the water and on stage, his favorite catch to date is when he landed a 34-pound king mackerel off Myrtle Beach.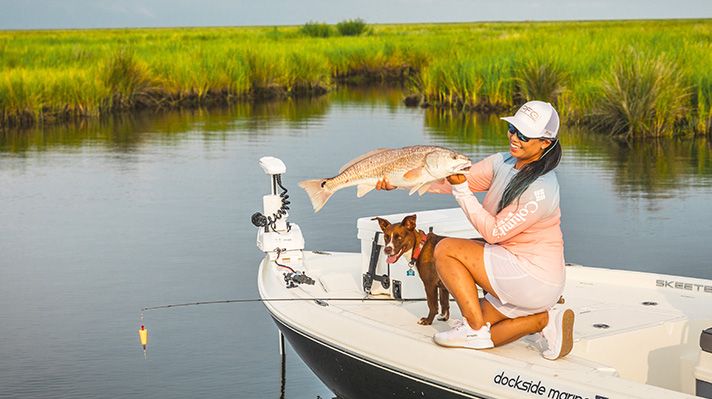 Cindy ("Sid" to her friends) was practically born with a rod in her hand, growing up in Houston and fishing with her family off the beaches, piers, and jetties of nearby Galveston. She's now one of the most influential female anglers in North America (according to Wildlife Enthusiast Magazine), has chased prize catches all over the world, been featured in publications like Salt Water Sportsman and Sport Fishing Magazine, and is a regular at top industry events. Back home in Texas, Cindy's happy place is in her kayak chasing redfish, trout, and flounder.
George's legendary status is well-documented in his role as the charismatic host of the popular George Poveromo's World of Saltwater Fishing show for over 20 years. But the South Florida native has been reeling in recognition—and big catches—even longer as an angling icon, ambassador, and educator. If you don't catch him on screen, in print (as a long-time contributor to Salt Water Sportsman magazine), or on stage (as a featured speaker for the National Seminar Series), he's probably with his family or quietly casting away aboard the Marc VI.
Bob is Canada's most popular fishing personality and one of the foremost ambassadors of the sport throughout North America. For 30 years, his affable demeanor and down-to-earth style has endeared him to millions through his weekly Real Fishing Show television program. Bob is also a respected author, radio host, conservationist, seminar speaker, and competitor who has won more than 70 major events and earned multiple Angler of the Year awards.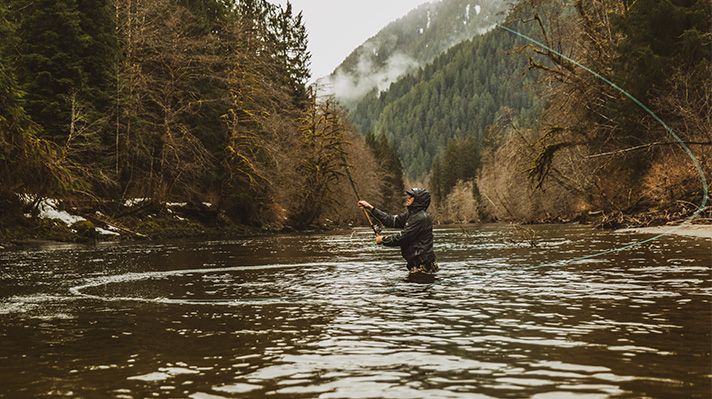 If the Pacific Northwest was personified, that person just might be Curtis. His laidback demeanor, Go Big style, and passion for the outdoors have earned him recognition as a top-tier athlete for all seasons. On the water, Curtis is an avid angler who loves nothing more than chasing steelhead on the Deschutes River. If he's not casting away, you might find him snowboarding, rafting, mountain biking, climbing, or surfing. All in a day's work.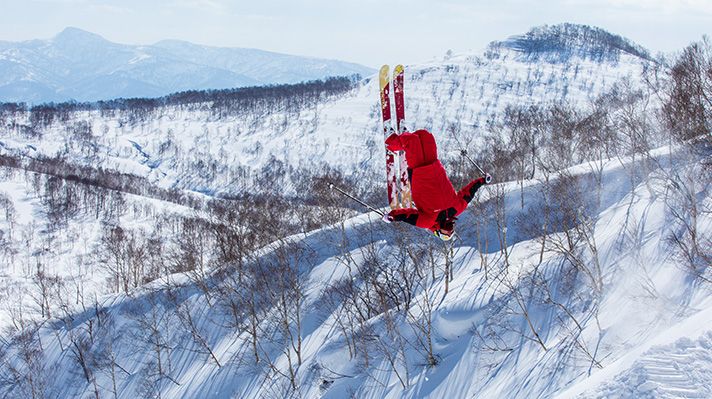 Alex has been skiing almost as long as he's been walking. The Aspen native first hit the slopes at 3 years old and hasn't slowed down since. He won a silver medal in Halfpipe at the 2018 Winter Olympics and has racked up five Winter X Games medals (including back-to-back gold in the 2019 and 2020 Superpipe events), among other honors. And when Alex isn't competing or training, he's still enjoying the outdoors by biking, tubing, cliff jumping, practicing tricks on the trampoline, or just hanging out at the beach.
Sarah only began her competitive freeski career in her early 20s after earning a university degree in neuroscience. But the Swiss native has made up for lost time in a hurry, racking up a gold medal at the 2018 Winter Olympics in the Big Air event, four Winter X Games medals in Big Air and Slopestyle, and two Crystal Globes. When she isn't soaring high above mountain slopes, she's hiking, climbing, and camping in and around them from her home base in Chamonix.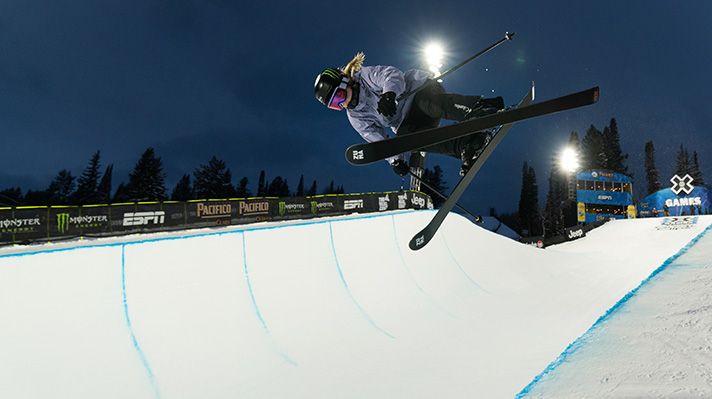 Every time Cassie drops in for a competitive run, she listens to the same song: "Ante Up." But it's her world-class talent that has paid off in full with a gold medal in Halfpipe at the 2018 Winter Olympics, four Winter X Games medals, two Crystal Globes, and more. A tenacious competitor, Cassie won the 2016 X Games Superpipe gold despite a stress fracture and a 2017 World Cup Superpipe event with a broken thumb. The high-flying Canadian is also the first woman to ever land a switch cork 720 in competition.
If the Pacific Northwest was personified, that person just might be Curtis. His laidback demeanor, Go Big style, and passion for the outdoors have earned him recognition as a top-tier athlete for all seasons. On the mountain, his jaw-dropping talent has been featured in numerous snowboarding films and publications. If he's not shredding pow, you might find him fishing, rafting, mountain biking, climbing, or surfing. All in a day's work.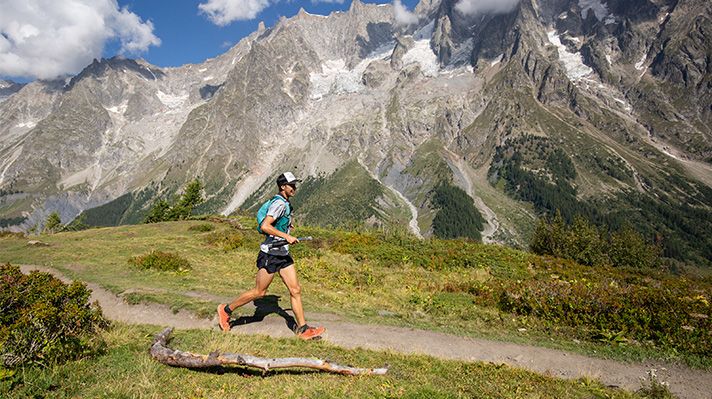 In 2014, shortly after graduating from Boston College, Joe stunned the ultra-running and thru-hiking communities when he set the Fastest Known Time (FKT) on the iconic Pacific Crest Trail. He hasn't slowed down since, setting additional FKTs on bucket-list routes like the Appalachian Trail, the Long Trail in Vermont, and the Wicklow Round in Ireland. Joe (or "Stringbean" as he's known in the trail community) is perhaps best described as a "fastpacker," and a very fast one at that. His self-supported FKT of the Appalachian Trail is still the standard, more than a week ahead of the next-fastest time.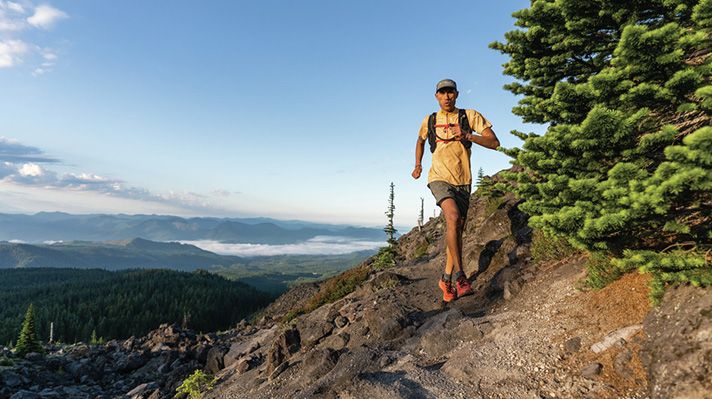 From the Western States 100 in California to the UTMB® in France to the HURT 100 in Hawaii, Yassine has competed in some of the toughest, most iconic races while going stride for stride with some of the world's best ultra-runners. Along the way, he's set the Fastest Known Time on multiple routes—including the Oregon stretch of the Pacific Crest Trail, the Wonderland Trail, and the Loowit Trail. When he isn't chasing FKTs or spending time with his family, Yassine is coaching and inspiring others via the Wy'east Wolfpack fitness firm he co-founded in Portland.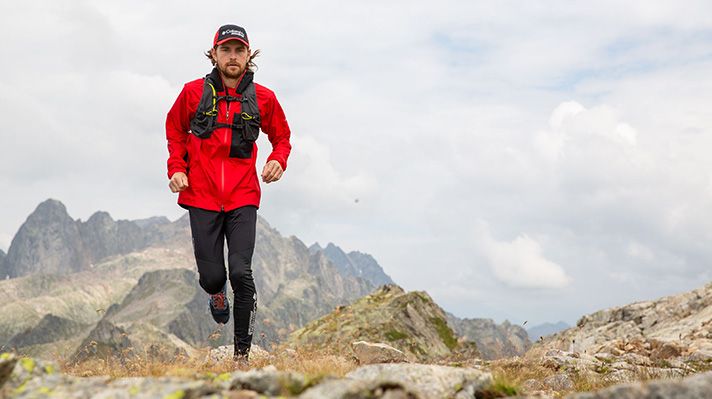 A native Midwesterner, Chris developed his passion for ultra-running after moving to Colorado and immersing himself in the freedom of the trail. Before long, he was tackling 50-mile competitions, and then 100-milers. In 2017, he set the course record at the Indian Creek Fifties and won the Bryce Canyon Ultras 100 Miler. The following year, in his first major international competition, Chris was the top American finisher (12th overall) at the iconic Ultra Marathon du Mont Blanc (UTMB®).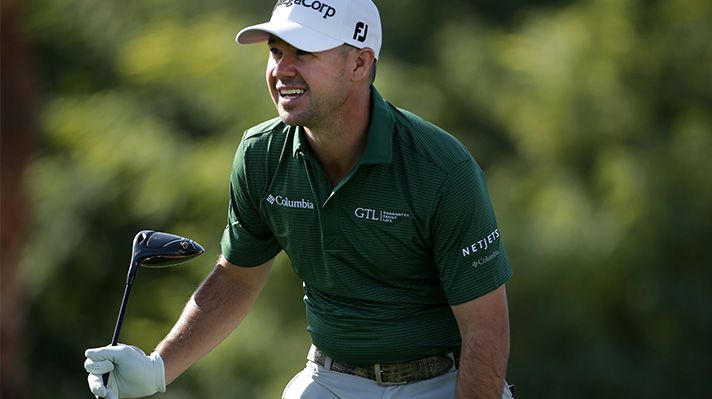 An avid outdoorsman, Brian is almost as skilled with a hunting bow and fishing rod as he is with his golf clubs. Then again, the left-handed golf pro has used the latter to great effect with two PGA Tour victories, a second place finish at the 2017 U.S. Open, and reaching as high as #20 in the World Golf Rankings. When he isn't teeing it up, Brian can most likely be found with family and friends hunting or fishing whatever's in season.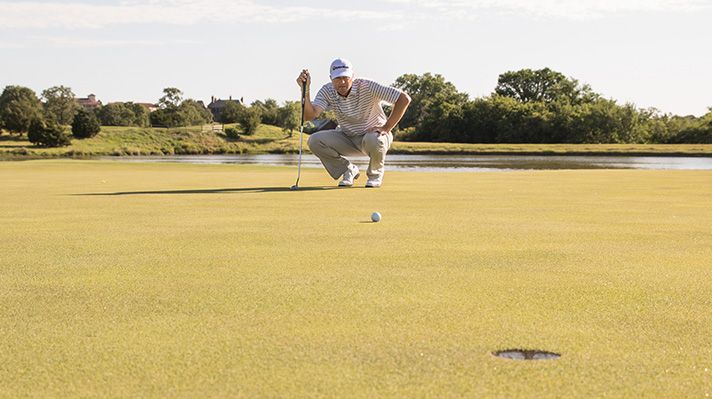 For all the memories Ryan has made in his golfing career, his favorite is still the day in 2004 when he first earned his PGA Tour card. Of course, that moment has since had plenty of competition with Ryan earning four PGA Tour victories, two Top 10 finishes at majors, and reaching as high as #23 in the World Golf Rankings. When he's not on the course, Ryan is spending time with his family or giving back through the Ryan Palmer Foundation.