6 Tips for Eco-Friendly Camping
6 Tips for Eco-Friendly Camping
Stop trashing Mother Nature when you go camping! Camping is about appreciating the wilderness - so don't destroy it in the process. Read our how-to guide to learn ways to reduce your footprint outdoors
One of the
best parts of camping
is getting to soak up the awe of Mother Nature's natural beauty. Yet ironically, when we venture into the wilderness, we often end up damaging the very thing we came to see and appreciate. Whether it's by flattening vegetation, leaving garbage behind, or destroying trees for firewood, the impact of outdoor recreation can be devastating to the environment. And given that America's national parks received more than
327 million visits
in 2019 alone, it's critical for outdoor recreationalists to use best practices when spending time outside. To help you get started, we've created a list below of steps you can take to be more eco-conscious when you sleep under the stars.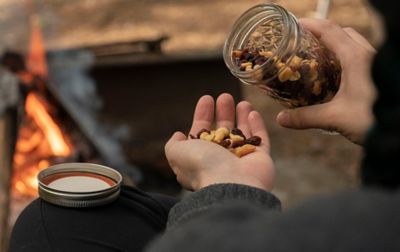 1. Prep and pack your food responsibly
When you're packing the cooler for your trip, it's easy to imagine a giant feast of taco salads and gourmet chili dinners. But many times, a good portion of the food we pack ends up getting thrown away. Responsible food planning begins with realistically assessing how much food your camping party is going to eat.

Additionally, think about how the food you select is packaged. Dehydrated meals and other backcountry-specific foods tend to be made with single-use plastics and other environmentally damaging materials. So be smart about how you pack the food in your cooler or dry box—instead of using disposable products like foil or plastic wrap, choose options like beeswax wraps, which have lighter ecological footprints.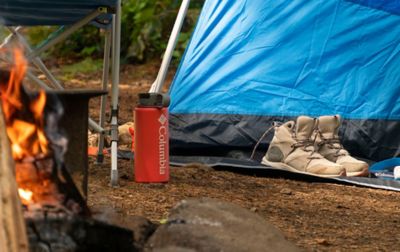 2. Bring reusable water bottles to avoid plastic
Instead of purchasing disposable plastic water bottles, invest in eco-friendly water canteens. Reusable containers are often made with double-walled, vacuum-sealed stainless steel, which provides you with the added bonus of keeping your water cold significantly longer than plastic water bottles. Plus, they're more durable. Hydration packs are also a great option for drinking water, especially if you'll be hiking, biking, or participating in other cardio-based activities.

Additionally, consider your overall water use when you go camping. Hydration is important, so don't skimp on drinking water, but you can do things like stay in the shade during the hottest part of the day or minimize high-energy activities to reduce how much you need to drink.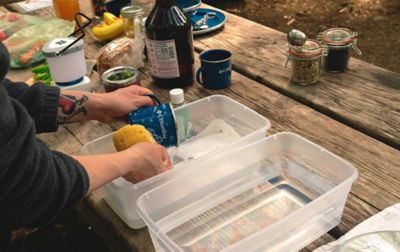 3. Adopt environmentally friendly dishwashing practices
Washing dishes can have a huge impact on the environment when you're camping because of the volume of water it consumes, as well as the harmful soaps and disinfectants that are sometimes used. Rather than running your dishes directly under a faucet, use buckets or bins. The best way to do your dishes is to fill two buckets—one for washing and one for rinsing.

If you're washing dishes that have been in contact with raw meats, have a third bucket on hand for disinfecting too. But skip the harsh bleach and select an environmentally friendly alternative instead. For dish soap, choose something like Dr. Bronner's, Campsuds, or another biodegradable soap. Finally, dry your dishes with a cloth or place them on a rack instead of using paper towels.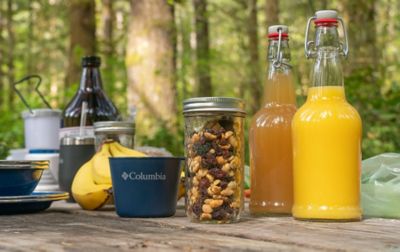 4. Fill growlers for canned and bottled beverages
Cold beverages account for a huge amount of waste that's generated on camping trips every year, especially in the summertime. But you don't have to contribute to this problem. Instead of buying cases of beer that have been canned in aluminum and packed in cardboard boxes, use your upcoming wilderness adventure as a good reason to visit your local brewery. Sample their microbrews and fill up growlers with different flavors.

If you like soft drinks, invest in a soda carbonator. This simple device offers a way to have fizzy beverages without the container waste. Plus, you get to experiment with new flavors and recipes. Try out new flavored seltzer waters or make unique cocktails. For a soda alternative, a camping trip is a great time to make homemade juices—or bring a bag of oranges and squeeze your juice on the spot.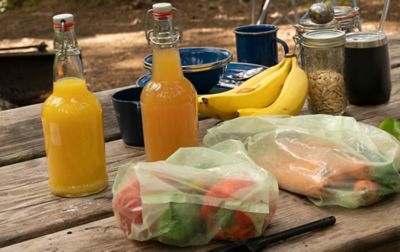 5. Cook meals mindfully and compost
Start your eco-friendly cooking journey by investing in environmentally friendly cookware. Don't buy cheap pots that need to be replaced every year. Instead, focus on higher-quality
camping cookware
that will last over time and not end up in a landfill every June.
Before you begin cooking, think about ways to conserve water. Don't plan meals that require large volumes of boiled water. And set aside any cooking water you do use to wash dirty dishes after your meal.
Compost your food scraps too, and remember that proper composting doesn't mean tossing your banana peel in the forest. (Banana peels, in fact, can take up to two years to decompose.) Bring a bucket with a tight lid to store your compost in, and keep it in your car at night to detract wildlife. If you'll be in the woods for a longer period of time and packing out your compost is not feasible, bury it at least a foot deep and 300 feet from campsites or bodies of water.
6. Clean up after yourself properly
Human waste is another big factor to consider while camping, especially if you picked a more remote or off-grid campsite without facilities. Use ecologically friendly garbage bags and
pack everything (and we mean everything) out with you
.
Be sure to have a system in place to collect trash and ensure that you don't leave any garbage behind. Walk the perimeter of your campsite, picking up anything that may have been left behind either by your party or the people who came before you. (The goal should always be to leave the space cleaner than you found it.) And don't forget to collect micro-trash such as cigarette butts, candy wrappers, bits of toilet paper, and other small items to keep nesting and foraging safe for forest critters.
Looking for some great gear to use again and again? Checkout
these
options from Columbia Sportswear.