How To Choose a Backpack
From hiking backpacks to urban duffel bags, here's your guide to picking the right pack for you
When it comes to
choosing a backpack
, it can be hard to know where to start. There are a lot of factors to consider, many of which depend on what you're using the pack for. Hiking backpacks, for example, are designed with different features than travel bags or commuter packs.
To help you make the right choice, we've listed seven of the most important qualities to keep in mind when you're shopping for a backpack. Scroll down to learn more about what you need to know to make an informed decision, along with our recommendations for the
best backpacks
in each category.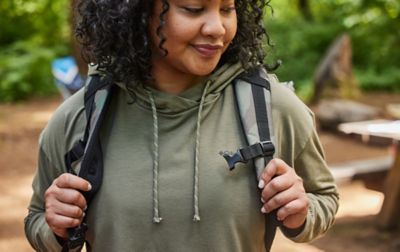 Durability
First and foremost, make sure the backpack is durable. Whether you're trekking through the wilderness or commuting around the city, the material needs to be strong enough to handle everyday wear and tear. That said, it also needs to be lightweight—you don't want to be lugging around extra weight or dealing with something that's super bulky. Generally speaking, nylon and polyester tend to be the best choices due to their high strength-to-weight ratios. Nylon is a good bet for hiking and backpacking, while polyester tends to work better for around-town bags.
Comfort
It doesn't matter how strong and durable your backpack is if it's not comfortable. To ensure that you actually want to wear it, look for features like padded or quilted back panels, adjustable sternum straps, or shoulder straps with cushioning. (Bonus points if they're made with Techlite or other lightweight materials.) If you're planning on using it for backpacking trips, stick to options with padded hip belts and load-lifting straps. And don't forget to pack it correctly—according to Ian Kenny, a senior backpack designer at Columbia Sportswear, the heaviest items should be packed closest to your back for optimal comfort.
Cooling Technology
Although it's not quite as important for backpacks that you wear around town, if you're going to be backpacking or participating in other outdoor activities, you'll want a bag with cooling features too. In addition to breathable straps, these might include things like ventilated back panels (which help promote airflow, carrying away sweat and cooling your body via evaporation). These work especially well when they're slightly suspended from your back. "Suspended mesh back panels provide the most ventilation with open mesh that's tightly attached to a peripheral frame," explains Kenny. "It's like a trampoline, but curved to be ergonomic."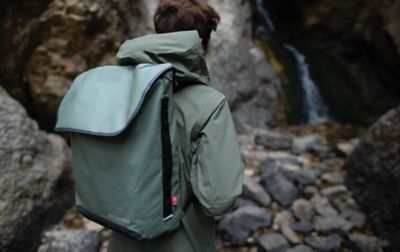 Water Resistance
Backpacks don't always need to be 100% waterproof—it depends on where you live and what you're using them for. However, it's almost always preferable to have some degree of water resistance or water repellency. (To better understand the differences between waterproofness and water resistance, check out
How To Stay Dry: Types of Waterproofing
.) Water resistance usually comes from a coating on top of the fabric known as DWR (durable water repellent) rather than from the fabric itself. This makes the water bead up and run off so it can't penetrate the material as easily.
Buckles, Zippers and Other Hardware
The quality of the buckles, zippers, and other hardware is another thing to consider when you're in the market for a new backpack. Metal components should be made with sturdy materials that aren't heavy or cumbersome, and the zippers should be built with snag-free designs. "Zippers are often the first thing to wear out on a pack, so stick to YKK zippers," Kenny recommends. "These are the industry standard for quality and durability."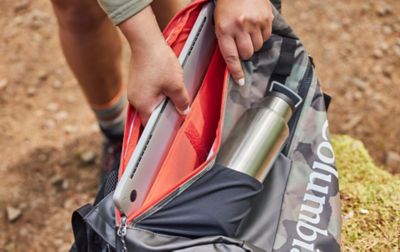 Size
In addition to the qualities above that apply to most backpacks, there are certain factors such as size that depend on what you'll be using the backpack for, and your personal preferences. Think about how big you need it to be. What kinds of activities will you be doing with it? How much will you be putting in it? Smaller to medium-sized daypacks generally range from 20 to 35 liters, while larger options meant for backpacking and multiday travel fall in the 40- to 55-liter range. Some backpacks come in just one size, while others are offered in a wider range.
Storage and Compartments
Finally, pack size leads to the matter of storage. Think about what the backpack will hold. If you're going to use it for work or school, you may want features like pen holders, notepad compartments, or laptop sleeves. If it'll be a bag primarily for outdoor recreation, you might want things like a water bottle holder or a sunglasses pouch. Also think about how you like to organize your belongings. "Storage is a lot about personal preference," Kenny explains. "Do you like a separate pocket for every little thing, or do you use small bags to organize your items inside a simple bag?"
Our Top Picks: The Best Backpacks
Now that you have a better idea of what to look for in a backpack, check out our favorite picks—each one is organized by category for easy reference.
The Best Backpack for Hiking
Name:
Tandem Trail 22
Size:
22 liters
Fabric:
100% nylon
Constructed with ultra-lightweight, exceptionally durable nylon, this
high-quality hiking backpack
is loaded with comfort features, including an adjustable chest strap and a padded back panel. It has breathable shoulder straps, along with a spacious main compartment, external zip pockets, and two water bottle holders. Not only that, it has trekking pole attachments as well as reflective material for hiking at dusk.
The Best Backpack for Backpacking
Name:
Titan Pass 48
Size:
48 liters
Fabric:
100% nylon
A great choice that's also durable and extremely lightweight, the Titan Pass 48 is one of the
best packs for backpacking
. Made from 100% nylon fabric, the large 48-liter bag boasts tons of comfort perks such as padded Techlite shoulder straps, an ultra-comfy hip belt (that even has convenient pockets), and load-lifter straps. In addition, it has cooling features like breathable straps and a suspended mesh back panel that keeps it ventilated via an airflow technology called Backdraft. It also has a strong, water-resistant YKK zipper, stretchy mesh pockets, and a stowable rain cover.
The Best Water-Resistant Backpack
Name:
PFG Performance Fishing 28L Backpack
Size:
28 liters
Fabric:
100% polyester
The
PFG Performance Fishing 28L Backpack
is one of the best water-resistant backpacks for keeping things dry. It's made with 100% polyester that's super durable (yet also lightweight) and features water-resistant materials. The bag features adjustable straps to carry fishing rods, fleece-lined sunglasses pocket, and external bungee storage for wet gear. This backpack is perfect for the fisherman on the go.
The Best Backpack for Travel
Name:
Atlas Explorer 26L Backpack
Size:
26 liters
Fabric:
100% polyester
Whether you travel for work or pleasure, the
Atlas Explorer 26L Backpack
has been designed with you in mind. The medium-sized 26-liter bag showcases tons of features to make traveling easier such as two main storage compartments, separate laptop and tablet sleeves, and adjustable sternum and shoulder straps. This versatile backpack can go from day job to day hike and everywhere in between.
The Best School Backpack for Kids
Name:
ZigZag 22
Size:
22 liters
Fabric:
100% polyester with polyurethane coating
If you're shopping for younger ones, the
ZigZag 22
ranks among the
best backpacks for kids
. With polyurethane-coated polyester that's sturdy enough to withstand lots of wear and tear, it will last a long time. And it's lightweight enough that they won't complain when they have to carry it. It rates high in comfort and the padded bottom keeps the items inside protected if it's accidentally dropped. Design-wise, it has a water bottle pocket, a 15-inch laptop sleeve, and front accessory pockets for school supplies.