How People of Color Are Reclaiming The Outdoors
How People of Color Are Reclaiming the Outdoors
Nature hasn't always felt safe or welcoming for BIPOC folks—but a movement is underway to reclaim those spaces
"Being outside should be a safe, welcoming place for everyone."
Laurene Hamilton, Interim CEO, Greening Youth Foundation
When Rashad Frazier was a kid in North Carolina, he used to hear stories from his grandparents about being outside. But they weren't the typical tales of hiking, camping, or communing with nature that you might hear today from a nature guide or outdoorsman.

As sharecroppers, his grandparents associated the outdoors with work, labor, and hardship.

"Where I grew up in the South, the outdoors weren't thought of as leisure spots," Frazier explained. "Being outside came out of need, out of necessity, out of survival."

And while his parents taught him to be outdoorsy and appreciate nature, there were always caveats. For example, at the lake house his family visited each year to hunt and fish, there were certain boundaries he wasn't allowed to cross.

"I was always aware that there was a treeline over there that I had to respect," he said. "Mom and Dad would explain to us kids, 'You don't go past that treeline. That area isn't friendly. You see those 'Private Property' signs? When you see those, you keep away.'"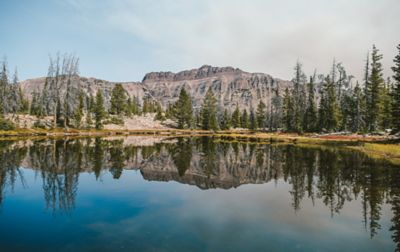 Historical and cultural factors have often made outdoor spaces feel unsafe or unwelcoming to people of color, resulting in lower rates of participation in outdoor recreation. But many BIPOC-led groups are beginning to reclaim these spaces by working to diversify the outdoors.
Today, Frazier runs a group called
Camp Yoshi
that provides guided outdoor adventures for people of color. Living in Oregon, he's fortunate enough to spend lots of time camping, skiing, and participating in other forms of outdoor recreation.
Yet there are still regular reminders that outdoor spaces aren't always safe places for people of color. Tragic stories—like the case of Ahmaud Arbery, the Georgia man who was killed outside while jogging, or Tamir Rice, the 12-year-old boy who was killed while playing in a public park—add to the sense of apprehension that Frazier and other BIPOC people sometimes feel when recreating outside.
"The trauma of the outdoors is very real for our community," he said. "The dinner table conversations we had with our parents and grandparents growing up were built around storytelling. And a lot of those stories were about what they went through.
"Today, there are a lot of reminders that as a Black man or a Black person, there are still some prevailing issues that have not been resolved. And that safety—that getting home safely— is not always a guarantee.
"I think for a lot of Black and brown folks, they're bringing that same kind of baggage with them when they go into the woods or other outdoors spaces."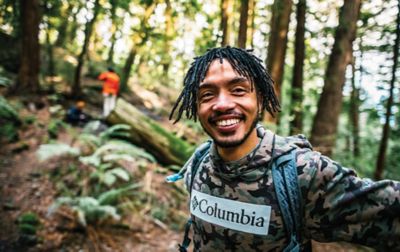 A movement has begun in recent years to narrow the diversity gap in outdoor recreation and get more people of color outside.
Reclaiming the outdoors
Frazier cofounded Camp Yoshi two years ago in an effort to get more of his community outside. His aim was to provide people of color with safe, easily accessible outdoor spaces where they can feel comfortable and build the desire to come back and do it again.
"My goal is to demystify these outdoor spaces a little bit and give Black and brown folks opportunities for healing and rejuvenation—a chance to reshape the narrative," he said.
Frazier's adventure company is just one of many similar BIPOC-owned businesses and nonprofit organizations that have cropped up in recent years as a movement emerges nationwide to reclaim outdoor areas.
GirlTrek
and the
Greening Youth Foundation (GYF)
—both Columbia Sportswear partners—are two more examples of organizations that are working to diversify the outdoors, along with groups like Outdoor Afro, Melanin Base Camp, Latino Outdoors, Soul Trak, H.E.A.T., and Black Kids Adventure.
Additionally, a growing number of local meetup groups and community networks are organizing events to
connect people of color with outdoor spaces
.
"Black and brown communities have faced numerous barriers in the past when it comes to outdoor education and recreation. But we are seeing organizations stepping in and committing to helping kids and adults foster connections with the outdoors."
Laurene Hamilton, Interim CEO, Greening Youth Foundation
Laurene Hamilton, Interim CEO for GYF, said that the separation many people of color experience from the outdoors often begins during childhood. Her organization works to connect underrepresented youth with jobs in the outdoor sector, and make outdoor spaces more accessible.

"We've observed the barriers that kids face and we've worked with them to overcome them,' Hamilton said. "Our goal is to put young people at the center, ensuring they receive the professional skills development, coaching and affirmation, financial supplement, and educational support they need to succeed.

"Black and brown communities have faced numerous barriers in the past when it comes to outdoor education and recreation," she added. "But we are seeing organizations stepping in and committing to helping kids and adults foster connections with the outdoors.

"Being outside should be a safe, welcoming place for everyone."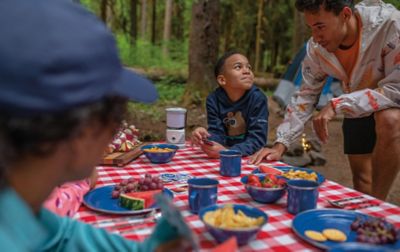 A growing number of BIPOC-focused meetup groups and community networks offer safe, welcoming spaces for people of color to spend more time outside.
A matter of numbers
Historically speaking, statistics reflect the cultural apprehension around outdoor participation that Frazier mentioned. A 2018 report from the National Health Foundation, for example, found that nearly
70 percent of people who visit national parks and wildlife refuges are white
, despite 40 percent of the U.S. population being people of color.
Another report by the
Outdoor Industry Association
found that white Americans made up 72 percent of overall outdoor recreation participants in 2020, while Black Americans comprised just 9 percent.
In addition to safety concerns, proximity can be another factor that creates the discrepancy in these numbers. Many BIPOC communities don't live close to wilderness areas, and statistically, people of color are nearly
three times more likely than whites
to live in places with limited access to nature.
Socioeconomic factors can play a role as well, as does access to outdoor education and gear.
Representation is also a major issue
when it comes to movies, media, and advertising, which rarely feature people of color recreating outside.
The latter, in particular, can be difficult to overcome, Frazier said. "We don't see a lot of ad campaigns with Black folks or people of color doing epic things outside," he said. "It's typically the generic white guy—and I'm not saying that guy doesn't add any value—but we're already behind the eight ball so it doesn't really help that we don't see ourselves represented very often.
"If you don't see yourself, how will you ever aspire to do something? So much of outdoorism is an emotional experience. Seeing yourself in these spaces is what makes you say, 'I wanna do that. I wanna be that person.'"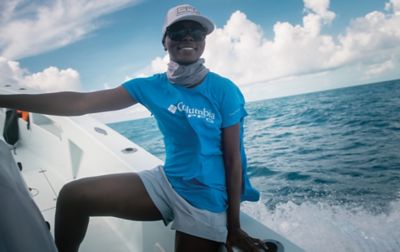 One factor that contributes to lower rates of outdoor participation in BIPOC communities is lack of representation in advertising and media.
Benefits of nature
Despite the long list of barriers, however, Frazier said that it's worth the effort once folks get outside.
"Once you get out there and you see the stars for the first time, or you see an amazing playa, you start telling yourself that
this
is more important than any anxieties or fears you may have had," he said. "You begin to see that experiencing that feeling is more important than feeding into the fear."
Nature is full of concrete benefits as well. Numerous studies have linked the outdoors to things like improved cognition and enhanced mood. Additionally, there's ample evidence that spending time in nature can be
therapeutic for your mental health
.
This is something Frazier said he experienced firsthand during the pandemic. "Nature's always been a big reprieve for me, but I don't think I really appreciated it in the same way until COVID happened. Being outside was able to help me get out of my depression. Walking in Forest Park, hiking out in the Columbia Gorge, taking weekend trips out to Central Oregon, all of that helped restore my spirit.
"Nature is like therapy. If you can go for a walk or get outside in some capacity, it recharges your batteries in important ways."
"So much of outdoorism is an emotional experience. Seeing yourself in these spaces is what makes you say, 'I wanna do that. I wanna be that person.'"
Rashad Frazier, Cofounder, Camp Yoshi
For folks who don't know where to start, Frazier encourages them to find people and organizations in their area to get outside with.

"Find someone within your existing community, your existing worldview, to help you get outside, or go out there with them, you know. Start small, start local. I do a lot of things 30 minutes from my house."

In the end, the payoff will be huge, he said.

"Camping is an opportunity to learn something about yourself, and to prove to yourself that you can overcome your fears.

"Being outside and being in the wilderness allows you to truly be present. That is something that many of us have missed and longed for, whether we know it or not. When you're outdoors, your body—you can hear yourself. You're present. It's like you're finally awake."
To learn more about Columbia Sportswear's commitment to empowering everyone to get outside, check out
Empowering People