Forging a Path: Increasing Diversity in the Outdoors
Forging a Path: Increasing Diversity in the Outdoors
The Greening Youth Foundation promotes racial equality in the outdoor industry via education and job placement.
"I believe in the power of young people and I want to empower them to lean into how bold they are." ~ Eboni Preston, Director of Operations
Growing up Eboni Preston had no idea that the National Parks Service existed. There was little access to green spaces in her neighborhood and outdoor recreation wasn't something that was emphasized in her community.
Fast-forward to today, however, Preston is not only an avid outdoorswoman, she's the director of operations for the Greening Youth Foundation (GYF), which connects underrepresented youth with the outdoors.
Noting the group's mission to make outdoor spaces more accessible, Preston points to a number of challenges that young people face when attempting to participate in outdoor recreation.
"It's all about giving these young people access and exposure," she says. "It can be as simple as showing them what green spaces are available in their neighborhoods and explaining to them: You can have fun there. You can find refuge there. You can use them and be a part of them. Giving them this connection is really powerful and important."
According to the National Health Foundation, nearly
70 percent of people who visit national parks and wildlife refuges are white
, despite the fact that 40 percent of the U.S. population consists of people of color.
In the labor sector, the disparity is even worse. For example, just
7 percent of the National Park Service staff is African American
while 79 percent is white. People of color make up only 12 to 15 percent of employees in the outdoor industry as a whole.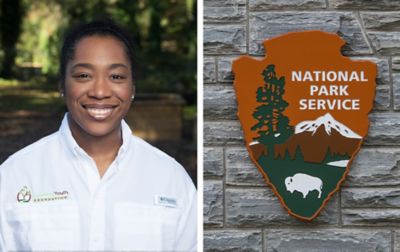 Eboni Preston, Director of Operations (left) for the Greening Youth Foundation which provides job training programs and internship placements to young people looking to enter the outdoor industry.
When asked why these numbers exist, Preston says that it's a loaded question that doesn't have an easy or straightforward answer. Preston says, "People of color have always had a relationship with the outdoors, but unfortunately, exclusionary ideas and practices have aided in the divide."

The bottom line, however, is that outdoor careers are often harder to attain for people of color than they are for other segments of the population.

Preston pointed to a survey that her organization conducted at Brigham Young University several years ago asking students to describe some of the barriers they faced while breaking into the outdoor jobs market. Of particular interest was why so many students were starting programs and not finishing them, or struggling to get jobs.

"We wanted to know why so many young people were entering these spaces with their credentials, with years of experience, with passion, with willingness to pull themselves up by the bootstraps—literally and figuratively—and then leaving," she says. "They did the hard work. Why not finish?

"They talked about things like isolation and lack of representation. The feeling that regardless of what they did, they were only going to get so far."
Looking at solutions
Job training programs and internship placements are some of the key services GYF provides to young people. The organization teaches cultural competency to employers while also recruiting qualified POC candidates to fill their positions.

The Youth Conservation Corps, for instance, which is a branch of GYF, connects 700 to 800 young people from underrepresented communities with outdoor industry opportunities every year.

Recently the organization facilitated a live hiring event called the Bridge Project that connected more than three dozen outdoor sector employers with a pool of 300 candidates.

"These were all employers who'd said, 'We think we're doing a really good job. We're booming in our industry. But we lack representation and we don't know why.'" After the event, each employer was required to make hires from the candidates they'd interviewed.

Preston says that in part, a lot of the mentorship she provides to youth is helping them to be bold on their journeys in stewardship and leadership, in spite of some of the harsh realities they've faced.

"Acknowledging their lived experiences is so important and critical to everyone's advancement," she says. "Half of the work that we do is just validating that, 'Yes, there is something going on here and it has nothing to do with you.'"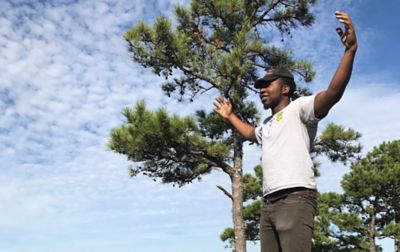 Photo of Larry. A graduate of the internship program, Larry has a full-time job in the outdoor sector, and is now a youth mentor himself.
She tells the story of a young man from Alabama she helped with an internship a few years ago.

"I met a young man—Larry, I'll never forget him," she says. "He was from Tuskegee University. When I called to tell him he got the job, he started crying immediately.

"I asked why he was crying and he said, 'This opportunity doesn't happen for people like me. I mean, I've got the education, I've got the resources, I've got my mama telling me I can do it. But the thing is, we don't see people leave this town.'"

Larry told Preston that he and his friends went to college a few miles away from his house, but they never see people leave.

"Even if you get a degree, even if you don't get in trouble, people go work at the factory," he told her. "All of my friends are sitting on the couch with me right now and we all have degrees, but I'm the only one with a job—and it's because someone like you said you would give me a chance."

Preston explains that Larry, who later got hired full-time in a job in the outdoor sector, is now a youth mentor himself. The story illustrates that if you invest in young people and give them a chance, it can change their world, she says.
Environmental education
Another service that GYF provides is environmental education for the K–12 age range.
The organization offers campouts at
urban parks
, for example, where kids and their parents learn how to pitch tents, prep hiking packs, and roast marshmallows. Group leaders teach concepts like "
Leave No Trace
" and show them how to recycle. They also promote environmental stewardship and talk about health and wellness.
"It's powerful when a kindergartener knows what composting is and how they can do it," Preston says. "Getting kids to understand that your milk and eggs don't come from the grocery store, or being able to pronounce the ingredients that go into their food, these things are really, really important. And it can really shape what their relationship with the outdoors looks like as adults."
In addition to the educational component, the goal is to make their local outdoor spaces familiar and show them that it's easy to use them, Preston says.
"People just need that first experience," she says. "They need to see that it doesn't have to be that hard to go spend time outdoors."
"It's powerful when a kindergartener knows what composting is and how they can do it. Getting kids to understand that your milk and eggs don't come from the grocery store, or being able to pronounce the ingredients that go into their food, these things are really, really important." ~ Eboni Preston, Director of Operations
Part of the reason that participation in outdoor recreation is lower among certain demographics is linked to geography. According to the Center for American Progress, for instance, people of color are
three times as likely as white people
to live in nature-deprived areas without access to outdoor or wilderness spaces.
Economics plays a role too. It costs money to spend time outside and people in lower-income communities often lack the resources to drive to trailheads,
pay for ski lift tickets
, or buy new gear.
Plus, given that racially motivated violence often occurs in outdoor spaces,
safety concerns also contribute
to the lower numbers. Cases like the killing of Ahmaud Arbery while jogging outside, for example, or the killing of 12-year-old Tamir Rice in a park,
create cultural apprehension
as well.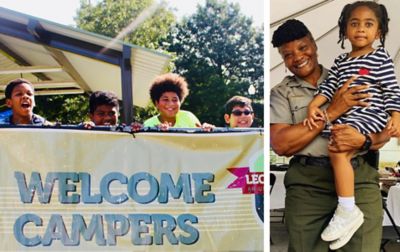 The organization offers campouts at urban parks, where kids and their parents learn how to pitch tents, prep hiking packs, and roast marshmallows, along with discussing important concepts like 'Leave No Trace".
Increasing representation
Applications to GYF programs have spiked this last year, which Preston partly attributes to the increase in diversity in public leadership roles. The representation helps young people believe that these opportunities are available and attainable for them too, she says.

"We're in a field where seeing is believing," Preston says. "They need to see other folks be successful—and not just one person. They need to see multiple people. We have Deb Haaland, a Native American woman, working as the secretary of the interior. We have Kamala Harris as the vice president and Michael Regan as the Administrator of the Environmental Protection Agency. The officials holding these positions look like, walk like, learn like, and can lead like them."

Not only that, she says, the protests following the murder of George Floyd last year amplified the dialogue around racial equity.

"With all the madness that the world started to see when it came to race relations, a lot of people wanted to start having the conversation," she says. "More partners are showing up now, which is allowing us to expand our outreach and our programming, and give more students the opportunity."

As more people jump into the conversation, however, it's important that they're showing up for the right reasons, Preston says. Partners who get involved need to be interested in creating an experience that's "transformational, not transactional."

"Don't do it because it's what everybody else is doing," she says. "Authenticity is easy to spot."
Applications to Greening Youth Foundation programs spiked in 2020. Preston says that these initiatives, along with the help of the organization's partners, are laying the foundation for change.
The worst thing that GYF could do as an organization, says Preston, is to send an eager intern into a toxic work environment, especially if they don't have a lot of outdoor experience. A negative placement where a candidate feels like they don't belong or that validates their worries about not fitting in might turn them off to the outdoor world.
"I'll be honest—we don't work with everybody," she says. "We need to make sure that they can be a mentor and an advocate. They don't have to be perfect. They just need to be invested and willing to do the work. Some organizations just aren't ready."
Patience is another important factor that Preston tries to stress with new partners.
Redressing long-standing racial inequities takes time
.
"It's not something that changes overnight," she says, "because it wasn't something that was created overnight. It's not a quick and easy fix. It's a journey."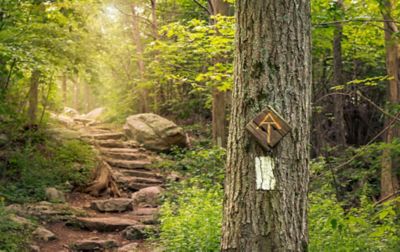 Segment of the iconic Appalachian Trail. With mountain summits, mossy creeks and stunning views, it's a popular destination for East Coast outdoor enthusiasts.
Investing for the future
At the end of the day, however, it is these initiatives, along with the help of the organization's partners, that are laying the foundation for change, Preston says.

"These programs empower people like Larry to take a leap of faith, to take a risk, to try something different, to try something new," she says. "We want to show these young people that it is possible to come out successful on the other end. We want to bring all the Larrys to the table and give them seats and say, 'Hey, man, you can do this.'

"I believe in the power of young people and I want to empower them to lean into how bold they are and can be. To use their voices to shape what they experience and what future generations experience—that's going to come from fresh ideas and perspectives. People trying things in ways that we haven't done before.

"We have to invest now so that we can see hope for the future."