Carla Joelle Brown Retracing Civil Rights History
Retracing Her Grandparents' Camper Travels Through the Civil Rights Era
Filmmaker Carla Joelle Brown's documentary explores her grandparents' silent activism through stunning outdoor spaces
"They were putting their bodies in spaces where no one else looked like them. Think about how many minds they may have changed."
Carla Joelle Brown grew up hearing stories about her grandparents' free-wheeling road trip adventures through the United States.
An intrepid pair of outdoor lovers, Benjamin and Frances Graham (aka "pop-pop and grandmom") spent more than three decades exploring the
country's national parks
and other scenic areas in a 17-foot travel trailer, beginning in 1965 and continuing into their retirement years.
Brown recalls fond childhood memories of sitting around their camper while they decided where to go next. Her grandmom would drink Whiskey Highballs and point excitedly to places on the map—if the name "sounded interesting," they'd start planning their next adventure.
Brown always found their stories intriguing, but it wasn't until 2012, during a period of soul-searching, that she began to piece together just how exceptional their travels had been. They'd kept meticulous logbooks of their time on the road and as she leafed through them, she started noticing how their journeys overlapped with key moments in history.
"The week their camper pulled out of Baltimore City was the same week the Civil Rights Voting Act was signed into law," she says. "The same week the
Watts Riots
started."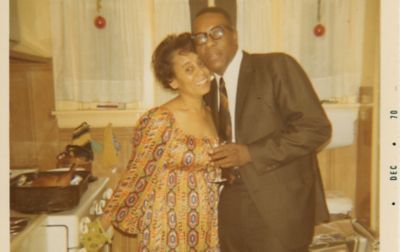 Benjamin and Frances Graham spent more than 30 years traveling the country in a travel trailer. They began their journeys amid the civil rights movement, departing the same week the Watts Riots began in Los Angeles.
The more dates she reviewed, the more Brown understood the fraught political climate they were traveling through. She wondered what made them decide to buy a camper and venture into the wilderness at a time when racial violence and discrimination was so rampant.
"My grandmom had to go to a specific college because she was Black," she says. "If she wanted to go to the department store, she'd have to go through the back. My grandfather was drafted into World War II and the military was segregated. He was in an all-Black unit.
"They were living specifically in a place that was saying to them, 'You can't do all of these things because of your color.' And yet they get a trailer and say, 'Hey, let's hit the open road.' It just didn't make sense to me.
"The more I talked to them, the more I was like, 'You guys were either really insane and naive, or just crazy courageous.'"
As Brown researched the subject more, she came to see her grandparents' journeys as a form of silent activism.
"They were
putting their bodies in spaces
where no one else looked like them," she says. "Think about how many minds they may have changed—people who may have never met a Black family before. They had genuine conversations and connections.
"I'd like to think it may have transformed their mindset for other Black people they met after that."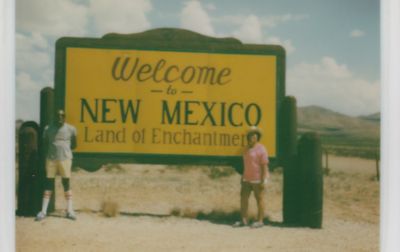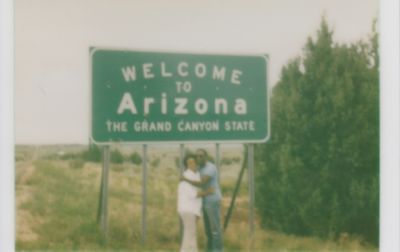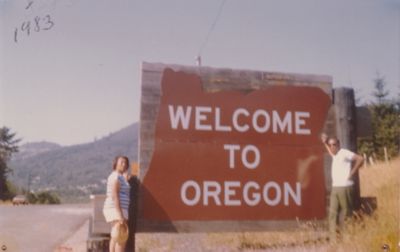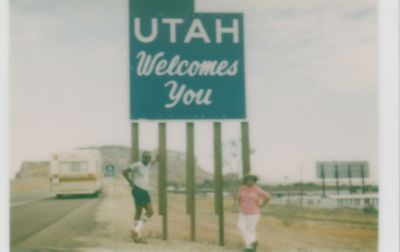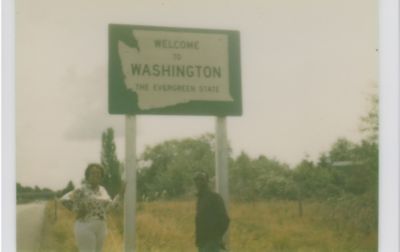 Fascinated with their story and impressed by their boldness, Brown decided to film a documentary about their travels. She applied for several artist grants and began rummaging through old video footage—and thus launched stage one of what would become a decade-long film project titled "Everyone But Two."
The film follows Brown as she retraces her grandparents' journeys through the United States, splicing old interviews and video reels with modern-day footage.
For the project, Brown visited more than 30
national and state parks
, including Yellowstone, Yosemite, Grand Canyon, and Everglades. In six years, she traveled to all 48 contiguous states, just as her grandparents had, along with Alaska and Hawaii which they hadn't (hence the name of the film).
Seeing these incredible landscapes with her own eyes helped her understand what made her grandparents so willing to forget the madness that was occurring in the world and venture off into nature.
"Ultimately they were just so full of wanderlust," she explains. "They were just so curious about the world. There were places that they wanted to go and things they wanted to see. They had all these harebrained ideas—they were going to see the country somehow. The trailer was how it happened."
In addition to helping her better understand her grandparents, Brown says the project has given her clues to better understand herself. She's always felt a similar sense of restlessness, she explains, and poring through hours of interview footage helped her snap the puzzle pieces of her own DNA into place.
"I had an epiphany," she remembers. "All the light bulbs went off and I could see: 'This is why I am who I am. It's my grandparents."
The film, she says, is her "love letter" to them.
"I think they just disarmed everyone they met on the road."
Brown's grandmother passed away in 2016, about two years into filming. Her grandfather is still alive and vibrant at age 96. Their unique personalities and utter zest for life is what Brown thinks helped them avoid more of the overt racism one would have expected from that time period.

There were several uncomfortable encounters, she says, but overall they didn't experience a large degree of discrimination—and no violence, despite being some of the only African Americans on the road.

If anything, she says, many of the people they met along the way seemed impressed by their tenacity.

"They're just really special people," Brown says. "I've come to learn that it's not my bias. My grandfather is Norm from 'Cheers.' He's such a character, he really is. He thrives on social interaction. He thrives on connecting with people.

"I think they just disarmed everyone they met on the road."

The Grahams made friends along the way, exchanging annual Christmas cards with some of them for years to follow.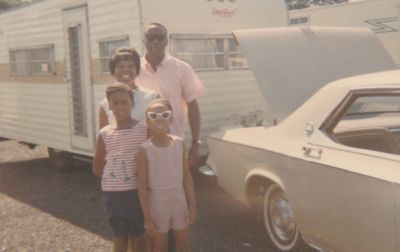 The Grahams' sociable personalities disarmed many of the people they met on the road, leading to long-term friendships with many of them.
That being said, Brown's grandmother did acknowledge that they often felt like they were "on stage."
She believes that being self-contained in the trailer may have helped them avoid clashes. If they'd been staying in motels or eating more frequently in public restaurants, it might have been a different experience, she says.
But nature has a way of bringing people together.
"Outdoor spaces automatically connect you," she says. "If you're in the same place and you made the effort to get there, it gives you an opening for a conversation you wouldn't have back home.
"When you travel, especially outdoors, whether you're camping in a tent or taking some crazy road trip in a nice RV, you connect to the people in those spaces you're in."
Since beginning the film project in 2014, Brown says she's gotten even more in touch with the outdoorsy side of herself.
"I thrive in nature," she says. "Maybe it's because all my senses awaken more. There's a lot more to see, hear, smell, and touch.
"Life is so quick to throw you into adulthood and take away that innocence of being a kid who wants to explore. That gets stripped away so young. When you're outdoors, you can be a kid again. You can skip a rock in the lake or whatever it is that makes you feel free. You're not just a day-to-day robot trying to make money to pay bills.
"I think ultimately that's why the
outdoors is so healing
, because you're connected back to where we all came from."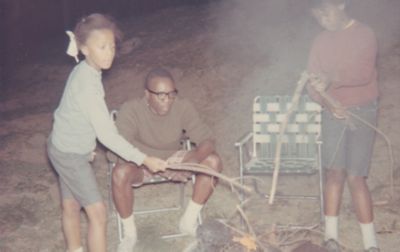 Benjamin and Frances camped along the way as they toured national and state parks throughout the country.
Despite the many reassurances Brown received from both grandparents, it still mystifies her how they managed to avoid more racist encounters, particularly dangerous ones. Not only that, how they seemed to feel so at home wherever they went.

Even today, during her own travels, there have been times when Brown has felt uncomfortable. She recalls an experience in 2018, for example, while filming in Wyoming with another Black crew member. They all stopped for gas near a campground where they'd planned to stay for the night. However, the gas station attendant made both of them feel instantly uncomfortable.

"We went back into the RV and without even needing to have a conversation about it, we were both like, 'Nope. We're not staying here.' Neither one of us felt safe or comfortable.

"And there were no race riots happening, at least not a specific movement. I was just like, 'I don't know how my grandparents did this.'"
"I have this one story to tell, and I want to do the best job that I can telling it."
"Everyone But Two" is currently in the final stages of postproduction and Brown is in the process of seeking the final $300,000 she needs to complete her project.

She's already poured a lot of her own money into the film, at one point even considering cashing out her retirement.

"I even moved into my parents' basement for five years because I was like, 'I can't be the reason that this doesn't get made.'"

It's a deeply meaningful project to Brown and she says she's willing to be patient for as long as it takes.

"I'm not making this film because I'm trying to be a millionaire or to be some award-winning filmmaker," she says. "I have this one story to tell, and I want to do the best job that I can telling it. If it takes 10 years, it's going to take 10 years. But I can't go mucking it up just because I'm in a rush to be done with it. I know this story needs to be told."