Luke Combs: Life in the Reel World
Luke Combs:
Life in the Reel World
In the past few years, Luke Combs has spent more time on the road, at the studio, and in the spotlight than he has at home. Such is the life of a country music star with seven consecutive No. 1 singles on Billboard's Country Airplay chart; ACM, CMA, CMT, and Billboard awards; a Grammy nomination and entry into the Grand Ole Opry. Temporarily on hiatus due to COVID-19, we caught up with the PFG ambassador to talk music, fishing, and more.
How have you been spending your days during this unexpected downtime?

Luke Combs: To be honest, it has just helped me live a little bit of a normal life, even if it's just for a little while. It's allowed me to be at home for an extended amount of time, which I don't normally get to do. I've written a lot of songs. Played a few of these livestream type [shows]. We've cooked a lot. We hunted for morel mushrooms, that was fun. I've worked out a little bit, doesn't look like it, but I have. Um, what else? Oh, Call of Duty. Playing a lotta Call of Duty.
For a touring musician, is it unsettling or invigorating to suddenly have so much quiet?
LC:
It's definitely different, so it took some getting used to. But now that it is the new norm, it has been quite refreshing. However, there's nothing like putting on a live show for my fans, so I miss that and being with them.
You recently released "Six Feet Apart" in response to this moment. How has this time inspired you creatively?
LC:
I think as a songwriter you just try and write about real life events going on that people can relate to and find hope in. And, as we all know, there is a very real life event going on right now.
"Six Feet Apart"
allowed my buddies and I to just write and document what is going on, but turn it into a song of hope.
What do you miss and what are you most looking forward to doing when the time is right?
LC:
I kind of touch on it in "Six Feet Apart." I miss my parents, my fans, and my band. I'm used to being with them all of the time. I'm definitely looking forward to being with them all again one day soon, as well as other normal things we've been without in life—going out to eat, going to a bar, watching sports, things like that.
Have you had many opportunities to spend time outside?
LC:
I have, which has been nice. I've been able to do a lot of
hunting
, as well as be on the farm.
What kind of hunting and fishing have you been doing, and what kind of escape has that been for you?
LC:
Haven't been able to fish, but I have been turkey
hunting
. Got to do that with some of my best friends. Nothing beats the quietness of being in the woods.
What's been your favorite catch while fishing?

LC: My favorite catch, besides [fiancé Nicole Hocking] of course, was on her birthday in Myrtle Beach when we went mackerel fishing. It was a great fish, a 34-pound king mackerel. I was pumped about that, but the problem was it was the first fish on all day and it was her birthday and I grabbed the rod [instead of giving it to Nicole] and that was NOT an approved decision. She was not happy with me.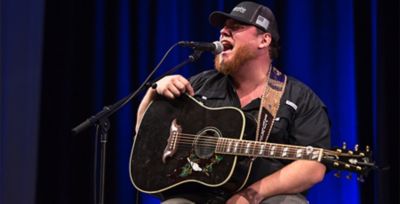 What's one PFG item that's your favorite for fishing or just for everyday wear?

LC: Everyday wear is definitely my Bahama™ II or [a PFG] hat. Here's the brilliance: What I'm currently wearing, the Bahama™ II, is my stage shirt as well as my all-purpose life shirt. There's 30 to 40 of these in my closet. Just the black one, I've got at least 30. But that's because I wear it every night [on tour], ya know? You don't want to just have three.
What's the story behind the song "Moon Over Mexico"?
LC:
We were down in Mexico with Columbia shooting [
"This One's For My Crew"
] in Baja. We had so much fun fishing and riding ATVs and eating great food, that this song just hit us and we picked up a guitar and started writing. When you give four songwriters [Luke, Ray Fulcher, Dan Isbell, and Jonathan Singleton] the trip of a lifetime, you know some great music is going to come from it. We started writing it one morning and the song just wrote itself, as we were sitting on the back patio, with the Sea of Cortez as our backdrop. We got almost 75% of the song finished that morning and, when we got back to Nashville, we finished it. That song brings me right back to that moment in time and always makes me smile.
Any advice you want to share in terms of getting through these days?

LC: Stay patient and stay safe! Let's get rid of this thing so we can get out and live our lives again.