Tips for Camping in the Rain
9 Tips for Camping in the Rain
Fear not the inclement weather when you arm yourself with these simple hacks for camping in the rain
You've prepared everything for your big camping trip. Visions of sunny days spent hiking, relaxing lakeside, dining al fresco, and sleeping under the stars.
Except you didn't prepare for the rain.
Soggy clothes, a sagging tent, and wet feet are nobody's idea of fun.
So, what do you do when it
rains on your camping weekend
?
If you're going to camp in the rain without being miserable, you need to prepare a little extra beforehand.
With the following tips, we've made it easy for you to enjoy your camping weekend, no matter what Mother Nature has in store. If you are looking to take your camping adventures to the next level you can also check out "
Tips for Winter Camping
", and "
Winter Camping Checklist
".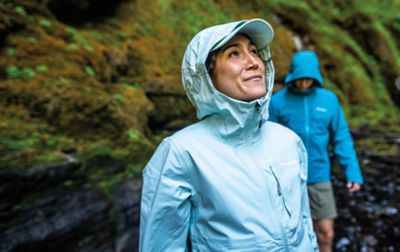 1. Have a Good Rain Jacket
It may sound obvious, but having a good
rain jacket
is one of the most important factors in determining whether you enjoy your rainy-day camping activities or spend it hiding out in your tent.
Skip the cheap rain poncho and invest in a
high-quality raincoat
that will keep your clothes dry and protect you from the elements.
If you're anticipating hardcore rainstorms, you may also want to consider full rain gear with
rain pants
and a rain hat.
When
picking out a rain jacket
, first consider what activities you'll be doing and what types of weather you'll encounter. You'll want something with breathable material (especially if you're hiking and working up a sweat) with pit zips or air vents to offer ventilation and help regulate your body temperature.
2. Know How to Layer
Knowing
how to layer
is always essential, and when it's raining, even more so.
When you layer for wet weather specifically, you'll want to consider a top-quality base layer and mid layer to wear under your rain shell or rain jacket. Skip the cotton, as it tends to stay wet, and opt for
moisture-wicking, quick-drying baselayers
made from nylon, polyester, or other similar fabrics.
Layering keeps you comfortable and allows you to fine-tune your body temperature, depending on the activity. Take off a layer before you hike up that hill, and add a layer while sitting around the campfire at night.
And lastly—socks, socks, and more socks. Never underestimate the importance of dry socks. Keep a spare set for indoor tent use only, and stash another pair in your vehicle for when you return to the car. Nothing beats a fresh pair of socks on a rainy camping trip.
3. Choose Your Tent Site Well
Choosing your tent site is another big decision that can make or break your rainy camp weekend.

Pick a site far from any puddles, ditches, or anywhere water can accumulate, and make sure your campsite is at least 200 feet away from any rivers, lakes, or streams. Flat, elevated spots work really well.

Look for natural features such as trees, large boulders, or bushes that can assist your tent and tarps in keeping you dry.

Position your tent's door downhill so you don't get rainwater or mud coming in and running down the inside of your tent.

Sagging tents are the enemy, so make sure you put up a good fight! Use lots of tension to prevent water from pooling. And, don't forget your rainfly.
4. Wear Shoes with Good Traction
Walking around in the rain is its own kind of challenge.
Trails will be muddy and slippery, so it's critical that you wear shoes or boots with good traction, especially if you're going to be doing any
hiking in the rain
.
Leave those soggy old sneakers at home, and invest in a solid pair of hiking shoes like
PeakFreak™
or
Facet™
that have
advanced traction technology
. When
selecting a pair of hiking shoes
, look for options that are
fully waterproof
, breathable, and provide good tread.
With the right shoes, you'll be splashing in puddles like a gleeful child instead of slipping around on the ground.
5. Hang a Clothesline
Small and lightweight, a clothesline is a fantastic item to have in your arsenal against bad weather—it's the quickest way to dry your clothes and gear.

If there's no sun, hang the line under a tarp or inside your tent and let your stuff dry while you sleep. This will prevent them from getting mildewy.

You can also hang your sleeping bag during the day if it has gotten wet. And don't forget a few clothespins to make life easier.
6. Bring Extra Firestarters
Who doesn't have memories of sharing stories and singing around the campfire? It's the stuff memories are made of, after all.
But, have you ever tried to light a fire with soggy matches and wet wood? Nearly impossible!
First, double-check that you have waterproof matches or a waterproof lighter.
Next, bring extra firestarters as it's harder to light fires with wet wood.
If you're
car camping
, you can bring dry firewood to keep in the car until you need it. However, remember that it's always best to be responsible and buy firewood locally so you don't risk bringing in invasive species via the wood.
Safety tip: when lighting your fire, don't do it under a tarp - it may seem like a good idea, but it could melt or, worse, catch fire.     
Homemade Fire Starters Hack:
Smear cotton balls in Vaseline or hand sanitizer
Stuff them inside empty toilet paper rolls
Store them in a sealable plastic bag
    Voilà! Instant fire starters that can be used anywhere
7. Ventilate Your Tent
One of the best ways to keep your tent dry when camping in the rain is to make sure it's well-ventilated.
Believe it or not, your breath is the main culprit that causes condensation—and since you obviously don't want to stop breathing, it's important to make sure you have proper airflow.
Leave the outer rainfly door at least partially open to ensure that airflow can enter the sleeping area of the tent. Even if it's raining, open your vents!
Secondly, tarps are your friends. If you need to set up camp while it's raining, put up a tarp shelter first so you can keep your tent dry while you set it up.
You can also place a tarp under your tent, providing a valuable layer of protection between the bottom of your tent and the ground, keeping groundwater from finding its way into your otherwise dry tent.
Once you've set up your tent, keep it as dry as possible on the inside. Don't bring any wet items inside, and try to keep things away from the sides of the tent, so it doesn't get wet.
And to maximize your comfort, choose a
high-quality tent
with good waterproofing features and breathability in the first place.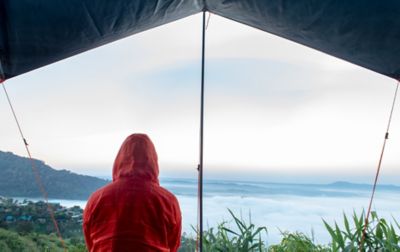 8. Watch for Sun Breaks
Even in the heaviest thunderstorms, there are often breaks when the sun comes out, sometimes for several hours or more. Don't waste this precious time - get out there and dry yourself and your gear in the sun as best you can.

Spread your wet clothes on a bush or a rock in the sun while you rest or do other activities. Or, use your clothesline and attach it between tents or trees and hang up as much stuff as possible.

Keep an eye on the weather though, as there's nothing worse than having all your belongings hanging outside when it starts to rain again.
9. Bring a Change of Clothes
Is there any better feeling than stepping into a comfy change of clothes after being wet all day? Ah, so fresh and so clean!
Stash a change of clothes, and other important items like your wallet, in a dry bag so that you'll at least have a few dry things in your backpack.
Another practical item to pack for camping in the rain is a quick-dry towel. Bring one for your body and another to mop up the tent floor and dry off your backpack and gear.
Keep a small bag of dry clothes in your car for when you return so you'll always know you've got something dry to put on for the ride home.
Bonus tip: keep an extra pair of shoes or
flip-flops
in the car, so you can take off your caked-in-the-mud boots and not make a mess of your vehicle on the way home.
Of course, if there's one thing we've learned, it's... don't forget the extra socks.
NEVER forget the extra
socks
!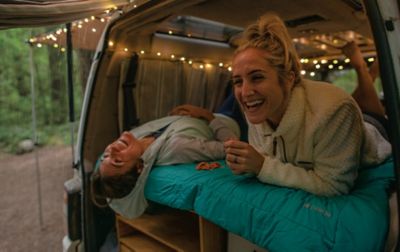 Bonus tip: Have fun with it
Let's face it. Even in the best of circumstances and with all the right gear, if you go camping in the rain, you're gonna get wet.

The best way to enjoy it is to embrace it, have fun with it, and turn it into an adventure!

Watch as the rain transforms a forest into a magical wonderland. Enjoy the peace and calmness of nature with fewer crowds. Who knows, maybe you'll even see a rainbow or two.

It's all a part of the experience.

And, because you've prepared, you can enjoy the heck out of it.

Best of all? You'll have bragging rights for years.