Types of Camouflage: Pick the Right Pattern for Your Hunting Trip
Types of Camouflage: Picking the Right Pattern for Your Hunting Trip
From deer and elk to ducks and geese, here's a breakdown of the best camo patterns for hunting
While you may think of camouflage as the traditional military patterns your grandpa used to wear on hunting trips,
camo clothing
has come a long way since the old days.
Depending on what you're hunting for and where, a wide array of camouflage patterns have been expertly crafted to help you blend into your environment. From lush, dark, deep-woods greenery to arid desert, prairie, rocks, and cacti, camo now spans a broad spectrum of colors and patterns. Ensuring you have the right pattern for your hunt will help make for a
successful adventure
.
We reached out to Matthew Davis, global design director for Columbia Sportswear's PHG and PFG collections, and Ed Hepp, senior product graphic designer for PFG and PHG, to learn more about the history of camo and get a better understanding of the different environmental patterns it's fashioned after.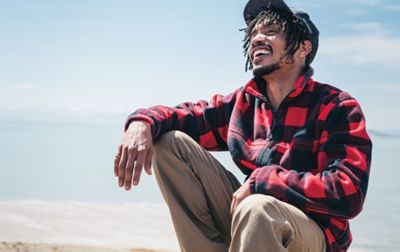 The red-and-black checkered pattern, officially called "buffalo check," has become a staple of modern day outdoor apparel. The design was one of the first patterns used by hunters to disguise themselves.
History of camo
Prior to modern camouflage, hunters relied on the classic red-and-black checkered pattern (officially called "buffalo check") to break themselves up against their environment. "Buffalo check was the original camo for the hunter," Hepp explained. "A lot of mammals, especially deer and elk, do not see color—at least not to the degree that we do. So the red-and-black appears gray to the animal while making [the wearer] more visible to other hunters. Nowadays, we have blaze orange for safety, but before that was developed, red was the safety color in the woods."
During World War I, the U.S. military began experimenting with jungle camouflage patterns, so hunters would buy their clothes from the army surplus store because that's all that was available for rugged excursions. By the 1980s, two companies emerged—
Realtree
and
Mossy Oak
—which began making "stick-and-leaf" camo gear. The designs featured realistic patterns that represented climates and landscapes other than just the jungle.
The invention of stick-and-leaf patterns changed the game for camouflage clothing and gear. Apparel companies like Columbia started using the patterns for
high-performance apparel
and suddenly hunters had quality sportswear instead of cotton shirts or wool pants. "That's where the commercial development of camo started to come about," Hepp said.
Today, there are three main types of camo:
Traditional: Classic military camo with green and brown patterns. Columbia's duck-hunting camo is an evolution of this military-based look.
Stick-and-leaf: Realistic, environment-inspired patterns developed by companies like Realtree and Mossy Oak, offering different designs for deserts, rocky mountains, forests, and other landscapes.
Digital: A more recent camo pattern with a technical-looking pixelated print. Also originating with the military, digital camo was scientifically developed using real-life imagery to see what disappears best against various landscapes.
Hybrid camos that incorporate more than one design are also available, for example, digital camo mixed with stick-and-leaf patterns.
Realtree versus Mossy Oak
In modern hunting culture, Realtree and Mossy Oak patterns dominate the camouflage landscape. Objectively speaking, they're both high-quality, field-tested brands, although hunters often lean toward one or the other.
"People gravitate toward Realtree or Mossy Oak in the same way that people gravitate toward Ford or Chevy. It's style and preference," Davis explained. "There's a history and interplay between the two. Maybe your dad or your grandpa wore Mossy Oak, so you wouldn't be caught dead wearing Realtree, or vice versa. It's that kind of thing. But they're both great camouflage patterns."
The designs don't just appear on hunting apparel. Realtree and Mossy Oak patterns can be found on everything from ceiling fan blades to La-Z-Boy recliners to drinkware to truck fenders. Davis noted, however, that just because a product has a Mossy Oak or Realtree pattern doesn't necessarily mean it's a quality product.
"If you're looking at a $99 jacket from a discount store, it's not going to be the same as a high-performance
Columbia PHG jacket
simply because it has a Mossy Oak or Realtree pattern on it. A lot of hunters don't understand that. You should be looking for a fully seam-sealed, waterproof,
breathable
jacket that's going to perform."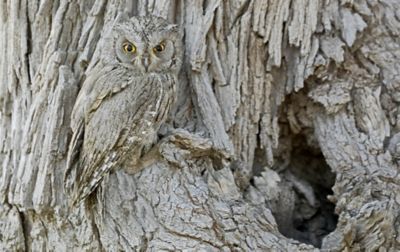 The Pallid Scops owl uses a concealing coloration technique to camouflage iteself in the wild. Many stick-and-leaf camo patterns that appear on hunting gear use the same technique.
Camouflage techniques
In the animal world, there are four types of natural camouflage and many of the best hunting camo patterns borrow from these strategies:
Concealing coloration: Matching color to the natural landscape. Examples include the arctic fox or white-tailed deer.
Disruptive coloration: Disrupting the silhouette and breaking up the outline of the body, often with spots or stripes. Examples include tigers, leopards, and zebras.
Disguise: Disguising oneself as an inanimate object like a twig, stick, leaf, rock, or other object that a predator has no interest in. Examples include grasshoppers, walking sticks, and moths.
Mimicry: Defensive mimicry is used by prey to create the appearance of a more threatening animal to intimidate its predator (example: owl butterfly), while aggressive mimicry is used by predators to appear non-threatening to their prey (examples: orchid mantis, zone-tailed hawk).
Most effective camo patterns for hunting apparel rely on one or more of these camouflage techniques from the natural world, particularly the disguise and disruptive coloration elements. According to Davis, one of the most important aspects of hunting camouflage is breaking up your silhouette.
"The key part is that disruptive coloration—breaking up the hunter," he said. "For example, a branch that goes across the camo and breaks up half of your body.
"And you have to disguise yourself. Every camo pattern disguises you somehow—that's the overarching theme of all camouflage patterns."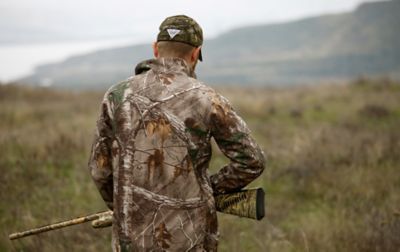 Big Game, Waterfowl, and Upland are the three main categories of hunting apparel.
Hunting apparel categories
There are three main categories of hunting apparel, depending on what game you're after:
Big Game (deer, elk, bear, moose, etc.)
Waterfowl (duck, geese, etc.)
Upland (pheasant, chucker, quail, turkey, etc.)
Big Game
For big game hunting such as elk, deer, moose, or bear, you want to select a camouflage pattern that disrupts your silhouette to help you blend into the environment.
Additionally, you may need some sort of blaze orange element for safety. As Hepp mentioned, deer and elk can't see the orange, but it helps you stay visible to other hunters. Many states have laws requiring a certain amount of blaze orange be worn while big game hunting.
Columbia's
Trophy Rack collection
, for example, which includes a three-part system composed of a
rain jacket
,
rain pants
, and
thermal-reflective puffer jacket
, is a great choice for big game camouflage.
Waterfowl
When it comes to waterfowl hunting gear, you also want to choose patterns that match your surroundings, but without the blaze orange color used in big game excursions.
"Birds have incredibly good eyesight and they see color beyond what we even see. So paying attention to color is very important for hunting ducks, waterfowl, and other kinds of birds where you're trying to conceal yourself," Hepp said.
It's also important to break up your shape in the waterfowl environment, just like with big game.
"In waterfowl hunting, you're most likely in a riparian environment, which is lowlands. There's typically a lot of water and you probably have waders on. A lot of times that means there are reeds and cattails in the camo, so your best waterfowl camo will disguise you to look like that environment," Davis said.
Columbia's
Widgeon collection
is an excellent option for waterfowl hunting. The set includes an
OutDry Extreme wader shell
,
bib
, and
wader Heat Seal liner
.
"The Widgeon collection was built by duck hunters," Davis explained. "You have a system with the liner and shell so you can shed layers, and it's fully seam-sealed. Plus, the jacket is shorter so you can trudge through ponds and other bodies of water."
Upland
Upland hunting is unique in that you don't typically need camo patterns to hunt because the terrain tends to have fewer natural objects like trees and rocks to blend with. However, you do need blaze orange components to help keep you safe. Being visible to your hunting party is extra important for upland hunts because you're often out in the open and with more people.
The only exception is if you're hunting turkeys, which have "famously good eyesight," according to Hepp. They will be able to see the blaze orange, as well as any shapes or silhouettes that look out of place.
"If you're sitting up against a tree in the woods and a turkey walks by, it's the same as if somebody were sitting in your living room leaning against your couch—you know they're there. The turkey knows what its woods look like. So if you don't look just like a bush, you're busted." Hepp said.
Columbia's
Ptarmigan collection
, which includes
pants
,
bird vest
, and
Interchange parka
, is a good example of high-quality upland hunting gear, particularly when paired with a Blood and Guts Shooting Shirt.
Choosing performance hunting gear
While selecting the correct camo pattern is key, it's equally important to make sure you're choosing quality clothing. Good camo on bad gear is a recipe for a bad hunting trip.
"It doesn't matter what camo pattern it has on it if it doesn't keep you dry," Hepp said. "The performance of the product is first and foremost. The camo pattern is just the skin."
The features you want will depend on the type of game you're hunting as well as the weather and climate you'll be hunting in. The idea is to match the gear to your terrain.
"It depends on how you need your gear to function. With big game scenarios, you could be hunting in anything from 99-degree heat to subzero temperatures, snow, or rain," Hepp noted. "But generally with the big game, you need your gear to be quiet. The surface of the apparel can't make noise going through the brush. Walking in heavy cordura through the brush sounds like loud zippers—zip, zip, zip, zip. That's not a natural sound. But a nice brushed surface hardly makes a noise—maybe just the sound of leaves rustling, which is the same noise a big animal moving through the brush would make."
In addition to your jacket and pants, you'll also need
baselayers
,
mid-layers
and accessories like a
UPF-rated hat
with
sun protection
. Keep in mind that conditions can change dramatically throughout the hunting season, both in terms of weather conditions and the type of camo you'll need.
"You start hunting ducks in October and you're finished in January," Hepp said. "A lot of things can change during that time. You might be hunting geese out in a field in the Midwest and by the end of the season there's snow all over the ground, in which case you'll want to be wearing a fully white jacket. It all depends."
The best advice with any hunting trip is to think about your surroundings and adapt. The better you prepare and invest in quality gear with appropriate camouflage, the better your chance of success.