How Black Women Are Walking To Take Their Power Back
How Black Women are Walking
to Take Their Power Back
The women of GirlTrek are fostering sisterhood and transforming their health by walking together to heal
"When Black women
walk, things change."
June Copperfield, GirlTrek Coordinator
Black women have a long history of walking together in the fight for racial equality. Harriet Tubman walked more than 100 miles along the Underground Railroad throughout the 1850s to bring slaves to freedom. Hundreds of women walked from Selma to Montgomery in 1965 as they joined men in the struggle for voting rights.
And today, the women of
GirlTrek
are walking together to foster community, learn more about their history, and find healing through their shared experiences.
"Since I joined the movement, I found that a lot of the weight that I was carrying was not actual physical weight," explained Cherelle Darby, a member of the Houston chapter. "It was just a lot of things that had happened in my life. There are no words to describe the transformation."
GirlTrek is a nonprofit organization that creates community for Black women and fosters sisterhood via walking.
The nonprofit organization aims to unite Black women by creating opportunities for them to walk together. So far, the group has inspired more than one million women to get outside and "take back their communities."
In addition to community building, it helps the
women improve their mental and physical health
.
Some women have credited GirlTrek with helping them overcome depression, escape domestic violence, lose weight, reduce anxiety, and improve their cardiovascular health.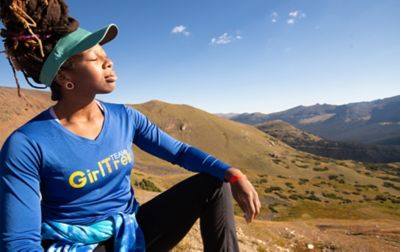 Women who are involved with GirlTrek often see improvements to both their mental and physical health once they start walking.
Black women in America face a greater risk of developing health conditions such as heart disease, diabetes, and hypertension—the latter of which
affects Black women about 50% more
than non-Hispanic white women. More than 50,000 African American women die from cardiovascular disease every year, and nearly 80% are overweight or obese.
In terms of mental health, Black women are
half as likely to seek help for depression
as white women, and are affected by a number of stress-related mental health conditions as well.
Some of these health discrepancies are thought to be genetic, while others may be due to cultural and historical factors. Microaggressions and systemic racism faced by Black women likely play a role as well.
"Black women tend to carry the weight of the world, our communities, and our families on our shoulders," said Sharon Watkins Jones.
Walking, however, can reduce that weight, both physically and
mentally
, Jones said.
She added that walking has always been an integral part of Black history, which makes it even more meaningful.
"Walking has been a part of the
Civil Rights Movement
, even a part of the exodus from slavery," she said.
Columbia Sportswear is proud to partner with GirlTrek in
our continued effort to encourage everyone to get outside.
GirlTrek hosts chapters throughout the country, where women connect with one another to plan group walks or go out on their own, using the platform to track their journeys. GirlTrek has maintained their mission despite the pandemic temporarily reducing some of the group's functions.
The organization also offers a podcast called
Black History Boot Camp
, a 21-day series of walking meditations. Each episode features important figures or topics in Black history. As the women walk, they can listen to the episodes and learn more about their history and culture.
Additionally, the organization focuses on making green spaces safer and more accessible, as well as protecting natural areas. It has initiatives in 50 high-need communities across the United States to improve local walkability.
Participants have said that the group fosters sisterhood and makes women feel inspired.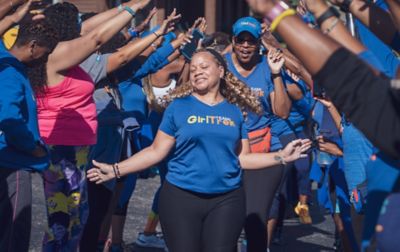 GirlTrek has inspired more than one million women to get outside and walk for empowerment and healing.
"The beautiful thing about walking with other Black women is that we are able to decompress our shared experiences and release microaggressions from the week," Jones said.

Copperfield agreed, saying that it's amazing to get to watch other Black women become stronger, healthier, and more empowered.

"It's such an incredible thing to see all these Black women taking up space, declaring it for our strength," she said.

"When Black women walk, things change."