What Is Glamping? Your Guide to Luxury Camping
From setup ideas to what to wear, here's everything you need to know about glam camping
You may think of camping as sleeping on the floor of a muggy tent in the woods with dirt, bugs, and other natural elements. But modern camping offers an alternative that doesn't involve roughing it quite so much: glamping. A portmanteau of "glamorous" and "camping," the phrase describes an outdoor experience that incorporates the natural elements of
traditional camping
with the comfort and luxury of a hotel.
Glamping often utilizes more spacious accommodations such as yurts, treehouses, pods, tipis, geodesic domes, safari tents, or tiny houses—frequently equipped with full-sized beds, private bathrooms, electricity, and running water. Some all-inclusive glamping resorts also add service elements such as guided wildlife tours, kayaking, luxury spa days, and gourmet dining.
"Anything that makes camping more pleasant and accessible earns the title of glamping," explains Breanne Kiefner, founder of
Root Adventures
, a travel company that often incorporates glamping into its itineraries. We spoke with Kiefner to learn more about this increasingly popular form of outdoor recreation.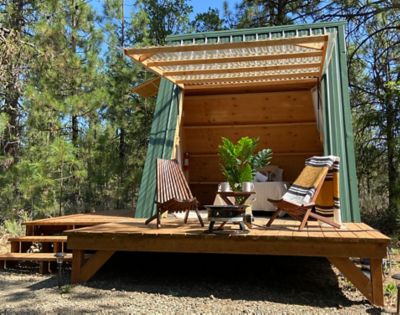 Glamping accommodations can include structures such as yurts, treehouses, pods, tiny homes, tipis, geodesic domes, converted Airstreams, RVs, safari tents, or A-frame huts like the one pictured above at
Starlit Glamping
in Goldendale, Ore.
What is 'glamping'?
So what exactly is glamping? Is yurt camping considered glamping? What about camping in a cabin? Or
RV camping
? The reality is that glamping can incorporate many types of structures with varying degrees of creature comforts—everything from luxury yurts to safari tents to converted Airstream trailers.
And glamping isn't always about the shelter or the accommodations either. The service element can turn a regular camping trip into a glamping experience as well. Kiefner points to the Inca Trail, for example, where porters often accompany hikers through the mountains of Peru, turning an otherwise grueling trek into a spectacular, first-rate glamping experience. "On an off-grid trek, you may sleep in a standard tent on the ground, but waking up to freshly made coffee, a warm water basin to wash your hands in, and a dining tent with hot breakfast surely deserves a greater distinction than camping."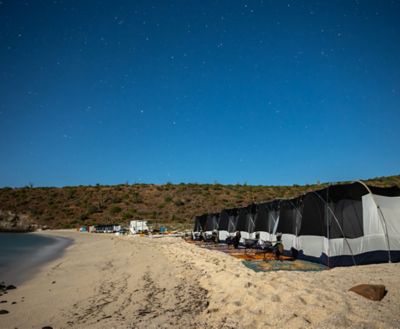 In addition to comfort and convenience, glamping can include service elements such as meals or tent setup, as pictured above on Isla Espíritu Santo with
Root Adventures
.
Why go glamping?
There are many reasons to opt for glamping over regular camping, one of which is the ability to relax in nature without all of the work of setting up a campsite—erecting a tent, building a fire pit, setting up the cooking area, etc. "A backpacking trip off the beaten path away from humans is a lovely experience, but sometimes I just want to relax and soak in nature without suffering," Kiefner explains.
In addition to campsite setup, glamping saves you from the hassle of pre-trip packing. Glamping resorts take care of most of your needs so there's less to bring and worry about. For those with less experience camping, glamping can be a nice introduction to the outdoors—like camping with training wheels. Kiefner adds, "Folks with any level of camping experience can jump right into glamping and even learn some essentials to head into nature and do it on their own, and just step their toes into the idea of sleeping in nature."
Generally speaking, the differences between camping and glamping can be broken down into two key factors:
Convenience: Camping traditionalists often love the sense of accomplishment that comes from setting up their own campsite. Others prefer the convenience of glamping. "Camping requires a lot of work: setting up camp, cooking, tending to the fire, and on and on," explains Kiefner. "Glamping allows folks to experience all the joys of camping without the pain points."
Comfort: The modern amenities of glamping bring levels of comfort to the outdoors that traditional camping typically can't match. That said, sleeping on the ground and eating freeze-dried camp meals is part of the outdoor experience for some people who can't be "comfortable" without a bit of discomfort.
What to wear glamping?
Glamping is first and foremost about comfort, so it's important to bring along clothing that can keep that comfort going. And that means protecting yourself against whatever weather conditions you may face. As Kiefner points out, while glamping sites often include luxurious indoor areas, "You're likely to spend a great deal of time outdoors because nature beckons."


GLAMPING CLOTHING LIST
Protective clothing:
Whether it's
rain protection
or
sun protection
, it's helpful to have clothing with built-in weather protection technologies like
OutDry Extreme
or
Omni-Shade™ Broad Spectrum
.
Jacket:
Let the forecast help you decide
what type of jacket
to bring and whether you'll need more than one. In cooler temperatures,
a puffer jacket
is great for keeping you warm. And if there's any possibility of moisture,
a rain shell
is a must.
Fleece:
If temperatures are chilly, it's nice to have a warm midlayer like a sweatshirt or
cozy fleece
. For extra cold temperatures, try something with
Omni-Heat™ Helix technology
, which uses performance heat cells for added warmth.
Footwear:
An
outdoor trail shoe
is always a good everyday option whether camping or glamping. But depending on location and time of year, you may also want something more
water appropriate
.
Socks:
You can bring a little extra luxury to the day by always having a clean pair of
socks
to put on.
Hat:
Shield the sun
or rain with a
good hat
.
Swimsuit:
There are plenty of reasons to bring a swimsuit or
swim trunks
, whether it's a nearby river, lake, or even a hot springs.
What gear should you bring glamping?
Outside of comfort and luxury, the biggest draw of glamping is the convenience of having many of your needs taken care of. Glamping allows you to pack more of the things you want rather than the things you need to lessen the challenges of camping.

"Your glamping essentials are very dependent on the level of glamping. Some of the more luxurious properties include private bathrooms, linens, and anything you would find at a five-star resort. Others are more basic and require a bit more planning and packing," explains Kiefner.

Since your shelter is typically set up for you when glamping, packing is somewhat similar to how you'd pack for an RV trip. Rather than bringing things like a tent, sleeping bags, and camp stove, you can focus on some of the fun things to take glamping, like games and other entertainment.


GLAMPING ESSENTIALS LIST
Toiletries/overnight bag:
Glamping resorts may have some basic toiletries, but you'll want to bring your preferred necessities just to be safe.
Sunglasses:
If you aren't relaxing with your eyes closed, make sure you're protecting them from the sun.
Sunscreen:
A bad sunburn can put a damper on the most luxurious of adventures.
Bug repellant:
There's nothing luxurious about scratching bug bites.
Backpack:
As comfortable as your accommodations may be, you'll no doubt head out to explore the area and need to bring some things with you.
Portable cooler:
As comfortable as your accommodations may be, you'll no doubt head out to explore the area and need to bring some things with you.
E-book reader:
Bring a whole library worth of books with you on a single device. Or, if you don't have an e-reader, an old-fashioned book work great too.
Indoor games:
Card games and board games are great ways to end the day.
Outdoor games:
While glamping resorts often have a variety of outdoor activities to choose from, you can never have too many.
Laptop or tablet:
Consider bringing a device that can play a movie for a relaxing end to a relaxing day of glamping.
And as is the case anytime you're in the outdoors, we always recommend bringing along the
Ten Essentials
to keep you prepared for outdoor emergency scenarios—because while glamping is intended to be a more glamorous form of camping, unexpected power outages or other emergency situations can quickly dial down the glamour.
Where can you go glamping?
Thanks to a continued increase in popularity, you can find all levels of glamping nearly anywhere in the world including most
US National Parks
. The options vary greatly, so Kiefner suggests doing your research to find the mix of budget, location, and accommodations that is right for you.
Can I create my own glamping site?
While the convenience of showing up to ready-made glamping resorts or destinations is tough to beat, you can certainly create your own DIY glam camping oasis with a few select items—just BYOG (Bring Your Own Glamour).

Pillow & blanket: A little comfort from home goes a long way.
String lights: The ambience of solar or battery-powered LED lights turns a typical tent into a glamping tent.
Canopy: An extended outdoor space that's protected from rain and sun is a luxury glamping essential.
Outdoor carpet: Roll it out under your canopy for the luxury of keeping your feet out of the dirt.
Hammock: Complete your outdoor area with a place to relax while soaking in nature.
Solar shower: Few things feel as luxurious in the outdoors as a warm shower.