What to Pack for a Winter Cabin Getaway
What to Pack for a Winter Cabin Trip
Here's the ultimate cabin packing list for your winter vacation essentials
Winter is a special time of year. The promise of a fresh blanket of sparkling snow, a crackling fire in the woodstove, and the scent of crisp, cold air. What better way to enjoy the season's charm than from a remote winter cabin getaway?

To help you pack for your adventure, we enlisted the help of winter outdoor experts Hannah Matranga, a guide for SWS Mountain Guides, and Christina Bruno, a team skier for the Professional Ski Instructors of America and the American Association of Snowboard Instructors (PSIA-AASI), to share a wide array of insights and cabin packing tips.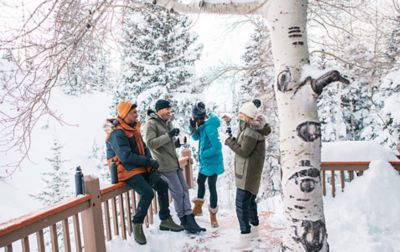 When putting together your packing list, first ask yourself what the cabin is like and what types of amenities you can expect it to have.  
Before you go
Whether you're planning a family vacation, couple's retreat, girl's weekend, or solo adventure, you'll first want to find out what type of supplies and amenities your cabin provides.

"It may come fully stocked with bedding, or you may need to bring your own," Bruno explains. "What is the bathroom situation like? Is it an indoor bathroom or an outhouse? Is there running water or do you need to bring in water or melt snow? What about kitchen supplies?"

Asking these questions will help you create a packing list that's specific to your needs. Matranga recommends also thinking ahead about how you want to spend your time. "Preparing for a winter cabin trip is all about deciding what types of activities you'd like to do, or you'll quickly end up overpacking. Do you intend to hike, sled, cross country ski, resort ski, snowshoe, ice skate? Or simply enjoy nature from inside your cabin with a hot tub and a good book? Once you decide on this, start packing from there."

Do some research on the location too. Look at a map of the area around the cabin to see what type of road it's on, how you access it, whether it's close to recreational areas, and so on. Make sure your car is properly equipped for driving in snowy conditions. Carry a shovel in your vehicle and if you don't have snow tires, bring chains as well. And always print out your reservation info and directions just in case.
What types of clothes should you pack?
When you're packing for a snowy, possibly wet winter climate, you don't want to pack just any clothes. It's important to bring items that can withstand the weather and keep you warm both inside and outside the cabin. When it comes to fabrics, both experts say the same thing: avoid cotton at all costs.
"Cotton gets wet, stays wet, and has little to no insulating properties," Matranga explains.
"Cotton materials can be dangerous when they get wet and are worn in cold temperatures," Bruno adds. "You want materials that can stay warm even when wet, and can dry out easily. Look for wool or synthetic fabrics that are
breathable
and moisture-wicking."
In addition to the key qualities of quick-drying, warm, breathable, and moisture-wicking for your winter cabin clothes, you want to be sure to factor in water-resistant.
You should also know
how to layer
using a three-piece system that includes a baselayer, midlayer, and outer shell.
"For the baselayer, wool is one of my favorite materials—it wicks moisture, keeps you warm, and doesn't smell bad after multiple uses," Bruno explains. "Next, a midlayer like fleece is a great cozy insulator that is soft, breathable, and quick-drying. And finally, a waterproof shell is the last piece of the layering system. This piece should fit over your layers comfortably, so you may end up sizing up."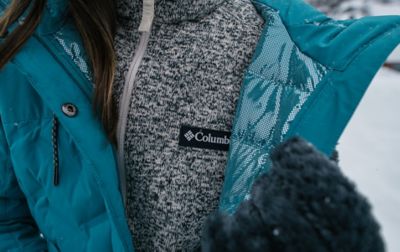 It's important to bring clothes that are not only warm, breathable, and quick-drying but can be layered easily as well. 
Winter cabin packing list
Now that you have a better idea of how to prepare your list and what types of clothes to pack, here's some more specific information on each of the items you're likely to bring.
Clothing
Thermal tops and bottoms
In addition to being cozy loungewear, you can use these tops and bottoms as
baselayers
when you venture outside. Matranga suggests wool, polyester, or some type of synthetic blend as they tend to wick moisture the best.
Fleece jacket and pants
A
warm fleece jacket
is a wonderfully versatile piece of clothing to have at a winter cabin. You can use it indoors to keep cozy, and it can act as a midlayer between your jacket and baselayer when you head outside to play.
"Look for a fleece that isn't too bulky so you retain mobility," Matranga says.
If it's going to be extra cold where you're going, consider options with special warming technologies like
Omni-Heat™ Helix
.
Fleece pants
are nice to have too. Although you won't always need them, they can be excellent midlayers underneath your snow pants when it's extra frigid—and their soft, flexible design is cozy inside as well. "They can double as lounge pants for the cabin," Matranga says.
Winter jacket
This will be the main item that protects you against the elements any time you go outside. There are tons of different
jacket types
and the style you choose will depend on where you're going and what you have planned. A
puffer jacket
will protect you from moderate weather elements and can also act as a midlayer. If you're going to an extra cold climate, a
parka
is thicker and typically
more insulated
. Another option is to bring a ski jacket or outer shell, preferably something that's fully waterproof, with technology like
OutDry™ Extreme
.
"Your jacket should be waterproof, have a hood, and be comfortable over multiple layering systems," Bruno says. "Your level of activity will determine whether you opt for a shell versus a jacket with insulation."
If you do go with an insulated jacket, look for liners with warming technologies like
Omni-Heat™ Infinity
.
Snow pants
If you plan to be spending any time outside during your cabin getaway, you're going to want a
good pair of snow pants
. These will act as the outer shell on top of your baselayer (and midlayer, if it's extra cold) to protect you from the snow.
Snow pants come in a variety of styles. You can choose a shell or an insulated option, depending on how cold you run. And
ski pants
can work great too. "Make sure to find snow pants that are comfortable to wear and move in with multiple layering systems," Bruno recommends.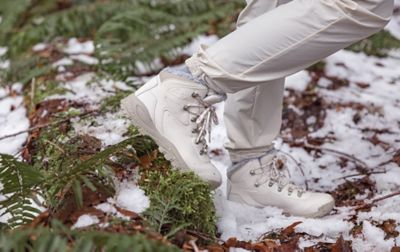 High-quality winter boots are essential packing items for any cold-weather cabin getaway.
Warm socks and winter boots
Don't forget to keep your feet warm with high-quality socks and a solid pair of
winter boots
. Both experts stress the importance of socks—you'll want to bring more than you think you need.
"Look for socks that are over the calf," Bruno says. "The extra length will provide warmth and keep you from bunching up."
As for
choosing winter boots
, make sure they fit properly with the socks you intend to wear, are tall enough to keep snow out, and work with the internal gaiter of your snow pants. They should have good traction, like
AdaptTrax
, to help prevent you from slipping and falling, along with comfortable cushioning. Most important,
break them in
first to avoid blisters and hot spots.
Hat, scarf, and gloves
It goes without saying that you want to bring a
warm pair of gloves
, along with a
hat
and
scarf
, to any winter cabin adventure. "Your warm hat can double as warm protection for outside and your cabin fashion inside," Bruno explains. "If you plan on backcountry sports, cross country skiing, or snowshoeing, you may like having a warm hat and neck warmer combination."
When
picking out gloves
, if you'll be involved in activities that keep you outside for long periods at a time, especially doing things in the snow that involve your hands (snowball fights, fort building, snow angels, etc.), you'll want to invest in a pair of gloves or mittens that are fully waterproof. If you just plan on going for light walks or running to the store now and then, a nice pair of wool mittens should get you through.
For gloves, Bruno suggests, "Bring an extra pair in case one gets super wet and takes a while to dry out." She adds, "Having leashes on your gloves or mittens that attach to your wrists is a great feature."
Pajamas and slippers
Cabins are for nothing else if not relaxing, so it's essential that you pack a pair of
comfy PJs
. "Cozy, cute, comfortable pajamas can often be your cabin attire while sipping hot drinks by the fire," Bruno says. "Choose pajamas that make you feel good and happy."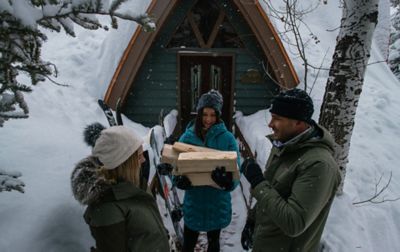 Firewood is a winter cabin necessity, so if the place you booked doesn't provide it, be sure to bring some with you. 
Other cabin necessities
Toiletries
—Be sure to bring the basic toiletries that you'll need to get through the length of your stay. Toothbrush, toothpaste, lip balm, deodorant, medications, and anything else you might need.
Food, beverages, and snacks
—Many mountain towns have limited or expensive grocery options, so make sure to have plenty of coffee, tea, or hot cocoa, and the makings for hearty meals like soups and curries or pancakes and omelets.
Water bottle
—Hydration is key, even in cold weather, so don't forget to bring a
water bottle
. Try to find an insulated option or bring a sleeve you can use to protect it from the cold.
Sleeping bag, pillows, and blankets
—Check to see if the cabin is stocked with bedding and linens. Some ski huts or more rustic cabins may require you to bring a sleeping bag, but even if they don't, it's always a good idea to have extra blankets. "Pay attention to the temperature rating of your bag," Matranga advises. "Many are rated for survival, not necessarily for comfort, meaning that if you're in a 20° bag in 20° weather, you'll survive, but you'll likely still be quite cold."
Ten Essentials
— The so-called
"ten essentials"
are basic survival items you should have on hand, particularly in more rustic cabin settings, to ensure you are prepared in case of an emergency. They include fire starters, a
knife or multi-tool
,
sun protection
, first aid supplies, insulation and extra clothes, shelter, navigation, headlamp or illumination, extra food, and extra water. "These are important if you plan on exploring the area outside of your cabin, or if your cabin is very rustic or remote," Bruno says.
Firewood
—Most cabins will indicate in your reservation whether firewood is provided or not. If not, make sure to bring some with you. "Never cut down your own wood on land that isn't yours," Matranga urges.
Reservation info and directions
—Many winter cabins are located in areas with limited or no cell phone service and Wi-Fi. So be sure to download directions to your cabin ahead of time, along with maps of the area. It's also a good idea to print out important information in case you're unable to retrieve it from your phone.
Cell phone, charger, and batteries
—Even if your goal is to disconnect during your vacation, you should still have a cell phone and charger on hand for emergencies. Extra batteries in standard sizes like AA or AAA can come in handy too. "A battery bank isn't a bad idea either, in the event of a power outage," Matranga says.
Keep in mind that this is not a comprehensive list for every winter cabin—each place is different. If you're staying in a more remote cabin without a full kitchen, you may need some cooking supplies. Off-grid huts and backcountry spots may require additional camping gear and emergency supplies.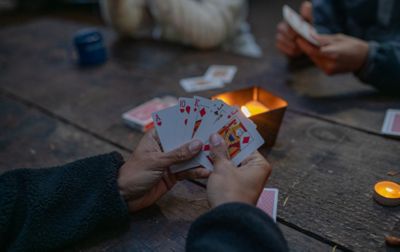 Playing cards, board games, and jigsaw puzzles can be fun activities to do inside your winter cabin.
Fun things to bring to a cabin
With any good cabin vacation there's bound to be plenty of time for recreation, so don't forget the fun for both indoors and outdoors. Here are some ideas to consider:
Indoor
Books
Board games/puzzles
Playing cards
Notebook or journal and pen
Bluetooth speaker
Binoculars
Outdoor
Sled
Inner tube
Cross country skis
Downhill skis
Snowshoes
Winter hiking boots
Indoor winter cabin activities
In addition to the standard books, puzzles, board games, and cards, Matranga likes to find unique ways to pass the time. "It can be fun to have some type of food contest such as a chili cook-off, cookie decorating contest, or gingerbread house building contest. That is my personal favorite."
And don't underestimate the value of stillness and relaxation either—it's all about balance.
Nature is therapeutic
, so be sure to save time to simply gaze out the window or sit outside and soak it all in.
"Who doesn't love sitting in a cozy cabin, sipping a hot drink, and watching the snow fall outside?" Bruno says. "Just taking some time for yourself and quality time with your family can be so relaxing. Having some games or activities planned can be a great way to bond and spend time together, detached from the electronic universe."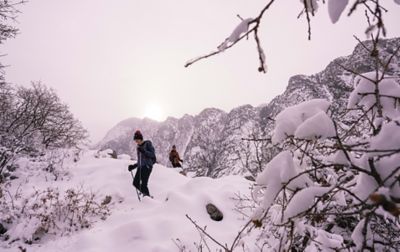 Snowshoeing is one of many fun outdoor activities you can do when you stay in a winter cabin. 
Outdoor winter cabin activities
If you start getting cabin fever, Mother Nature has more than enough going on outside to keep you entertained. "Building a snow cave and having a picnic or coffee date inside it is one of my favorites—but definitely do some research on how to safely accomplish this," Matranga says. "Snow caves are shockingly warm and cozy when done right."

Cross country skiing is another fun choice and an excellent way to get some exercise while you're on vacation (although Bruno recommends that beginner cross country skiers stick to terrain with minimal pitch for safety). She also likes snowshoeing, as long as it's done safely.

"As long as you're knowledgeable about avalanche dangers and take the necessary precautions, snowshoeing is a great option for exploring outside your cabin," says Bruno.
Your complete winter cabin checklist
Winter Clothing
Other cabin necessities:
Toiletries
Food, beverages, and snacks
Ten Essentials (fire starter, knife/multi-tool, sun protection, first aid supplies, insulation/extra clothes, shelter, navigation, headlamp or/illumination, extra food, extra water)
Firewood
Reservation info and directions
Cell phone/charger
Batteries
Optional recreational items:
Books
Board games/cards/puzzles
Notebook or journal/pen
Bluetooth speaker
Binoculars