The Ten Essentials of Hiking and Backpacking
What Are the Ten Essentials of Hiking and Backpacking?
These must-have items should be on your backcountry camping checklist
Spend any amount of time in the outdoors and you're bound to hear the phrase "The Ten Essentials." The term was originally coined by climbers and mountaineers to describe the 10-item checklist that should be consulted anytime you go climbing. However, it's been more widely adopted in recent years by hikers, backpackers, and other outdoor enthusiasts to prepare for any wilderness excursion. The philosophy behind the checklist is that you should always plan for the unexpected every time you trek off into the wilderness, especially in more rugged, untamed spaces. Things can change rapidly, and you may need more than
hiking boots
and a candy bar to make it back home.
You should have these Ten Essentials packed whenever you venture into the great outdoors:
Food
Water
Fire starters
Knife or multi-tool
Sun protection
First aid supplies
Insulation and extra clothes
Shelter
Navigation
Headlamp or illumination
To help us understand each of these items better, we talked to backcountry camping expert Meghan Young, cofounder of
PNW Outdoor Women
. She described the list as a "systems-based approach" to ensuring you have the gear and supplies you need to handle injuries, delays, unexpected weather, or other things you might encounter on the trail. "None of us ever want or expect to experience an injury or getting lost on the trail, or having to call for Search & Rescue," Meghan explains, "but it happens and you need to be prepared."
Before your next trip into the outdoors, let's unpack the Ten Essentials list and get a few personal additions from Meghan herself.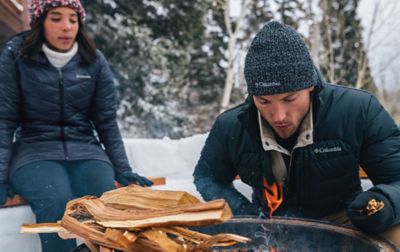 The Ten Essentials
1. Food:
Adventuring burns calories—there's no getting around that. And in
cold weather
, your body needs even more calories to stay warm. Ideally, you should plan your backcountry meals around calorie-dense foods that require little to no prep. Backpacking with freeze-dried foods, protein bars, jerky, and nut butters are all great lightweight choices that will fuel you up without slowing you down. Young adds that you should always anticipate your trip taking longer than planned and carry at least one day's worth of extra food, possibly more depending on how remote you will be. "You might also find yourself in a position where you're assisting another party who is hurt or otherwise out of supplies, and having food to share might make a huge difference in their rescue and recovery," she explains.
2. Water:
Our bodies need plenty of water to function properly, and dehydration is the last thing you want to deal with in the wilderness. It can be challenging, however, since at a little more than eight pounds a gallon, there's only so much you can carry. That's why it is important to not only bring a
water bottle
, but have a way to purify water too. This allows you to replenish your supply if you need to. Even the most pristine-looking lakes and streams can harbor bacteria and viruses, so you'll need some sort of water purification system. "Thankfully, there are many cheap, easy options available to filter or treat your water to make it safe to drink, from water purification tablets to filters to good old-fashioned boiling," explains Young. Your water treatment system will vary depending on temperature, terrain, and the size of your party. Also, some filtration systems won't work in certain conditions, like freezing temperatures. So choose the system that best fits with your specific situation. "As a backup measure, we carry Aquatabs in our first aid kit, packs, and even in our car. In a pinch, we know we can use them for safe drinking water," she adds.
3. Fire Starters:
Fire serves many purposes in the backcountry—keeping you warm, boiling water, cooking food, or even signaling to rescuers that you're in trouble. Waterproof matches or lighters are essential, and it also helps to have some sort of easy fuel since there may be times when you'll need a little extra help to get the fire going. Young explains that it's important to make sure your fire-starting kit is seasonally and geographically appropriate. For example, if you're
camping in wetter climates
like the Pacific Northwest where kindling is often damp much of the year, you'll need to carry some sort of compressed fuel like wood chips, Vaseline-coated cotton balls, or chemical fuel. Young notes that the internet has a host of
camping hacks
for making your own fire starters at home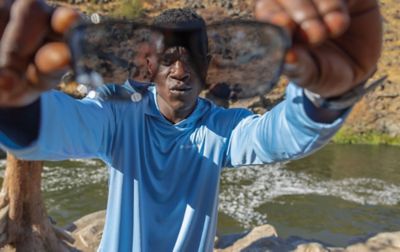 4. Knife or multi-tool:
"A good knife or multi-tool is a key part of every kit," explains Young. Use it for everything from prepping food to cutting bandages to making gear repairs. It's also an
essential tool
for cutting branches into kindling and can even help you fend off wildlife in rare instances.
5. Sun protection:
Protecting yourself from the sun is vital to a successful adventure. "The last thing you want on a multiday trip is a horrific sunburn, which can devolve into further complications depending on the heat and exposure," says Young. While it's important to bring plenty of sunscreen,
UPF-rated clothing
is also a great way to avoid serious sunburns while also
keeping you cool
in warmer temperatures. Young points out that it's also important to protect your eyes from the sun.
Sunglasses with UVA/UVB protection
are especially important if you'll be spending prolonged periods in the snow, where repeated exposure can cause a condition called snow blindness."
6. First aid supplies:
A well-stocked first aid kit should have everything you need to treat both common and more serious injuries that could happen on the trail. You can purchase a ready-made kit or buy the supplies individually and store them in a waterproof case. Also make sure to restock regularly used items such as Band-Aids, blister bandages, and insect bite treatments at least once a season. Young also suggests taking a basic first aid course through the Red Cross or your local mountaineering organization. "With the right supplies and knowledge, you'll hopefully be able to manage injuries as they arise
on the trail
, and be equipped to make it home or make it to the appropriate care safely."
7. Insulation & extra clothes:
The weather can change in an instant—especially in the mountains and at higher elevations. Those sudden changes in conditions can get unprepared hikers and backpackers into trouble. "Having the appropriate layers to
stay warm
and dry can be the difference between comfort and safety," Young explains. "Go for items that have low bulk and high impact—a
rain shell
,
hat
or
balaclava
, additional
baselayers
, and a warm midlayer." A
fleece
or
puffy jacket
midlayer often provides ample warmth, but in more extreme temperatures you'll want to look for technologies that are designed for additional warmth, like advanced thermal reflective
Omni-Heat™ Infinity
. Lastly, Young reminds you to avoid cotton. "It's best to avoid cotton and opt for synthetic or natural fibers that are
moisture-wicking
and able to stay warm when wet."
8. Shelter: "Whether you're spending an unexpected night outside or just sitting out an unexpected storm, a shelter is key to staying safe and comfortable," begins Young. As with most of these items, adjust accordingly to terrain and season. Opt for a small, lightweight backpacking tent, a bivvy bag, a space blanket you can seek shelter under, or even just the know-how to construct an emergency shelter in the environment you're in. But whatever option you choose, make sure everyone in your group is well-versed in setting it up quickly to get out of the elements as soon as possible.
9. Navigation: GPS devices and cell phone apps can typically provide reliable navigation. But should those electronic devices fail for any reason (battery, cold temps, lack of service), it's important that you be prepared with the necessary old-fashioned backups so you get safely back to where you started—not just a map and compass, but also the ability to properly use them. Young suggests checking your local retailer or mountaineering organization for classes on using a compass and properly reading a map before heading out.
10. Headlamp & illumination:
When the sun starts to go down, your headlamp should go on. "If you've ever found yourself unexpectedly on the trail after dark, you know why this is so important," explains Young, because as your surroundings grow darker, illumination is critical in making sure you stay on the trail while avoiding perils like steep drop-offs and obstacles like boulders or fallen trees.
A headlamp or flashlight
can also be used to signal other parties or rescuers should you need assistance.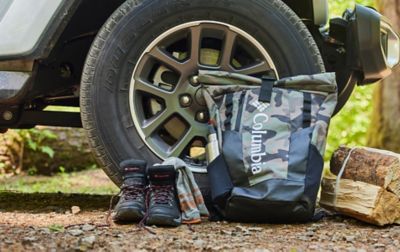 A Few Essential Additions
In addition to the Ten Essentials, Young recommends a few other things as must-have items for your wilderness checklist:
Personal locator beacon (PLB) or satellite communication device: Should you get into trouble and need help while deep in the wilderness, the best thing you can do is make yourself easy to locate. And a PLB does just that. "We carry PLBs or satellite communication devices with us on most of our adventures these days," says Young. She adds that these devices are not intended to be a substitute for smart planning, but they can add a certain level of peace of mind.
Extra supplies to leave in the car: Your vehicle is your personal basecamp—stock it accordingly with dry clothes, as well as extra food and water. A warm hoodie and fresh bottle of water are nice treats to come back to before you hit the road. You'll also be better prepared should your trip back be delayed due to mechanical issues or road conditions. TIP: Store your supplies out of view as best you can as vehicle break-ins are becoming more common in wilderness areas.
Sharing a pre-trip plan: "Before you hit the trail, particularly for big objectives, you should let trusted people know a few key details," advises Young. Make sure someone you know has each of the following details that can help rescuers locate your group should you run into trouble and require help:
Where you're going
When you're going
What vehicle you're taking
When you plan to return
Your planned route and daily distance goals
Any other details (color of backpacks, jackets, etc.)