Men's Platinum 860 TurboDown™ Hooded Down Jacket
Details
http://www.columbia.com/mens-platinum-860-turbodown-hooded-down-jacket-1567841.html
1567841
Greater Rewards
members earn

1499

points with purchase
Variations
Product Actions
Features
Packing serious heat for the active winter adventurer, this progressive men's jacket is outfitted with our performance-enhanced down—a combination of 60 g Omni-Heat® synthetic insulation and 800-fill goose down means 860 TD of ultimate lightweight warmth and heat retention, even when wet. The rich, water-resistant shell fabric has a lovely sheen, and the clean, fine-tuned design will take you from mountain to street with ease.
Features:
860 TurboDown™ insulation
Omni-Heat™ reflective lining
Water resistant fabric
Drawcord adjustable hem
Zippered hand pockets
Hood
Center back length: 28"
Imported
Fabric
:
Shell: 100% nylon 30D Micro Rip-Stop
Lining: 100% polyester Omni - Heat™ Reflective Microtex DP
Insulation: 800 fill goose down + Omni-Heat™ synthetic insulation, 60g
Omni-Heat™ Reflective
Thermal Reflective Warmth
Technology Videos
PERFORMANCE
ENHANCED DOWN.
Like a down jacket on steroids.
But it's legal.
Omni-Heat™ Reflective
Magic in a little
silver dot.
Breathable material with little silver dots that reflect body heat.
Reviews
Rated

4.1

out of

5

 by

41

reviewers.
Rated

5

out of

5
 by
CalHollow
Perfect for Chicago Winters!!
I purchased this coat for walking/biking to class in the famously rough Chicago winters. A few weeks ago I got a great chance to test this coat out in a few single digit weather days. This is one of the warmest jackets I have ever warm. You can definitely tell that you're getting your moneys worth when you see how warm this coat is and then combine that with the weight of the jacket. It is extremely light for it's warmth. I felt completely warm while only wearing this jacket in temperatures down around 15-20º. I wore a sweatshirt underneath the jacket in temperatures below 0º and my upper body stayed extremely warm. The jacket feels very sturdy and put together. As far as the fit, this jacket is slightly large. I am a former collegiate athlete with a larger torso (6'1, 200lbs) so the jacket fits great, but those who have smaller builds might want to purchase down one size. I normally wear a Large in my clothing and the 'Large' fit well with enough room to wear a sweatshirt, sweater, or scarf underneath. The jacket also has an adjustable drawstring around the waist so that the coat may be pulled tighter around your waist. The jacket also features elastic cuffs that keep the sleeves tight around your gloves. This jacket is a great option for those looking to invest in a great lightweight EXTREMELY warm winter coat. Overall this is a great jacket that I am extremely satisfied with and would recommend to anyone in cold weather environments.
January 2, 2017
Rated

5

out of

5
 by
WLIN47906
Good product
I bought this product when it was on sale online and overall I feel like I got a very good deal. I was a bit hesitant when buying size M because I had read a lot of reviews on this site as well as others about issues with size. The size is good. It's not too big so even if you want to wear this jacket with just one layer underneath it looks fine. It's not too small so you could fit it 2 to 3 (haven't tried 3 yet) layers underneath this jacket. For reference, I'm 6'2" and 159 lbs. Now coming to the jacket, the fit and finish is very good and is on par with jackets from other brands. Obviously, might be a notch below extremely expensive brands but the finish is still really good. Coming to the warmth aspect of this jacket. I found that this jacket kept me warm with a long-sleeved thermal underneath in temperatures of about 20 degrees (-7 celsius) give or take with wind chills up to 6 degrees. I haven't worn it below these temperatures but the jacket kept me really toasty in these temperatures and doesn't allow wind to come up the sleeves thanks to elastic at the end of the sleeves. I would recommend this product and I'm convinced it will keep me warm for temperatures up to 0 with just a single thermal long-sleeved layer underneath. Below those temperatures, it would be advisable to add additional layers, but this jacket does a very good job at blocking the wind and keeping light rain and snow out thanks to its waterproof layer. Overall, a very good product for the price.
December 9, 2016
Rated

5

out of

5
 by
fredjohnson
Nice jacket
My first heat reflecting jacket. I like it. Lightweight, high quality down. The hood and waist have cinches to close out the wind. Wrists have elastic to keep out the wind. Has 2 zippered outside pockets and a small zippered inside pocket also. They've thought of everything on this jacket. I don't think it will be warm much below 20 degrees or so, but a fleece underneath should keep you warm to around 15 degrees. I live in MN so it does hit 20 below zero and you'd need a fleece under and a shell over this jacket for those temps. I'm 6'2", 180 lbs and a medium fit me nicely. I usually wear L or even XL but this one runs big.
November 3, 2016
Rated

5

out of

5
 by
Bader1
turbodown
My husband loves it :-)
October 22, 2016
Rated

5

out of

5
 by
Lookooo
Perfect!
Really Excellent....!!!!
August 12, 2016
Rated

5

out of

5
 by
NCman
Great Coat!
This down jacket its really quite nice and looks great. I wore it all last winter and really enjoyed its performance. Matter of fact I liked it so much, I didn't wear it backpacking, ice climbing or any event in the woods b/c I didn't want to hurt it! I used it as my town, work jacket etc. This winter it will not be so lucky...
August 9, 2016
Rated

4

out of

5
 by
Lou2016
Great Concept
This is a very nice jacket. The TurboDown concept is great. It's light and warm. However it runs too large. The colors are limited. Had to return it.
May 17, 2016
Rated

3

out of

5
 by
TheMickster
Fits Too LARGE
I bought this hoping it was TRUE TO SIZE and it is NOT. I am 6 foot 1 and 160lbs, and yes, I am a twig and legs. This jacket fit large in the chest and waist. The sleeves fit well in a large but a medium is too short. This jacket would fit well for the bigger boned.
May 10, 2016
Rated

3

out of

5
 by
shaunyboy
A little too big
It runs a little big in awkward areas. Had to return it because it was too big in the arms and front.
April 7, 2016
Rated

5

out of

5
 by
david23
Warm Jacket, Gets the Job Done
This jacket is great for a light weight option for morning commutes into the city. With about a 10 block walk in the mornings, the jacket keeps me warm and does weigh me down.
April 5, 2016
Rated

5

out of

5
 by
dvfox
Very Happy
The turbo down hooded jacket performs better then I expected. Its very lightweight but keeps the warmth in plus the hood comes in handy when I don't feel like wearing a hat. I love it.
March 23, 2016
Rated

4

out of

5
 by
CMJB
Great comfort
This coat is lightweight with incredible insulation that keeps you dry and toasty. No need to layer up with this coat, the closer it is to bare skin, the warmer it is!
February 7, 2016
Rated

2

out of

5
 by
MattB
Way Too Big
I am 6'0 and 160 lbs. I bought a large and like other have said, it was way to big in the front. The length was good but I could've fit two of me's in the jacket. I returned it.
February 3, 2016
Rated

3

out of

5
 by
Kdavi
MEN'S PLATINUM 860 TURBODOWN™ HOODED DOWN JACKET
As other reviewers have stated, this jacket is way too large around the middle and therefore has a poor fit. Returned it.
January 24, 2016
Rated

4

out of

5
 by
wannabeoutoorsman
Turbo Down
Incredibly light for the warmth it provides. I would recommend it as a good daily coat in the winter times here in Utah. It did run a little large, as I normally would be a large in many Columbia items, the large here was too long and too wide so I had to exchange it.
January 23, 2016
Rated

5

out of

5
 by
Jman55
Great Product
This coat fits great. Climate controlled very well. Heavily complimented.
January 8, 2016
Rated

5

out of

5
 by
Kosal
Turbodowm 860
Very comfortable and light. The warmth it keeps inside is excellent.
January 6, 2016
Rated

4

out of

5
 by
Korban
Very Warm but runs a little big
I used this jacket for about an hour in 15 degree Fahrenheit weather in the dark. It kept me plenty warm. The jacket was a little large around the waste and could have fit someone 30 lbs bigger with some room to spare. I am 5'9 and 140 lbs. I could have done fine with the size but I missed the security pocket that other down jackets have so I am returning it.
January 6, 2016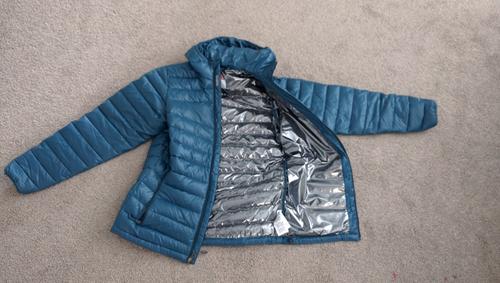 Rated

4

out of

5
 by
SifSyd
From toasty warm to chilly and back
I got this good-looking jacket almost 3 weeks ago. The first thing you notice is it looks great. I've received quite a few compliments on the jacket. I am 5'7", 193 lbs. The fit runs just a bit large, in a good way. I usually wear 3 layers - thermal, shirt, sweater and I can still fit another layer. The jacket keeps me toasty warm. I walk to and from work for about 30 minutes and I am warm all the way. I start to feel cold when I am not moving. Standing out in the lower 20s, I usually go from toasty to a slight chill in 10 minutes. My other issue is with the pockets. Most small things tumble out of the pockets and I have to keep the zips up. I also miss having an inner pocket. Both issues aside, this jacket is good at keeping me warm and looking great.
January 4, 2016
Rated

5

out of

5
 by
BibianAmaya
Check your size first!!
I got this jacket in Christmas for my husband. He loves it but chest and stomach area fits a little wide. He is 162 lbs. and 5'7. If you are taking advantage of any on line discount my advise to all people is to go to any store carrying this brand and try on something similar. He decided to keep it !!
December 30, 2015
Rated

5

out of

5
 by
Johiz18
AWESOME JACKET
A really well made jacket with an excellent material that fits the needs of the cold weather. It was a gift for my husband and he is extremely happy.
December 26, 2015
Rated

3

out of

5
 by
Darion
Good product
Great product A+++++
December 24, 2015
Rated

1

out of

5
 by
fabian
Depends
Although it has the highest fill quantity on the website, it is a very thin jacket. I do not recommend it for a winter in NYC. Maybe it is good to go to the movies with.
December 21, 2015
Rated

5

out of

5
 by
dk511
Great Jacket!
Awesome and lightweight, which is perfect for hiking trips. Can be folded down to fit into a pack and doesn't take up too much space. Fits really well. I'm 6'1'' and 150 lbs. More slender body type so a small fit well enough to leave room for a sweatshirt underneath. I already have a rain proof outer shell that fit nicely on top of this jacket. Feel totally comfortable in this during 40 degree weather.
December 19, 2015
Rated

5

out of

5
 by
TylerJayy
Great Light weight athletic coat.
This Coat has been doing great is a very cold CO winter. Its very lightweight and heavily insulated, the fabric is high quality and the Omni heat reflective layer seems to really hold and reflect heat against the body. This is one of those coats where if your sitting down for 3 hours at a football game you may get cold, being as the fabric is water resistant. However, for shoveling, hiking, snowshoeing, or snowboarding/skiing this is my go to jacket. The only draw backs on this coat are the lack of interior pockets, and non adjustable hood/wrist cuffs. Overall, one of my favorite winter pieces that does well in temps 0`-30`.
December 15, 2015
Rated

4

out of

5
 by
leosmart
Great insulated
I bought this for a friend as a gift, hope that he likes it.
December 11, 2015
Rated

3

out of

5
 by
kremesko
Columbia needs to adjust sizing, way too big!
Nice jacket, but it is extremely big for medium. It was not little large, it was extremely large on my man who always wears mediums.
December 9, 2015
Rated

5

out of

5
 by
Camero
Great jacket!
Very nice jacket! Keeps warmth in and cold and wind out! Love the hood on it!
December 1, 2015
Rated

5

out of

5
 by
rainbowunicorn
Great jacket
Super warm and not too bulky. I originally purchased the Flash Forward jacket, but returned it because it was too thin. It was like a plastic garbage bag. The Platinum 860 TurboDown™ Hooded Down Jacket is just right.
November 19, 2015
Rated

1

out of

5
 by
Nick615
What a Disappointment
Wow, I was so excited about receiving this jacket... Until I pulled it out of the package. I ordered this jacket in a Large because I felt that my North Face Summit Series jacket in an XL was a bit too large for me. This jacket is HUGE, there is no question about it. I am not picky at all about my clothes sizing but this jacket comes all the way down to my knees and I can fit at least two, if not three of my bodies inside of it. It is much, much bigger than my TNF Extra-Large, surprisingly. The wind cuts right through the thin, flimsy "down" filling. I have always been a fan of Columbia but man did they mess this jacket up. Also, the seams on the right side of the jacket are all ripped up and there are threads coming out all down the side of the jacket. The fabric is also sticking out where they cut it and you can notice it from a good ways away. Overall, this jacket was a huge letdown. I was really hoping it would look like it does in the picture and fit my well, but that is simply not the case. I'm not a picky person whatsoever, but do not purchase this jacket. I will be purchasing another North Face Summit Series and won't be looking back!
December 15, 2014
Rated

5

out of

5
 by
peanut1
Gave as gift and Chicagoan loves it
The person I gave this to really likes this jacket. He is using it in Chicago. After 2 weeks of wearing it, he says it is: Comfortable, light weight, and warm. Versatile too.
December 6, 2014
Rated

5

out of

5
 by
RandyK
Great coat
Warm and light, not bulky at all. Slimming fit in a t-shirt but enough room for a sweatshirt. Very comfortable.
December 5, 2014
Rated

1

out of

5
 by
Hubbyswifey
It is not warm at all
This jacket is not warm at all. We live in Delaware which is not even that cold. The weather was around 32-40 degree for the past week. My husband was freezing cold with this jacket on! We paid $200 for this jacket which is so not worth it!
December 4, 2014
Rated

4

out of

5
 by
pren2028
awesome
love the jacket. My only complaint is that it is a tad thin, i was expecting something a little bit heavier. But maybe that is a good thing! It is really warm. I am 6ft, 175 and a medium fits perfectly.
December 3, 2014
Rated

4

out of

5
 by
Northside
Good looking jacket
Good looking jacket with the right combination of price and quality. Used in temperatures of 20 to 30 F (wearing thin clothing) with no problem. Haven't tried in colder temperatures. Good: appears to be of sturdy construction, lightweight, has a drawcord on the hem. Bad: no inside pocket/s, no lining in the outside pockets, hood is not adjustable (but fits me fine) Sizing: Height 5'11", Weight 155 lbs. Small fits fine with enough room for layers. Would like the sleeve to be 1/3" or 1/2" longer but not a big deal.
November 26, 2014
Rated

5

out of

5
 by
TheSnowman
True as Advertisied
Bought a Large Bright Red jacket online. I've worn this out already into weather in the teens with wind and have been pleased with it. You don't have to/want to multiple layer underneath this jacket. You will cook yourself in the car if you wear it with the heater on! * Note: Zip your pockets or you will lose your gloves with the way the pockets are designed. I wish it had an inside pocket for a hat but I just put both gloves in one side and the hat in the other pocket. Zipped.
November 26, 2014
Rated

4

out of

5
 by
jesse1
good jacket/ fair price
I've had this jacket for about 2 weeks now and I like it. Its kept me warm outdoors at night (temps are low 20s). Nice jacket overall I liked it better then others I tried on, fit wise anyway. I can not compare it warmth wise, since stores do not let you wear the jackets outside.
November 22, 2014
Rated

5

out of

5
 by
SMWrongway
Love this jacket
I camp, go to football games and generally like to stay warm outside during the winter months. I had been searching for a jacket of this type for a couple of months, checking out different brands and for the cost, weight and look of this jacket was the deciding factors for me. The fit is better than I thought it would be. With the recent, unusually, early cold snap, I received it in the nick of time. I have been very pleased with how warm I was able to stay during my University Homecoming game and going to and from work lately. I have not had reason to see how dry it will stay, but overall, very satisfied.
November 19, 2014
Rated

4

out of

5
 by
MRDobalina
Great Casual Down
5'9" 180lbs - Climbers build - barrel chested- Broad shoulders Pros: -Great hood -Very comfortable -The orange isn't gross -Sleeves fit very true to size -pockets are solid -does not over heat Cons: -The torso fits very large. Where the rest of the jacket feels true to size, my torso is swimming in it. -is not as warm as my 7 year old TRADITIONAL 800 fill down. I have not been impressed with the warmth of this jacket. Overall -Great jacket if you are not spoiled by 'OLD BIG PUFFYs'. -The size thing is something to consider. This is a perfect jacket for everyday cold and your next weekend outing!
November 19, 2014
Rated

4

out of

5
 by
wyomt
Turbodown 860
It's a nice Jacket overall and I'm glad I bought it. There are a couple small things I think could be done to improve it though. It needs a draw strings on the hood and an inside chest pocket, then it would be about perfect. It's really light, the Omni heat seems to work. Great jacket for playing outside in.
November 14, 2014
Rated

4

out of

5
 by
Enforcer641
Nice Jacket
Have only had temps in the low 30's high 20's to try it in and for its light weight its warm enough for that. One thing I do wish this jacket had is a drawstring for the hood. It only has elastic around the hood opening and no way to tighten it. On day when it cold and windy here in the Chicago area Ill probably stick with my TNF Summit Series for its additional warmth and drawstring hood, however on regular winter days this is fine
November 5, 2014
2017-02-01
bvseo-cps-pl-PRR
2017-02-01 T14:26:40.536-06:00
bvseo_lps, prod_bvrr, vn_prr_5.6
cp-1, bvpage1
co_hasreviews, tv_41, tr_41
loc_en_US, sid_1567841, prod, sort_default
Size & Fit Guide
Size & Fit Guide
Men's Fit Guide
Performance
Body contouring fit conforms to movement.
Performance
Active
Body skimming fit with end-use mobility in mind.
Active
Modern Classic / Regular
Universal, easy fit for comfortable range of motion.
Modern Classic / Regular
Relaxed
Most generous fit for a full spectrum of movement.
Relaxed
Men's Body Measurement (Inches)
Size
Pant Size
XS
28-30
S
32
M
34
L
36
XL
40
XXL
44
Neck
14-14.5
15-15.5
16-16.5
17-17.5
18-18.5
19-19.5
Chest
32-35
35-38
38-41
42-45
46-49
50-53
Sleeve Length
32
33
34
35
36
37
Waist
26-29
29-32
32-35
36-39
40-43
44-47
Hips
32-34
35-37
38-40
41-43
44-46
48-50
Inseam
Varies by Item
Size
Pant Size
L
36
XL
40
XXL
44
Neck
17-17.5
18-18.5
19-19.5
Chest
42-45
46-49
50-53
Sleeve Length
35
36
37
Waist
36-39
40-43
44-47
Hips
41-43
44-46
48-50
Inseam
Varies by Item
How to Measure
1.

Neck:

Measure at the base or thickest part of your neck.
2.

Chest/Bust:

Measure at the fullest part of the chest, under the armpits and over the shoulder blades, keeping the tape measure firm and level.
3.

Waist:

Measure around the natural waistline, allowing the tape measure to sit comfortably.
4.

Sleeves:

Start at the center back of your neck and measure across the shoulder and down to the wrist. Round up to the next even number.
5.

Inseam:

Measure from the top of the interior leg to the bottom of the ankle.
6.

Hips:

Measure around the fullest part of your hips.
How to Measure
How to Measure
Fold up at dotted line.
Place against a wall or other 90 degree surface.

Place heel against fold/wall on flat level surface.
Mark the end of the longest toe with a pen or pencil.
Measure both feet and use the larger measurement.
Read measurement and compare to size chart.
When comparing on the size chart, determine the closest larger measurement and use that number to determine your shoe size for your country's shoe measurement standard.
Shipping & Returns
Shipping & Returns
Shipping Information
Shipping Method
Rate
Expected Delivery Time
UPS Ground
$6.00
3-7 Business Days

UPS 2-Day Air
$12.00
2-3 Business Days
UPS Overnight
$19.00
1-2 Business Days
Free Standard Shipping
Available for Greater Rewards members. Learn more
Return Policy
Returns are accepted within 60 days of the purchase date online or in-store. Your apparel must be in original and unworn condition, with tags still attached. Footwear returns must also include the original box.
Still Have Questions
See our Customer Service section for more details. Visit Customer Service