Creating Body Positivity in Outdoor Spaces
Creating Body Positivity in Outdoor Spaces
From expanding product lines to hiring plus-size models, Columbia Sportswear is working to increase body inclusivity in the outdoors
"My hope is that as we get more representation, customers will be more inspired to get back outside and trust that there are options for them, regardless of their size."

~Marielle TerHart
When Andy Neal first started hiking and spending time outdoors, he never thought it would lead to a career as an outdoor and fitness model. According to the Oregon resident, he'd always considered himself to be a "behind-the-camera" guy.
As a size 3XLT, he'd often felt alienated by the outdoor industry's steady flow of advertisements featuring hyper-athletic guys with trim, chiseled physiques.
"There's a standard of beauty in the men's fashion industry that shows a certain type of guy—muscular and thin," Neal explained. "This is especially true in the outdoor industry. Big-and-tall guys like myself are accustomed to seeing very fit guys with six-pack abs 'conquering' the outdoors.
"So much of the outdoor hiking and climbing spaces have felt like they weren't for me because of my size," he added.
That all changed, however, earlier this year when the outdoor enthusiast—who also hosts
The Hiker podcast
—signed a modeling contract with Columbia Sportswear. Since then, he said, his confidence has soared. He's developed a new relationship with his body, which he described in an August Instagram post:
"The last few months have shown me that despite the fact that I don't fit into typical male beauty standards, I have something to give," he wrote. "For so long ... I thought because I was chubby, plus-size, fat, extended size, husky, that I had nothing to give. ... The outdoors gave me confidence to change that."
Extended size model Andy Neal signed a contract with Columbia Sportswear earlier this year, illustrating a growing demand in the outdoor industry for greater body inclusivity in advertisements and social media campaigns.
Growing inclusivity
Neal's contract reflects a growing interest among outdoor brands to feature more diverse body types in their marketing campaigns. The avid outdoorsman, who will be featured in Columbia's
Tough Mother Outdoor Guide
as well as ongoing social media campaigns, is just one of a handful of plus-size influencers to sign contracts with the brand this year.
The new talent echoes a broader initiative on the part of Columbia to expand its
plus-size outdoor clothing
and connect with a greater segment of its consumers. (The company, who's founder Gert Boyle was a plus-size woman herself, has been making extended-size clothing for more than 15 years.)
One of the catalysts for the recent push was a conversation the brand had last winter with women in the ski industry about
body inclusivity in snow sports
. They pointed out how difficult it is to find technical winter gear available in extended sizing, noting that selections are extremely limited and typically only offered online so customers can't try on options the way they can in brick-and-mortar stores.
Marielle TerHart, a winter sports enthusiast from Alberta, Canada, spoke extensively about the problem, explaining that even though approximately
68 percent of American women wear clothes larger than a size 14
, most ski clothes stop at XL or XXL. In addition to the practical inconvenience, the lack of options often makes plus-size consumers feel unseen or unwelcome in the outdoor community.
The same holds true outside the ski industry for activities like hiking, fishing, backpacking, and trail running. The fact that larger bodies aren't featured as often in advertising campaigns just adds insult to injury, she said.
"Brands and businesses need to be figuring out how to get involved in our communities," TerHart said. "They need to figure out how to genuinely show up and listen and learn about what the plus-size customer needs, how we are feeling underserved. To make us feel wanted as a demographic by your business, not as an afterthought."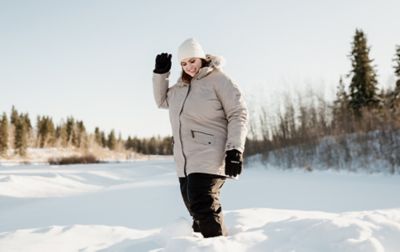 In March, Columbia Sportswear hosted an
Instagram Live event
with body positivity advocate Marielle TerHart to discuss inclusivity in the outdoors.
Making changes
The November conversation sparked a series of initiatives at Columbia, one of which featured TerHart in a campaign called
"Being Beautiful at Any Size."
She was also spotlighted for an
International Women's Day
promotion and invited to do an
Instagram Live event
about body acceptance in the outdoors.
As these marketing campaigns got underway, the brand also ramped up its ongoing effort to expand the number of products it offers in extended sizes, increasing the total by 10 percent from last year. Among other additions, several plus-size pieces now feature the new
Omni-Heat Infinity technology
.
In the past six years, the brand has increased the percentage of its women's apparel available in plus sizes from 14 to 50 percent.
TerHart said that her experience with Columbia's recent extended-sizing initiatives hasn't just been about feel-good emotions. From a practical standpoint, she's been better equipped to handle the cold weather—a fact that's especially meaningful in the Canadian Rockies where she lives and often has trouble finding appropriate clothing.
"Having access to outdoor apparel has made it easier for me personally to get outside and enjoy nature, which has been such a joy over the last year," she said.
TerHart also noted that since the
Tough Mother article
ran, women have contacted her about being able to find more
extended-size gear
because now they know where to find it.
Outdoor brands often don't advertise their extended-size lines as prominently as their straight sizing, she explained, which can lead consumers to not know it's available at all.
"I think a lot of plus-size folks have felt left out of the outdoor space for so long that they've stopped checking the size charts," she said. "A lot of people had no idea until they read that article that Columbia offers sizing up to a 3X in women's apparel.
"My hope is that as we get more representation, customers will be more inspired to get back outside and trust that there are options for them, regardless of their size."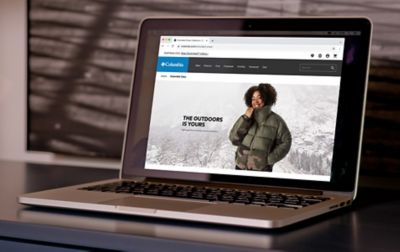 Earlier this year, Columbia Sportswear updated its website to make it more user-friendly for extended-size customers.
A friendlier shopping experience
Andrea Kelly, Columbia's senior merchandiser of extended sizes, has been working on a handful of projects this year, one of which has been helping the company's e-commerce designers make its website more user-friendly for extended-size customers. In addition to basic UX tweaks (such as adding filters or changing product locations), they created a full-sized
landing page
to highlight extended-size apparel.
The goal of updates is to better represent extended size consumers and make them feel more welcome. Not only that, to create a smoother shopping experience and reduce some of the common frustrations they face. As a plus-size woman herself, Kelly said she's had to deal with those frustrations firsthand and it is personal to her.
"As plus-size consumers, we've been ignored and overlooked for so long," she said. "We're exhausted by it all and we have very limited patience for hunting and pecking to find products, whether it's in-store or online. So the simpler we can make the shopping experience for consumers, the more likely they will be to return."
In addition to website updates, Kelly said she invited a group of athletes in the body positivity space to meet with some of Columbia's clothing designers earlier this year. The goal was to offer feedback and educate them about the needs of the extended-size customer.
It's something she will now be incorporating every year into her seasonal planning sessions.
"I don't want to say to the plus-size consumer, 'Here's what you can have.' I want to say, 'What is it you want?' I want the consumer to be able to decide for themselves, not just settle for what they're given.
"By getting input from folks who are actually using the product—even if they're not officially wear testers—it gives us an insight into what's really important to that consumer. And it helps us build a better product."
The group offered valuable insights into how to solve common problems, she said. Sleeve length, for example, is an ongoing challenge when creating extended-size clothing. It can often be mitigated, however, with the selection of cuff closures.
"If you have a cuff that just has elastic, it's not gonna do much for a customer with shorter arms," she explained. "Same with a snap closure. But if you have a
cuff with Velcro
, you can crank that baby as tight as you want on your wrist and it's not going to slide down anywhere.
"They gave us a lot of insights into how to solve some of those fit issues. And these findings help us improve our products for all of our consumers, regardless of their size."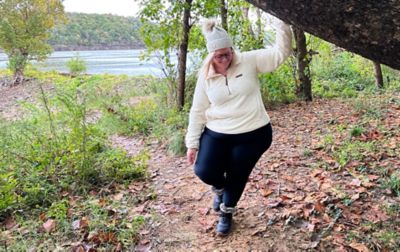 Chelsea McCurdy is one of several body positivity influencers who began working with Columbia Sportswear this year. "As a plus-sized person, I don't normally see bodies like mine being represented by big outdoors brands," she said. "Seeing that representation shows other plus-sized people that they are deserving of proper gear and that they belong in the outdoors too."
Beyond product insights, she said that Columbia is continuing to develop new relationships with folks in the body positivity space, including popular influencers such as
Megan Banker on Instagram
and
Chelsea McCurdy on TikTok
. Product lines are expanding and Kelly represented the brand at several Diversity, Equity, and Inclusion events in the apparel industry.
And while she acknowledges that there's still a long way to go—including expanding extended sizing beyond 3X—progress is nevertheless being made.
"Columbia has been doing this for so long that it makes it far more simple than starting from the ground up," she said. "We're in a good spot. It's not perfect—we have a lot to do still. But we're getting there."
TerHart agreed that while work still remains, the industry is heading in the right direction.
"Brands are finally beginning to listen to the calls for inclusive outdoor apparel. There is always more work to be done as companies strive toward size inclusion—including at Columbia—but I am excited and optimistic that we are finally getting somewhere."
Meanwhile, big-and-tall models like Neal said the changes thus far have made all the difference on a personal level.
"I get emotional thinking about it because I've struggled with body image issues my whole life," he said. "Even when I was at my most fit in high school, running five miles a day with the track team, I was always the biggest guy.
"To have Columbia want to include me in an ad campaign and tell me I look good in their clothes gives me confidence that I've never had before. It has positively impacted my mental health and carried over into my family, career, and outdoor recreation.
"It feels like there's nothing I can't do."
This article is the second in Tough Mother's "Body Positivity in the Outdoors" series. Stay tuned for more.