How the Mountains Inspire These Ski Artists to Create
How the Mountains Inspire
These Ski Artists to Create
Three artists discuss their love of the mountains—and how that passion drives their work
"Sliding through mountains feels like freedom and evokes pure joy."
Vanessa Stark, Pemberton, British Columbia
Skiers and snowboarders aren't your average recreationalists. They often feel called to the mountains, exhibiting a passion for the sport that goes beyond the simple thrill of sliding on snow. For many, skiing and snowboarding is a spiritual practice, so much so that some skiers jokingly refer to the mountains as "church."

Given that, one can imagine that skiers who are also artists feel a connection to the mountains that's practically divine. Many have turned that inspiration into rewarding careers.

Columbia Sportswear sat down with three of these unique artists to discuss their careers and where they find their inspiration.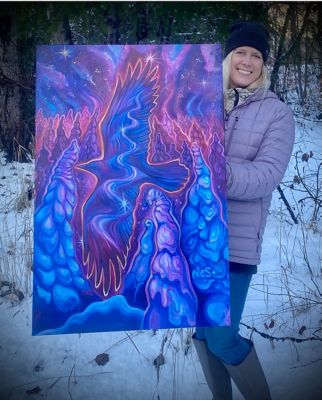 Vanessa Stark has been painting mountain landscapes since she was a teenager. Above, she holds one of her paintings titled "Flow & Feather - Spirit of the Mountain."
Vanessa Stark, Pemberton, British Columbia
Vanessa Stark says she can't remember a time without art.
The native of Langley, British Columbia, who moved to Whistler at age 17 to be closer to the mountains, has been painting, drawing, and sketching her entire life.
It gives her an outlet to express herself, she says, and provides a place of refuge.
"Art was my first language and continues to be one of my sanctuaries."
Her other sanctuary? The mountains. Stark explains that when she goes into the wilderness or
spends time in nature
, she often has "visual and spiritual epiphanies."
"Adventures in the mountains absolutely light my soul and fuel my inspiration."
In addition to fine art prints, Stark's drawings and paintings have appeared on snowboards, ski resort posters, ski jackets, gloves, magazine covers, and other elements of the snow-sports world.
Her client list includes ski industry names such as Whistler Blackcomb, Mountain Sledder Magazine, Prior Skis and Snowboards, and others.
Stark's main focus is visual art, primarily in the form of drawings and acrylic paintings, but she's passionate about film, sculpture, photography, dance, and music as well.
"The mountains are magic. They feel like a puzzle piece of the tapestry that keeps me whole and fueled, happy and healthy."
Vanessa Stark, Pemberton, British Columbia
Although opposites in terms of the physical exertion required, snowboarding and art are actually similar, Stark explains, because they both offer "portals to flow states." Whether she's riding through a powder field or getting lost in an intricate painting, she can focus entirely on what she's doing in the moment.
"Sliding through mountains feels like freedom and evokes pure joy, especially on powder days. There's something absolutely spiritual,
therapeutic
, and connective about being high in the alpine or deep in a snow-caked forest. I try to share this feeling through my paintings."
When integrated into her life in equal parts, these passions work in harmony to provide her with peace and balance, she says.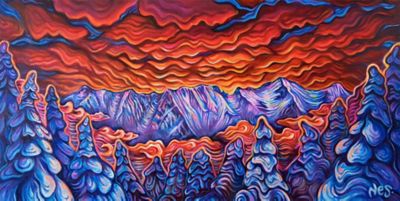 Stark says she has a "galaxy of ideas swirling at all times." Above, a painting titled "Love, Lines and Light."
Stark has felt a deep passion for snowboarding since the first time she tried it in 1991 at age 15. Beyond the adrenaline hit, she loves the way it physically connects her to the mountains. And the fervor she feels for those spaces comes through visually in her artwork.

Her pieces, which are rich in color, elicit the sense of peace and spirituality that she describes. Some of her more popular paintings include "Spirit Wolf," "Winter Solstice Moon," and "Ursa Bear," all of which evoke ethereal nighttime vibes.

One of the most rewarding aspects of Stark's profession is when she spots her work out on the mountain, she says.

"I'll be in the resort or backcountry and see people wearing and riding my artwork on snowboards, skis, gloves, and jackets. It feels good to see my passions connected."

She's also received heartfelt messages over the years about ways she's impacted peoples' lives through her paintings, another favorite aspect of her vocation.

In terms of what's next for Stark, she can't quite say—but the Canada-based artist teases that some "fun new work" will be available in the near future. "I tend to have a galaxy of ideas swirling at all times. This is my storm before the calm."
Lamont Joseph White is the artist behind "Skiing in Color," a collection of paintings that offer social commentary on the
lack of diversity
in the ski industry.
Lamont Joseph White, Park City, Utah
Lamont Joseph White grew up in New York City but was always drawn to the mountains. In 2012, the fine arts major left the city behind, moving with his family to Utah to be closer to those outdoor spaces.
When he arrived, he began painting his surroundings like he'd always done, but one thing was different.
"I would make sure the people fit the typical skier look—the white skier," he recalls.
"In New York City, I would paint Black break dancers, but in the mountains, I'd paint white skiers. And I thought, 'Well, wait a second. I'm a Black snowboarder who lives in Park City who happens to be an artist. Why not paint Black and brown skiers?"
The result was a collection titled
"Skiing in Color"
.
Some pieces were simple paintings of everyday skiers and snowboarders enjoying themselves on the mountain. Others contained more obvious social commentary—a series of four civil rights leaders wearing ski clothes, for example, or images of rappers Tupac and Biggie in tinted goggles.
In "Mountaintop Sunrise," White portrays Dr. Martin Luther King in ski goggles during his Montgomery bus boycott mugshot—his arrest number "7089" displayed across his chest. In "Emancipation Peak," Frederick Douglass looks into the distance as mountain peaks are reflected in his ski goggles.
White says he wanted to "bridge the great chasm" between the world those folks lived in and the incredible modern-day freedom that comes from skiing and snowboarding.
"I wanted to bring them to this place that I love," he said. "I wanted to bring them to the mountains with me in a very surreal way."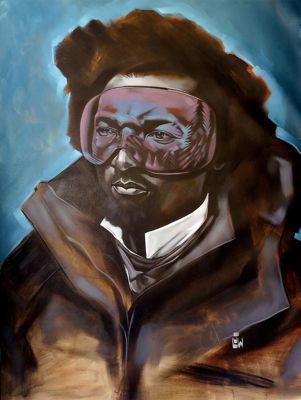 This painting of American abolitionist Frederick Douglass titled "Emancipation Peak" is part of a four-piece series depicting famous civil rights leaders wearing ski clothes. "I wanted to bring them to this place that I love," White explains. 
He also wanted to normalize seeing people of color on the mountain and participating in snow sports. There is a lack of diversity in the ski industry, he says, which tends to focus on a specific type of skier in magazines and marketing materials.
"It looks exclusive," he explains. "So we're conditioned to think that it's
thin, fit
, and typically white."
The New York native wants his art to express the feeling that skiing is open, welcoming, and accessible for everyone, particularly those who look different.
"I'm trying to reach those people who feel the most distant—economically, racially, whatever—and hopefully, in my own way, invite them in. Invite them to feel what I feel, to experience what I experience, to see if that would be possible."
"The mountains, they're magic for me. You feel small but grateful at the same time."
Lamont Joseph White, Park City, Utah
"Skiing in Color" is currently showing at various Utah art galleries with upcoming appearances at the National Brotherhood of Skiers Summit and the Colorado Snowsports Museum. Prints and canvases can also be purchased online.

White says that the essence of his art is about expressing joy for the places and activities he loves so much.

"The mountains, they're magic for me. You feel small but grateful at the same time. I'm always pinching myself saying, 'Where am I right now? Why am I so blessed to be here right now?

"When I find myself on a trail where I'm the only one and there's fresh powder, my senses just light up. I don't have anything in my life that compares to that.

"Built into the root of my work and who I am is the idea that the joy of the mountains is universal. It's for all of us."
Colorado native James Niehues spent 35 years painting trail maps for ski resorts throughout the world. Photo credit: Lindsay Pierce Martin
James Niehues, Parker, Colorado
No collection of ski artists would be complete without mention of James Niehues. If you've ever used a trail map, you've probably seen his work. The renowned ski map artist has created roughly 350 maps for 200 ski resorts worldwide, as well as numerous regional hiking and summer trail maps.

Niehues' love of art goes back to his childhood growing up on a farm in western Colorado. As a kid, he'd paint farm animals, and as a teenager, he would go exploring and get lost in the mountains. He was captivated by the "solace and beauty" he found there, but discovered that it was difficult to express in a photograph.

"I felt a camera just can't capture what the eye sees," he recalls. "Later, I would realize that the eye may see the image, but our minds interpret a lot more. The elements become more than any one perspective seen by the camera."

During his first year of college he found a job with a local graphic designer who assigned him a project making a hunting map of western Colorado. And his passion for mapmaking was ignited.

"I became hooked," he remembers. "It was like a huge puzzle and I enjoyed the challenge."

Niehues then met Bill Brown, the eminent ski map artist of the time, who became his mentor. As Niehues' passion grew, he began taking flying lessons so he could photograph the trails and became increasingly captivated by the majestic aerial views.

"There are those places that just take your breath away when you lay eyes on it from above," he says, "looking down on dynamic, glistening, snowy terrain."
"The mountains are my muse, my inspiration."
James Niehues, Parker, Colorado
Though some people find it surprising, it wasn't the skiing itself that fueled his passion. In fact, Niehues wasn't a skier before he discovered mapmaking—it was a skill he had to learn on the job.

"I had grown up water skiing, but pointing skis down a steep incline was certainly different and I struggled in the beginning," he recalls. "One instructor got pretty upset with me falling so many times. He said: 'You would think that the mapmaker could ski.'"

Eventually, Niehues progressed and became a passionate skier as well, noting that the mountains are what provide the inspiration.

"The mountains are my muse, my inspiration" he says. "My surroundings were my joy—fresh, invigorating snow in magnificent mountains. That is what I wanted to express in my portrayals of ski maps."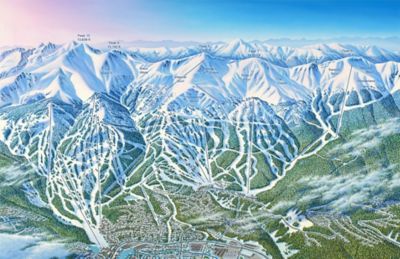 This intricate map of Breckenridge Ski Resort is just one of roughly 300 maps that James Niehues has painted for 200 ski resorts worldwide. 
In 35 years, Niehues says he never tired of his job, loving the entire process—traveling to different resorts, flying in small planes and helicopters, taking photographs, laying out the mountain in pencil sketches, and creating the final renderings.
Painting all of those "millions of trees," however, he acknowledges was at times "unending."
"Patience and more patience" he recalls. "The end result was the reward."
Niehues has been inducted into the Colorado Snowsports Hall of Fame and the U.S. Ski and Snowboard Hall of Fame. In 2019, he published a coffee-table book titled "The Man Behind the Maps," which has sold over 120,000 copies. The success of the book, he admits, is the highlight of his career.
"I was deeply humbled and appreciative to realize the impact I had," he says. "It is a great honor to be recognized for what you have done by the industry you have served. Would I have done it again? In a heartbeat."
Retired for several years now from mapmaking, he's on to a new project to sketch iconic
landscapes of America
, including many of the
most scenic national parks
.
"Our spectacular outdoor playground, what a great resource for us and hopefully many generations to come."