As an outdoor company, we make every effort to respect and preserve natural resources. Our goal is to limit our impact on the communities we touch while sustaining the land we love.
CONSERVATION INTERNATIONAL
Columbia is on a mission to unlock the outdoors for everyone. Part of this mission is supporting organizations like Conservation International that ensure the outdoors will be around for years to come.
CAPTAINS FOR CLEAN WATER
There is a bond amongst anglers. A kinship seemingly as old as the waters themselves, based around the life on—and love of—the water and what lurks beneath. As a member of this community, Columbia PFG partners with Captains For Clean Water on protecting our waters and keeping it pristine for generations to  come.
CONSERVATION
Columbia is dedicated to helping preserve your favorite places for outdoor adventure. We partner with a variety of conservation-focused nonprofit organizations that help us meet our shared goal of conserving the outdoors. Some of our current partnerships include:
ENVIRONMENTAL IMPACT MANAGEMENT
Higg Index in the Supply Chain
Columbia employs a team that is dedicated to assessing environmental impacts from manufacturing. Our objective is to measure, track and improve the energy, waste, water and chemical impacts associated with manufacturing our products. We use the
Higg Index Facility Environmental Module
to assess supplier performance and identify overall strengths and weaknesses in our supply chain. We have been using the Higg Index framework with our finished goods facilities since 2013 and have been seeing consistently positive improvements, such as increased energy measurement and target-setting at a supplier level. See our most recent
Corporate Responsibility Report
for further details on our progress.
Our Impacts
After completing two consecutive years of global greenhouse gas emissions reporting, impact trends are beginning to emerge for Columbia Sportswear Company. Product manufacturing is the primary contributor to our emissions. Material inputs (77%) and material processing (15%) are the primary contributors to our GHG emissions, followed by product assembly (6%) and finally owned and operated facilities accounting for less than 2% of emissions. Please see the
Corporate Responsibility Report
for further details.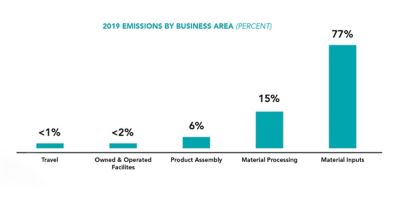 NOTE: Includes all brands (Columbia, Mountain Hardwear, SOREL, prAna)
Clean by Design
In 2019, we partnered with the
Apparel Impact Institutes' (Aii)
Clean by Design program and one of our key manufacturing partners, Formosa Taffeta Co., Ltd., to roll out Clean by Design in three of their facilities – one in Chinese Taipei, and two in China. The Clean by Design program focuses on facility energy and water efficiency optimization. Results are expected in August 2020 and, based on progress thus far, we expect to see significant improvements in all areas.
Columbia is a bluesign® System Partner. The bluesign® system reduces the environmental impact concerning the entire supply chain through its holistic approach towards inputs stream management. This helps to eliminate harmful substances right from the beginning of the manufacturing process and sets and controls standards for environmentally friendly and safe production. This not only ensures that the final textile product meets very stringent consumer safety requirements worldwide but also provides confidence to the consumer to acquire a sustainable product. See our most recent
Corporate Responsibility Report
for further details on our progress.
CORPORATE FACILITIES & LOGISTICS
We are committed to transporting our products using efficient, responsible shipping and packaging practices, and to measuring and managing impacts associated with the operations of our global real estate portfolio. Efficient resource management in logistics and operations starts with standard operating procedures and guidelines that set the stage for consistent practices. Some of our current guidelines include:
Packaging material guidelines
Packing dimension guidelines
Container loading and optimization standards
Green building standards
Lighting control management systems
Automated temperature control management systems