Trail Running vs. Road Running: Which One Wins? (Hint: It's Trail Running)
Trail Running vs. Road Running: Which One Wins? (Hint: It's Trail Running)
It's something that every trail runner knows and every road runner subconsciously suspects: when it comes to picking one over the other, trail running is better. That's not to say that road running doesn't have its perks, of course. You can log distance much faster on roads, for example, and the learning curve tends to be smoother. It's easier to do in urban environments and you don't have to pay as much attention to the ground (in short, it's less technical).
Still, anyone who's ever soaked up a beautiful mountain view from the edge of a dirt trail knows that running in nature is hard to beat. "There's little that compares to a sweeping summit view after a long, rocky, rooty climb," says Columbia Montrail athlete
Joe McConaughy.
"I feel more connected and grounded in my thoughts when I'm surrounded by rivers, trees, or cactuses. It's also a spiritual retreat, and a physically demanding activity. Mountains and technical footing prepare my body, mind, and muscles for the next big adventure."
Whether you're completely new to running and trying to figure out where to start, or you're a seasoned road warrior who's contemplating making a switch, here are some of the most compelling reasons to get into trail running. Just keep in mind that if you decide to go for it, You'll need
new gear,
including trail running shoes,
to stay comfortable,
stay cool
, and avoid being prone to injuries.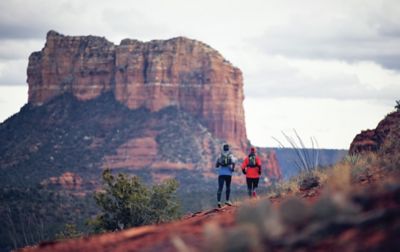 1. Better views
The first one on the list is a no-brainer. Carrying out your runs alongside pristine alpine lakes or underneath tall forest canopies is generally preferable to pounding concrete in an urban jungle. Some trail runners even enjoy the heightened sights, sounds, and smells of
trail running in the rain
. A Columbia Sportswear running specialist explains: "In most cases, the view payoffs are typically way better in trail running than on the road. I'll find trails that lead to summit views and above-the-tree-line views that you just can't match when road running."
2. Uninterrupted training
There's no faster way to ruin a runner's high than by having to pause every two minutes to wait at a red light. Unlike road running, which is full of stops and starts, being in the wilderness (or even a large urban park) provides uninterrupted time to focus on your training. Sure, you may have a funny wildlife encounter or two (pausing for waddling ducks, anyone?), but generally speaking, the only stops you'll make is to appreciate the natural beauty.
3. Easier on your bones
Another great thing about trail running is that it's a lower-impact activity than road running. That means that it tends to be less stressful on your body and easier on your bones. "The repetitive hard pounding of pavement increases the likelihood of stress fractures compared to soft trails," explains McConaughy. "I often prescribe trail runs to my athletes who have an injury history." As a bonus, the softer surfaces keep you fresher for the next day.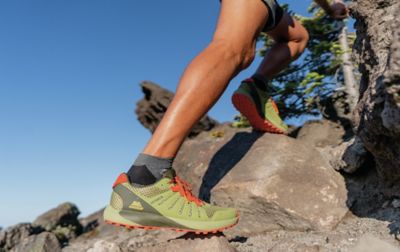 4. Improves running technique
Given that the terrain is more varied on trails than it is on concrete or pavement, you have to be more focused while you're training, which ultimately makes you a better runner. Not only that, it lends itself to steeper ups and downs. As McConaughy puts it, "If you don't pay attention to the trail in front of you, you'll fall right over. A trail runner naturally adapts a mid-foot strike and a quickened cadence, two keys to improved running technique."
5. Increased balance and resilience
Bone health isn't the only thing that gets a boost when you choose to run on dirt or other trails. The roots and rocks, as well as the twists and turns, help bolster your agility and balance. It can also be good for your connective tissues. "Tendons and ligaments, common culprits for overuse injuries in runners, are stimulated more by the varied terrain of trail running," says Scott. "Over time, a constant focus on running trails will reduce injuries and
create a more resilient body
."
6. Mental health benefits
It's not a big leap to believe that running through verdant forests is better for your
mental health
than sucking up smog on busy street corners. (And let's not forget the blaring horns). McConaughy says the evidence backs it up. "There are countless studies that show that exposure to green spaces and the outdoors has a very
positive effect on mental health and anxiety
," says McConaughy.
7. Excellent community
Although some might argue differently, most trail runners agree that the community is one of the best on Earth. Countless trail running organizations are dedicated to bringing people together and fostering the sport—and the groups tend to be exceptionally accepting and supportive. "The trail running community is unique, typically very welcoming, a bit crazy and weird, fun, and accepting," says Scott.