How to Choose Trail Running Shoes
How to Choose Trail Running Shoes
From weight to durability, here's what you should consider when picking out trail running shoes
When it comes to trail running, one of the
most important pieces of gear is your shoes
—after all, they're what keep your feet protected from the rocky, uneven trails beneath them. Yet when it comes to knowing how to choose a trail running shoe, the options can feel overwhelming. With so many styles to pick from, it's often difficult to know what to look for or even where to start.
So we've done the hard work for you by enlisting the help of Columbia Sportswear Footwear Merchandiser Jared Blank. The ultra-runner, who's also the author of
Running the Distance,
shared his expert advice on where to start when picking out a trail running shoe, including things like traction, weight, durability, and comfort as key qualities to look for.
Read more of his advice below.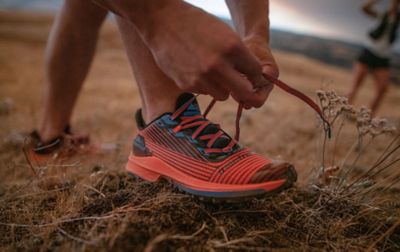 When shopping for trail running shoes, Columbia Sportswear Footwear Merchandiser Jared Blank says you should think about key qualities like traction, weight, durability, and comfort.
Do I need trail running shoes?
First, before getting into the nitty-gritty of what makes a good trail running shoe, it's important to understand why you need special trail running shoes in the first place. You've probably wondered if you can just use regular running shoes for trail running. While you could do this, having a shoe that's specifically designed for trail running will make your run more enjoyable, and potentially safer too. Think of it as having the right tool for the job.
So what makes a trail running shoe different?
Trail running is a specific style of running
that takes place on natural, unmaintained, unpaved trails, and trail running shoes tend to provide extra support and traction compared to road running shoes. They also typically offer stiffer midsoles and outsoles, with bigger lugs, or cleats to get over rocks and roots easier.
"I remember one of my first trail running experiences being on a trail where I wore regular sneakers," said Blank. "I was sliding all over the place and hitting my foot on rocks. Trail running shoes have special traction and protective features that are designed for trails. They give you more confidence when you're out on different terrains, especially when you don't know what you're going to encounter."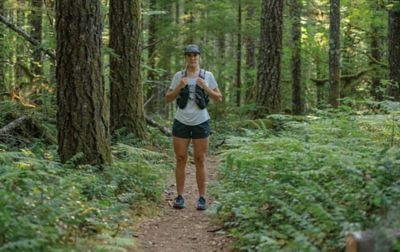 Trail running shoes provide extra support and traction compared to regular running shoes that are designed for the pavement.
What to look for in trail running shoes
Now that you know you why you need trail running shoes, here are the main qualities to consider:
1. Traction
Traction is a key component of any trail running shoe. Unlike running on a road or treadmill where the surface remains constant, trails are always changing. You need a shoe that can
hold its grip against wet, sandy, rocky, and slippery conditions
. The traction is what helps keep you upright and running.
One of the best ways to tell if a trail running shoe has good traction is to look at the sole. In addition to being made from tough, sturdy rubber, it should have grippy lugs that are capable of delivering traction across a variety of surfaces.
Outsoles with advanced technologies
such as
Adapt Trax
tend to be the best choices, according to Blank.
"Having run in shoes with Adapt Trax technology before, as well as shoes without it, I can say that the traction is much better when it comes to navigating variable terrain, as well as the ups and downs," he said.
2. Weight
Another thing to consider when shopping for trail running shoes is the weight. When running long distances, every ounce adds up so the
more lightweight your gear is
, the farther you tend to be able to run. Not only that, having lighter footwear allows you to
expend more energy on running
and less on picking up a heavy shoe with every step.
The key is making sure that your shoes are lightweight but also durable enough to stand up to the terrain. And they still need to provide ample cushioning and support, particularly if you're running longer distances or training on more intense trails. It's important to find the right balance and keep your end goal in mind.
"Weight matters, but you need to factor in the purpose," Blank explained. "It can change depending on whether you are racing, training, or exploring. For racing or doing workouts, a lighter, faster shoe is ideal. On the other hand, if you are training, it is sometimes helpful to have more cushioning to keep your legs feeling fresher."
3. Durability
By their very nature, trail running shoes need to be durable. After all, every time you take them out you're running through the kind of rocky, muddy, or sandy terrain that can wreak havoc on shoes.

To ensure that a trail running shoe will stand up to runs of all types, check the materials that go into the shoe. Look for options made with durable mesh weaves and tough rubber outsoles that make them strong and durable.

"Trail runners tend to log a lot of miles and hours on their feet," said Blank. "Durability is important because you need shoes that will hold up mile after mile."
4. Comfort
Your feet do a lot of work when you're running on trails, so it's important to keep them as comfortable as possible. In addition to finding a shoe that fits you properly, make sure they have proper cushioning. Technologies like
Techlite+
or
Techlite Plush
offer excellent options when it comes to performance.
Additionally, make sure you get a good fit. Blank recommended taking note of how the shoe feels when you actually put it on. "One of my coaches told me once that if the shoe feels right on, go for it," he said. You'll also want to check for a snug fit that won't allow pebbles or other debris to get in your shoes to irritate your feet and potentially cause blisters.
Our Top Picks: The Best Trail Running Shoes
To help find the right trail running shoe for you, here's a list of our favorite
trail running shoes
for everyday use. The selections include both
men's
and
women's
selections.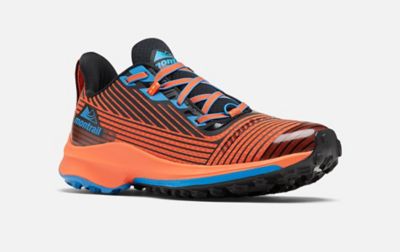 Trinity AG
The
Trinity AG
lets you push your limits by running farther, not harder—all while looking good on the trail. Complete with the Navic Fit System and Techlite+ dual-density midsole system, this trail running shoe delivers cushion and stability without sacrificing any comfort. "It's a go-fast shoe that's great for racing or workouts, with awesome plated technology," Blank said." The responsive trail shoe is available in both
men's
and
women's
versions."
Escape Thrive Ultra
If you're in the market for a hybrid trail running shoe made for long distances, the Men's
Escape Thrive Ultra
is your ticket. Made for the trail and beyond, it's equipped with TechLite+ midsoles that deliver a smooth heel-toe transition, ensuring your feet are comfortable wherever you are. "With max cushioning and support for those long runs, this is a shoe that keeps you going," Blank said. "Along with the Adapt Trax traction, you feel like you can go far and go anywhere."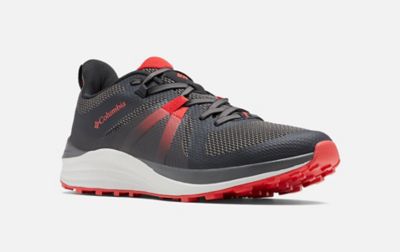 Escape Pursuit
The
Escape Pursuit
is a fantastic go-anywhere shoe. With a secure fit and advanced traction, it boasts 4-millimeter angular lugs that can navigate technical terrain. Plus, unlike many trail shoes that are catered to one specific use, the Escape performs well on roads and concrete too. "It's the perfect everyday shoe, and one of the most versatile. It can go road-to-trail and vice versa," explained Blank. The Pursuit is available in both
men's
and
women's
versions."