4 Ways To Express Gratitude For The Outdoors
4 Ways to Express Gratitude for the Outdoors
Use these outdoor ideas to say thank you to nature.
Mother Nature gives us a lot. A home to live in. Fresh air to breathe. An abundance of food and water and everything we need to stay healthy.
Not only that, there are plenty of outdoor spaces to escape to when we need a little rest and rejuvenation—
forests to hike through
,
nature trails to run on
, and
mountains for skiing and snowshoeing
. Given all of this bounty, saying thank you every once in a while is the least we can do. And what better time to express gratitude than Thanksgiving?
We spoke to Dr. Patricia Hasbach, an ecotherapist from Eugene, Ore., about ways to focus on gratitude and be more mindful when you're spending time outside.
Take a look at the list below and then try to carve out some to go outside and say thank you for everything the great outdoors provides.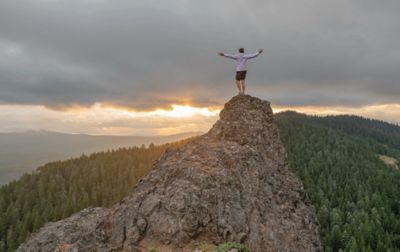 1. Take a 'Gratitude Hike'
Rather than simply walking through the forest and enjoying the trails, use this time in the wilderness to practice mindfulness and think about all of the things that the surrounding scenery provides.
Tune into the sights, sounds, and smells and try to become more aware of everything around you. Hasbach suggests running through each of your senses, contemplating the full-body experience of being in nature.
"Think about what's under your feet," she says. "What do you feel on your skin? What do you hear? Are you listening for birds or animals? What do you notice that draws your attention?"
With each step, look around and make a mental list of all of the blessings that each element provides. For example, if you pass a river, say thank you for the water. If you pass a patch of trees, say thank you for the oxygen.
If you're with friends or family members, have everyone take turns sharing these thoughts out loud. Or, if you're on a
solo hike
, whisper them to yourself or bring along a journal.
For folks who are artistically inclined, consider bringing along a camera to take photographs or a notebook to do some
drawing or painting
. All of these activities will help you tune into the beauty that you're immersed in.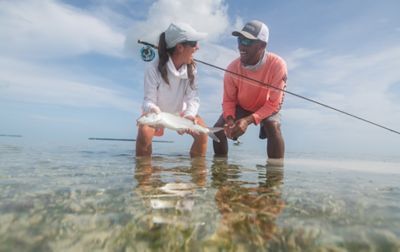 2. Go 'Fishing for Blessings'
If it's not too cold where you live, fishing is another fantastic way to connect with nature and express gratitude for all of its wonder. Instead of drinking cold beverages and focusing on catching fish, however, use this time to meditate on the things you feel thankful for, particularly as they relate to the location where you're fishing.

Have you had happy memories in this place before? Perhaps you've used the area for swimming, kayaking, rafting, paddleboarding, or other outdoor recreation. What kind of special moments have you shared with friends or family? Any funny stories? What about on other lakes, rivers, or oceans?

Think about the wealth of resources this outdoor location gives you. As you focus on the water, don't forget all of the other pieces of nature around it such as plants, animals, trees, rocks, and soil.

"Try to notice the sun and the patterns that it makes," Hasbach recommends. "Notice how it dances across the water. Notice the shadows. When you're focusing on your senses, it's all about noticing and being really mindful of the experience, not just the end product of catching fish."

If you catch anything that you plan to eat, say an extra round of thanks for the meal and think about what a blessing it is to have food in the first place.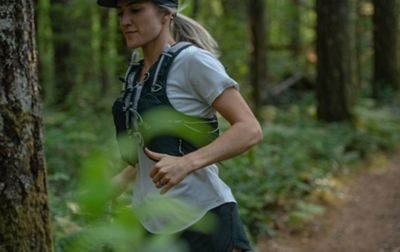 3. Try a 'Thank You Trail Run'
For all of the runners out there, a trail run through the woods (or wherever your favorite training spot is) can be a fun, invigorating way to show appreciation for the beauty around you. It's great exercise—especially after a big Thanksgiving meal—and the feel-good endorphins will help you connect with the gratitude for nature.
There are several ways to enhance the experience and distinguish it from any other trail run. First, you could try listening to nature music or chanting in your earbuds. Aside from being meditative, the inspirational melodies can help you tap into thankfulness.
Another option is to bring a
picnic
and stop along the way to eat, saying thank you for your meal and other gifts. Focus on the earth and its natural blessings. Think about your body and express gratitude for your health and the simple ability to be able to run.
"Be aware of your body and how it moves," Hasbach says. "Notice your own strength and feel the different muscle groups in your legs. Notice your breath and the wind on your skin. Notice what it is to sweat and feel the moisture running down your face, or your hair stuck to your neck. Be grateful for being able to experience all of this."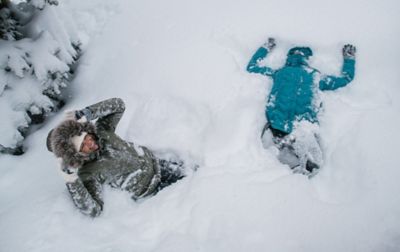 4. Go on an 'Appreciation Adventure' in the Mountains
The mountains are among the best spots for outdoor adventures, and putting an "appreciation" spin on your mountain experience is the perfect way to count your blessings while having fun.
There are lots of ways to approach an adventure like this. If you're a skier or a snowboarder, for instance, you could head to your local ski resort. Sit outside the lodge with a cup of cocoa, feel the mountain air around you, and focus on the gratitude you feel before heading to the chairlift.
Or, express your thanks up on the hill—find a quiet space in the trees and take a short break. Look around and tally up all of the mountain-related things you can think of to feel thankful for. When you're done, move on to other outdoor spaces such as oceans, rivers, deserts, and lakes. See if you can get to 100 outdoor blessings.
From there, try to hold on to that feeling of gratitude as you head down the mountain.
"Feel the rush of the cold and the glistening of the snow," Hasbach says. "Be mindful of that. Allow the beauty and the gratitude to bubble up in a very deliberate, intentional way."
Another option is to go for a
winter hike or snowshoeing adventure
and do the same thing there. In addition to your gratitude session, you can do silly things like make snow angels or do somersaults to connect with those joyful emotions. Just be sure to bring a
warm jacket
.