What to Wear on Your Next River Adventure
What to Wear on Your Next River Adventure
Whether you're kayaking, rafting, fishing, or paddleboarding, here's your river packing list
From calm, peaceful paddleboarding trips to wild, thrilling whitewater rafting adventures, there's a river experience to suit every outdoor enthusiast. Preparing for a river trip involves some considerations that are a bit different from other outdoor adventures, so we've put together a few tips to help you out, along with packing lists for various activities.
Consider the temperature
Whether you're rafting down the Grand Canyon or heading out to your favorite riverbank for a little fishing, there are certain materials and clothing that fare better on the water. If you'll be out in the heat of summer, for example, you'll want fabrics like
Omni-Freeze™ Zero
or
Omni-Freeze Zero Ice™
to keep you cool. And if your river trip includes cold weather and icy water, river gear made with neoprene will keep you dry and warm.
Wear UPF-rated clothes
It's always a good idea to wear
UV-protective clothing
for sun protection regardless of temperature—sunburn can happen even on cloudy days, especially when it's reflecting off the water. So look for
clothes with UPF-rated sun protection
technologies such as
Omni-Shade™
or
Omni-Shade Sun Deflector™.
A recent study found that
UPF clothing works better than sunscreen,
and it doesn't need to be reapplied throughout the day.
Mind the forecast
Weather can change rapidly during any season, so if you plan to be on the river for a while, layering will help you ward off the chill of the morning and stay comfortable as the day warms up. In case of weather surprises, it's a good idea to take along a set of dry clothes to change into before heading home, including a cozy fleece mid-layer and high-quality socks.
If your goal is to stay dry and comfortable on the water, avoid cotton clothing—once it's wet, it tends to stay wet. Instead, make sure your river gear is made with quick-drying synthetic materials such as nylon and polyester.
Don't forget your PFD
It's often hard to tell if that serene river you're floating down has a strong current or undertow, or if the riverbank you're fishing from has a steep drop-off just a few feet away. So play it safe and be sure to keep a personal flotation device (PFD) with you on every river adventure.
What to wear kayaking and canoeing
Clothing made with synthetic or polyester fabric and moisture-wicking technology will help keep you cool and dry when your paddling gives you a good workout. And a long-sleeve shirt featuring Omni-Shade™ fabric will provide UPF-rated sun protection for as long as you're out on the water.
Be sure to shield your head and face from the sun with a
UPF-rated hat
, and protect your feet with waterproof kayaking shoes. Consider throwing a fleece mid-layer in your dry bag, along with a lightweight rain jacket, just in case the weather turns.
If you'll be paddling in cold weather, avoid the possibility of hypothermia by wearing gear made with neoprene to keep water away from your skin.
Kayaking packing list (warm weather):
Swimsuit (optional)
Sunscreen
Personal flotation device (PFD)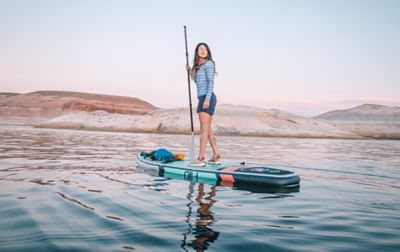 What to wear paddleboarding
Gear for warm-weather
paddleboarding
is very similar to what you'd wear for kayaking or canoeing and should include a sun-protective shirt and UPF-rated water or board shorts. Waterproof paddleboarding footwear is great for riverbed protection and traction, and don't forget a UPF-rated hat. It can get pretty hot standing on a paddleboard all day, so be sure you know
how to stay cool,
and consider investing in some cooling technologies.
For paddleboarding in the cooler seasons, you may want to bring a fleece jacket or
lightweight windbreaker
to ward off the chill and be prepared for changing weather.
Paddleboarding packing list (warm weather):
Swimsuit (optional)
Sunscreen
Personal flotation device (PFD)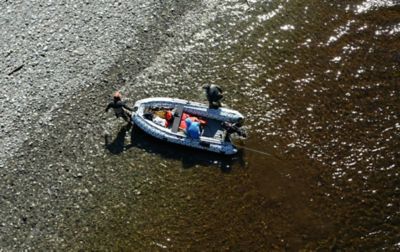 What to wear rafting
River gear for a day of rafting can vary widely depending on the weather and the type of rafting you'll be doing. In cooler weather and more challenging water, you may want a full wetsuit, neoprene shirt, or splash jacket to stay warm and dry, and even a helmet for extra safety.
For leisurely rafting or inner tube floats down a lazy river on a sunny day, clothes made with Omni-Shade technology and quick-drying fabric will provide protection from the sun as well as help you dry off fast once you get back to shore. And
water shoes
will help protect your feet as you go from float to riverbank throughout the day.
Rafting packing list (warm weather):
Swimsuit (optional)
Sunscreen
Personal flotation device (PFD)
What to wear fishing
With the sun shining down and reflecting off the water as you cast all day, you'll want
UPF-protective clothing
that also keeps you cool. Look for cooling technologies like Omni-Freeze Zero or Omni-Freeze Zero Ice to help you beat the heat, and Omni-Shade to keep the sun at bay. Fishing shirts with features like hidden mesh-lined vents for additional cooling and antimicrobial treatment to reduce odor can help you feel as comfortable at the end of the day as you did when you dropped your first line. Check out Columbia's
all-time best fishing shirts
for some great options.
Look for fishing shoes with special stain-resistance like Omni-Shield Blood 'N Guts™ technology for easy cleaning and Omni-Grip™ traction specifically designed to help keep your feet where you want them.
Fishing packing list (warm weather):
Sunscreen
Personal flotation device (PFD)