How to Wash and Dry Fleece
How to Wash and Dry Fleece
We answer all of your questions about how to care for fleece jackets, hoodies, blankets, and more
When it comes to outdoor clothes, fleece is one of the most beloved items. Not only is the lightweight fabric warm and cozy—especially modern versions with technologies like
Omni-Heat Helix
—it's also durable,
breathable
, and quick drying. Plus, it wicks away moisture while you sweat to feel more comfortable against your skin.
Whether you're an outdoor enthusiast familiar with
how to layer
or simply prefer the coziness of fleece, you know that it is extremely versatile and can be worn as either a
midlayer
or outer layer for just about any kind of weather and for numerous activities, including
hiking
,
fishing
,
skiing
, trail running, and more. Especially if you're
dressing for cold weather
, there's no doubt that fleece is your friend.
It's important to be sure that you're taking steps to
make your outdoor gear last
, like your
ski jackets
,
hiking pants
, or
fishing shoes
, and that includes knowing how to wash, dry, and store your fleece properly as well.
We've outlined the steps below to make sure your fleece stays in good shape for years to come.
How to wash fleece
Whether it's a
hoodie
,
blanket
,
jacket
, or other garments, caring for fleece items is important in order to maintain their softness and warmth. This goes for all types of fleece, including the popular
sherpa
, which is an ultra-soft synthetic version.
You always want to check the fleece washing instructions on the care label of each specific garment, but most fleece can be machine washed. Some general guidelines to follow include:
Use a gentle cycle with cold water to prevent damage and maintain color.
Avoid washing fleece with items that have zippers or Velcro, as they can cause pilling.
Use a mild detergent to avoid residue buildup.
How to dry fleece
Again, it's important to read the care label for specific garments, but generally speaking, it's better to air-dry fleece whenever possible.

The best option is to either hang up the item or lay it flat. If you must use a dryer, use a low-heat or air-dry setting to prevent damage by overheating.

And it may seem counterintuitive if you want to make your cozy fleece even cozier, but avoid using fabric softener with your fleece items, as it can reduce the fleece's moisture-wicking properties.
How to store fleece
To prevent moisture buildup and odors, fleece items should be stored in a cool, dry place. And also keep them away from direct sunlight to prevent fading.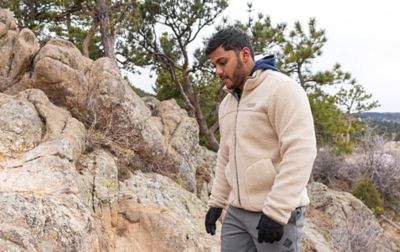 Fleece care 101: frequently asked questions
How do I keep fleece soft?
To keep fleece soft, wash it with similar items—things like other soft, fluffy sweatshirts, hoodies, or blankets. Avoid using a dryer and instead hang it or lay it flat. Don't wash fleece with harsh detergents, and always run an extra rinse cycle to ensure it's thoroughly rinsed, as detergent residue can damage the fabric over time.
Does fleece shrink?
Fleece is a fairly shrink-resistant material compared to fabrics like cotton, linen, wool, or silk. However, it can still sometimes shrink if it's washed in extra-hot water or put in the dryer. You can avoid this from happening to your fleece items by opting for a cold-water setting and air-drying.
How do I prevent fleece from pilling?
Following proper care instructions in the best way to prevent fleece from pilling. As we mentioned above, this includes washing your fleece items in cold water and always hanging them to air-dry or laying them out flat. However, the nature of fleece may still cause it to develop some pilling over time. If this occurs, a fabric shaver or pumice stone can be used to remove pills and refresh your garment.